Designing the Next Generation of Engineers
By: Hannah Fields
One of the many questions children are asked when they begin school is, "What do you want to be when you grow up?" The answers vary, but some of the usual contenders tend to be firefighters, teachers, doctors and veterinarians. However, Texas Tech University engineering professor Michelle Pantoya wants to add one more profession to top their list of possibilities: engineering.
Pantoya's main focus is on elementary students, specifically kindergarten, first and second grade students. This is the age when children begin to become exposed to and gain familiarity with professions that Pantoya believes influence them in the future.
"Children think about the doctors they see, they think about teachers, they think about police officers and they start to formulate ideas about where they fit in the world," Pantoya said. "What they don't understand and what they don't see are engineers, or they have limited exposure to that. That thinking isn't even part of their mental vocabulary about what they might be able to do in the future."
The idea to make engineering more accessible for children first came from a shared desire with fellow engineer and Texas Tech engineering alumna, Emily Hunt, to explain to their own children what they do for a living. That's when they decided to co-author a children's book together.
"For young children, one of the best ways to communicate a new idea is through a children's book," Pantoya said. "Young kids read a book or have a book read to them over and over again. If a child likes a book, then they read it a lot and absorb pictures. It's not just text, it's the whole package that is part of how they understand what the content is in the book."
The book, titled "Designing Dandelions," took three years to complete and follows the story of two young aliens, Mitch and Bells, from the planet Exergy who have crash landed on earth and must apply the engineering design process, or the steps engineers use to develop a solution to a problem, to get back home. Pantoya and Hunt shared the task of writing and enlisted the help from a kindergarten teacher to complete the artwork.
"It has simple lines, simple pictures and bright colors because it's geared to that age group," Pantoya said. "We felt the content was still a very high level, so, to sort of balance the intensity of the content, the simplicity of the artwork was essential. That pairing, I think, helps make it a successful book."
What also helps make "Designing Dandelions" successful is the structure in which the book is written. Pantoya and Hunt wrote the book in the iterative fashion, meaning they ask questions and then use rhyming designed for that age group. Asking questions they can answer makes children feel empowered. Introducing STEM (science, technology, engineering and mathematics) vocabulary in the rhyming helps them understand the content and keeps them engaged in the story.
However, Pantoya and Hunt knew "Designing Dandelions" and the two similar books they've written weren't enough to teach children everything about engineering, especially in an age where interactive technology has become an essential component in the learning process. The pair turned to former Texas Tech College of Education professor Zenaida Aguirre-Munoz to not only study the process of children's learning, but to develop a computer game to provide a more hands-on experience with engineering.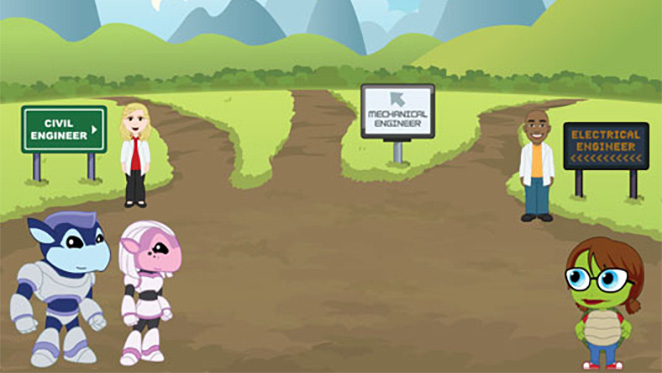 With the help of the Boston Museum of Science's Engineering is Elementary (EIE) curriculum, the three women were able to create an interactive game called "Cheers for Engineers." While the EIE curriculum is vetted and designed mainly for fifth graders, they were able to scale it down to the kindergarten level and supplement it with literacy components and academic conversations geared for the kindergarten age group.
"Academic conversations are an important part of the learning process," Pantoya said. "It supplements the literacy component and our research is showing that it is an essential part of a child's content understanding success. It leads to greater engagement and greater content discovery."
"Cheers for Engineers" is modeled after "Designing Dandelions" and is meant to teach children about the engineering design process. Through a series of games children use their problem solving abilities, along with the engineering design process, to help Mitch and Bells fix their ship and return home.
Pantoya and Aguirre-Munoz are also using the engineering-based book and game as part of a larger study on the EIE curriculum and how children perceive engineering. Each semester, Pantoya visits LISD classrooms where she introduces engineering through books and the game.
Data is collected by setting up cameras in the classroom while the children are engaged. That data is later observed and used to help understand how to design activities for this age group so that engineering and the engineering design process can be more effectively introduced.
"In a way, it's the kindergarten equivalent to material they would learn in college," Pantoya said. "This is a great way to establish familiarity for kids in a positive environment that might hopefully transfer later to a college degree."
Both the book and game have brought positive feedback. Pantoya has been stopped on multiple occasions by both parents and grandparents who tell her how much their children and grandchildren love the book. The work itself, she says, has been one of the most rewarding things throughout her entire profession.
"It is amazing how many times that book has come back in ways I didn't ever think we could reach people," Pantoya said. "It has reached people way beyond my professional research. That work is also very rewarding. I feel like I'm really having an impact with children in the next generation of engineering hopefully."
"Designing Dandelioins can be purchased through TTU Press and "Cheers for Engineers" is free and available for download through the iTunes store.
Discoveries
Address

Texas Tech University, 2500 Broadway, Box 41075 Lubbock, TX 79409

Phone

806.742.3905