Disaster Recovery Heads Into the Limelight Through Engineer's Research
By: Karen Michael
It's not often that professors from the Edward E. Whitacre Jr. College of Engineering collaborate with professors from the J.T. & Margaret Talkington College of Visual & Performing Arts, but one civil engineering professor wishes he started that sort of collaboration a lot earlier.
Ali Nejat is an associate professor in the Department of Civil, Environmental, & Construction Engineering. After researching the needs of disaster survivors, he needed a way to publicize his findings.
"We (researchers) tend to publish our results in publications," Nejat said. "That's basically it."
But he was wondering if he could somehow get a bigger audience, so he said he "randomly" contacted playwright and Texas Tech Professor Norman Bert in the School of Theatre and Dance to talk about writing a play.
"I said, 'I'm from the engineering college. I have this idea, would you be willing to sit with me, and we can brainstorm and see if we can come up with something?'" Nejat said of his query. "He was very welcoming and supportive."
Bert agreed to write the play, which ultimately was named "After the Storm." It was performed in front of about 130 people in July at the 2019 Natural Hazards Workshop in Broomfield, Colorado, where international researchers, governmental agents, and disaster workers convene annually. This was the first time a dramatic presentation was presented at the event in the 44 years the workshop has been held.
Different perspectives
The two faculty members tend to look at things very differently, Nejat said, which made the collaboration to write and produce the play a learning experience for both.
Nejat handed over 300 pages of data to Bert from the aftermath of a tornado in Moore, Oklahoma. The data was collected by a team of researchers from several universities and institutions, including Alex Greer of the University at Albany and Sherri Brokopp Binder at BrokoppBinder Research & Consulting. Nejat's research centers on how to model human behavior in the aftermath of a disaster, how survivors' needs change over time, and how demographics and socio-economic standing impact their priorities.
"He went through all of that, and then he told me, 'This is great, but from my perspective, I need to be in the environment – how people are actually living and dealing with this disaster,'" Nejat said of Bert's response.
Data, Bert said, was "bloodless."
So Bert went up to Oklahoma and interviewed several survivors of the tornado, including the principal of an elementary school that was wiped out, a farmer who raised horses, and a fire captain. He went to a church and visited with people afterwards about being in the tornado.
"Out of that and my notes for that, I came up with some ideas," Bert said.
The plot
Bert, along with graduate student Garret Lee Milton, wrote a 40-minute play with seven scenes. Two scenes happened the week of the tornado, while three scenes happened six months later and the last two scenes happened a year later.
Nejat's research shows that the needs of disaster survivors change with time. In the first days after a disaster, people may have very basic issues like finding shelter, medical assistance, food, and water. Six months later, they may be focused on rebuilding their homes and replacing lost property.
But a year later, people are looking to rebuild things that are emotional and may not always be physically tangible, Nejat said. They may want to get back to pre-disaster conditions. Getting churches and schools back to the way they used to be before the disaster is often important to survivors at that time, he said.
Furthermore, survivors' ties to the community — such as whether they own a home or have family in the area — play into whether they will decide to stay and rebuild or move on following a disaster, Nejat said.
Bert said people he talked to a few years after the Moore tornado had a similar recollection of what they went through, and he said they were still struggling. One of the final scenes in his play dealt with a fire chief who was trying to get firefighters to go to training for the next disaster. They were struggling with post-traumatic stress disorder, he said, and they just didn't want to go off to training for a similar event.
Forty minutes wasn't enough time for the play to really tell everything that Nejat's research showed about disasters and how people recover.
But Nejat said the play did a good job of showing that survivor's needs change over time.
Bert said he really worried that the experts attending the 2019 Natural Hazards Workshop would not find the play interesting.
"I was so worried. I attended several of the workshop sessions, and I thought, 'Wow, these people have seen it all. They're experts in this,'" Bert said. "I thought, 'We're preaching to the choir here – this is going to be something that they're not interested in, because they've seen it all.' And the reaction was so different because they saw human responses, what a disaster meant to human beings. And I thought, 'Oh! We do have something to share.'"
The play received a standing ovation, with several of those attending the conference asking them to put it on again.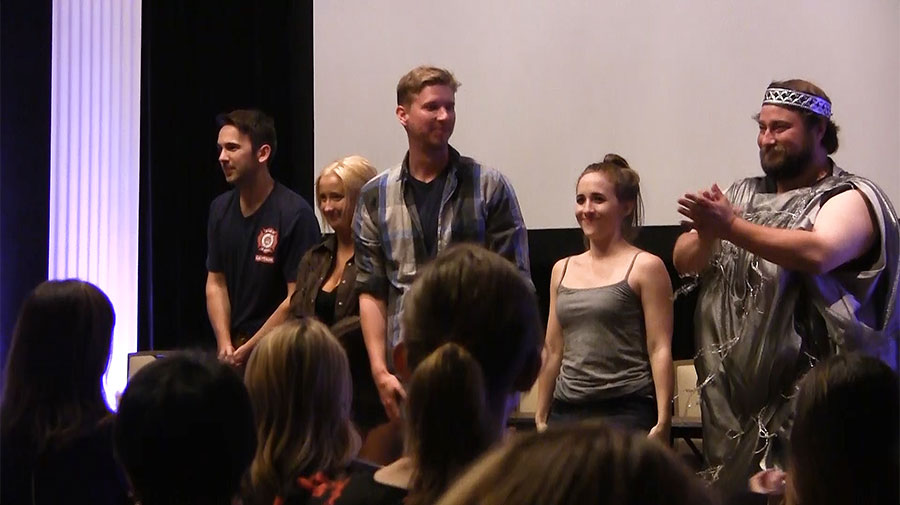 Bert said one audience member from New Zealand told him that they were so inspired by the humanization of the disaster's aftermath that they would begin supporting funding for the arts to engage their own community.
Nejat said reminding experts of the human element is important.
"Normally we are so distracted by everything that we do, especially if you are a researcher. It might not get the sufficient attention it should get. I guess this was something that everybody felt the need to be reminded of how important it is, so we can take that into account," he said.
The workshop organizers really appreciated the effort, Nejat said, telling him that the performance was "very, very impactful."
Search for more data
Ever the scientist, Nejat surveyed people who would attend the workshop beforehand and asked audience members who saw the play to complete a follow-up questionnaire to determine if their thoughts changed on how people recover from disasters. Although he is still analyzing the data to see if the play made an impact, he said preliminary indications are positive.
"From skimming the data, it is to me very evident that it was very impactful," Nejat said.
He said his experience with the School of Theatre and Dance was "amazing," adding that the entire cast and crew's work really moved him.
"I always knew art was very, very powerful, but it wasn't very tangible how very impactful art can be for sciences and engineering," Nejat said. "If I knew this power, and this strength that we have at Texas Tech before, I definitely would have started collaborating much earlier, because it's amazing how powerful it is when you go beyond your comfort zone and do this kind of collaboration to use it for an outreach for your research."
Nejat's research was funded by the Texas Tech Office of the Provost, the Office of Research & Innovation, and through a $500,000 Faculty Early Career Development Program grant from the National Science Foundation.
Discoveries
Address

Texas Tech University, 2500 Broadway, Box 41075 Lubbock, TX 79409

Phone

806.742.3905