Youth-Mappers Aid in Global Humanitarian Efforts
By: Hannah Fields
Texas Tech USAID-funded organization, Youth-Mappers, are changing the world through mapping data.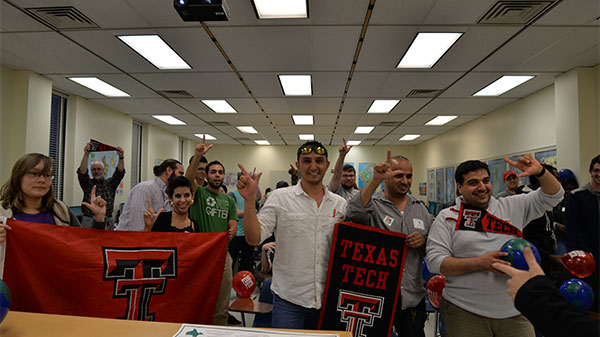 Whether we're feeling lost in a new city or just trying to find that latest restaurant everyone is raving about, we often rely on the mapping software built into our phones to point us in the right direction. This software, referred to as a geographic information system (GIS) or geospatial technology, plays a significant role in our everyday lives, but also thrives on a larger scale, especially in humanitarian efforts.
An example of these efforts can be found in the work being done by the U.S. Agency for International Development (USAID) funded organization Youth-Mappers, which was founded on the Texas Tech campus in conjunction with George Washington University and West Virginia University in 2015.
In just over a year, the fledgling organization has grown from three chapters to 57 chapters in 19 different countries, an accomplishment that Texas Tech research associate professor and Youth-Mappers co-founder Patricia Solis speaks of fondly.
"Think about it," Solis said. "We opened up about this time a year ago and we now have more than 52 universities. That's about one joining a week. It's great. Some of them come with skills already and they just want to participate, but we're advising them on how to set up their activities, leadership, and peer groups."
Beyond Borders
The mission of Youth-Mappers is to create data in places of the world where there is a need for data in an open and public platform. Projects are sent to Youth-Mappers from the USAID GeoCenter, who, in turn, use this information in many impoverished countries where mapping data isn't readily available. All collected data assists in USAID's efforts to administer aid in unmapped areas suffering from disasters, health issues, food security and beyond.
Youth-Mappers uses the openly licensed internet based program OpenStreetMap to map areas selected by USAID. OpenStreetMap uses public knowledge, GPS tracks and donated sources from more than 2 million volunteers worldwide to map building footprints, roadways, schools, health clinics and much more.
By utilizing this information, Youth-Mappers were able to assist USAID and the Peace Corps with a project based in the East African country of Mozambique in 2016. Students mapped areas where the Peace Corps was planning to conduct a mosquito spray campaign, a primary method used to control malaria, and found 15 percent more buildings than had been accounted for on the original mapping plan. With the new information, Youth-Mappers were able to make the efforts of USAID and the Peace Corps more effective. It's Solis' hope that the students will be able to see more of their work making an impact as Youth-Mappers moves forward.
"We're working on trying to find out other ways the mapping has impacted and made a difference in that kind of work," Solis said. "Slowly but surely. We just started a year ago so now we're going through that process of finding those impacts."
The organization's impact gained special attention from Chad Blevins, director of the Mapping for Resilience Program in the USAID GeoCenter, after student David Tomlinson mapped more than 80,000 edits for a group project based in the Bidibidi refugee camps in northern Uganda.
The Bidibidi camps are home to more than 270,000 refugees displaced from war-torn South Sudan and are considered the world's largest refugee camps. A quarter of South Sudan's 1.6 million population has fled the country since 2013, with 800,000 traveling to Uganda. The U.N. estimates that nearly 400,000 South Sudanese refugees will come to Uganda in 2017.
Because of Tomlinson's tremendous contribution to mapping of the Bidibidi refugee camp, volunteers and aid workers are able to remain in safe areas and render much needed assistance to refugees.
"Detailed mapping of these camps will allow the country and aid organizations to better manage the limited resources they have," Blevins said in an e-mail sent to Solis praising the work of Tomlinson and Youth-Mappers.
Igniting Passion
Youth-Mappers is also inspiring the students involved to take their skills beyond the group and into the field. Texas Tech University College of Agricultural Sciences and Natural Resources doctoral student and USAID-BHEARD fellow Kwaku Antwi is using his association with Youth-Mappers to supplement his research in his home country of Ghana.
"My association with the Texas Tech program allowed me to link up other Youth-Mappers in Ghana from the University of Cape Coast who are currently assisting me to map households in some of the districts in the Northern Region of Ghana," Antwi said. "With this support, I was able to increase my research coverage area to cover more districts."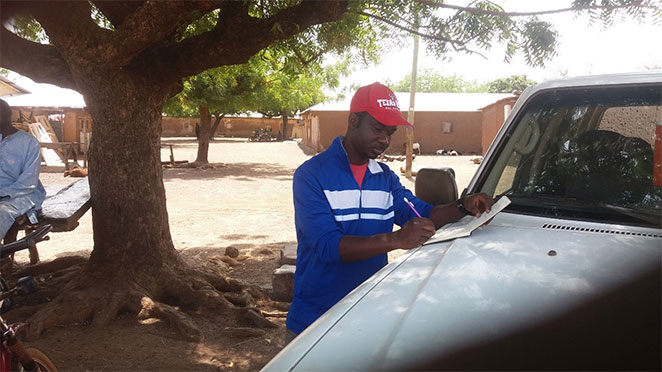 Antwi explained that food security assessment in Ghana has always been done without a spatial component like that provided by mapping. With this spatial analysis he is able to ensure proper identification of environmental and geographical features that influence food security status such as roads, vegetation cover, paths to farmland and much more. Also included in his research is an assessment of how a food security intervention program has influenced the food security status of 500 rural households in the northern region of Ghana.
Youth-Mappers isn't only open to graduate or geosciences students, but to any students wanting to make a difference in the world. The group often holds what it calls mapping parties or mapathons to get students across the Texas Tech campus and sister campuses involved. Each party starts with an orientation to introduce mapping and to identify newcomers so they can be paired with more experienced members of the group. If time zones allow, the group will sometimes Skype with a counterpart group from around the globe or even hold friendly mapping competitions.
At a recent mapping party held in February 2017, several founding members of the Texas Tech Youth-Mappers chapter spoke about what the group means to them.
"I've always been passionate about any kind of development work and I also love anything in GIS or mapping, so it really combined two of my passions being able to do something I love and being able to do something meaningful for people," said founding student president and senior geophysics major Julia Kleine. "I'd love to end up in development work, so it's a great way to get started while I'm a student doing real projects."
"I will definitely take some of my experience here and help people overcome the challenges they face whether is social or environmental," added founding student treasurer and geosciences doctoral student Tarek Kandakji. "That's a great start here at Texas Tech Youth-Mappers. I think students appreciate their home and their country more when they see other countries and help other countries. They appreciate where they come from and appreciate the blessings they have. They know a lot of people outside want their help and they are able to offer that help."
The program also selected 20 students from all around the world for its Youth-Mappers Fellows program. These students will visit Nepal in May 2017 for a workshop hosted by Kathmandu Living Labs, an on-the-ground organizations that highlighted the importance of volunteers being involved in OpenStreetMap in the wake of the Kathmandu earthquake of April 2016. The company created data that was used to locate people in the recovery process and was used by the Red Cross to calculate how much aide it needed to provide. Youth-Mappers Fellows will learn from Kathmandu Living Labs and see many of the areas they mapped up close.
Extending Research
Youth Mappers has also generated new research activities and collaborations for Texas Tech faculty and graduate students across the College of Arts and Sciences, natural resource management, agricultural economics, engineering, landscape architecture and the College of Education that include interdisciplinary work on:
understanding the role of open crowdsourced geospatial data in the decision making landscape of humanitarian and development institutions
measuring the impact of open mapping on the effectiveness and efficiency of humanitarian and development action
integrating open spatial data from multiple disciplines to better understand vulnerability to climate-water-food systems
assessing the quality of citizen science relative to the level of exposure and experience of the volunteer community
using open mapping within an authentic project-based learning framework for academic engagement and acquisition of technical and intercultural competencies
Through research and student engagement, Solis believes Youth-Mappers will continue to grow and flourish in the future as she and others work to quantify and qualify the impact that mapping is making, and as they continue to create and apply open spatial data to answering important real-world questions.
"Some governments don't want to use the data because it was made by volunteers, so having some research on the impact on the quality of the data could change the way people think about volunteered data," Solis said. "We need to quantify that and make that case and we need to find out what's not working so that we can keep on improving our techniques."
Discoveries
Address

Texas Tech University, 2500 Broadway, Box 41075 Lubbock, TX 79409

Phone

806.742.3905