More Information on the Field School in Maya Archaeology
On this page you will find information about what makes this field school a good choice, answers to frequently asked questions, and photographs of the facilities at Chan Chich Lodge.
This link will take you back to the main FSMA page.
Why Choose this Field School?
There are plenty of field schools each summer in Belize, and they all offer unique experiences. It is up to each student to find the program that best fits his or her interests and expectations. When considering different programs, please keep in mind these features of the FSMA at Chan Chich:
Experience
The 2019 season will be the twelfth summer for the FSMA and the seventh at Chan Chich. The program director, Dr. Brett A. Houk, has directed 16 summer field schools and has over 25 years of archaeological experience in northwestern Belize. The project staff includes three PhDs in addition to Dr. Houk.
Group Size
The FSMA is limited to 13 students and a small professional staff. The total group size will be up to 20 people. This means students get individual attention from the staff and project director. Additionally, there will be times when there are no other guests at Chan Chich Lodge. We will have the place to ourselves. When you live and work with the same group of people for four weeks, having the ability to find space to be alone with your thoughts and decompress is important. You will find that at Chan Chich.
Research
Students on the FSMA actively contribute to significant and cutting-edge research on the Maya. The CCAP uses a digital database system and employs Structure from Motion mapping techniques, which the students will get to observe and try. In 2019, research will contribute to international presentations and publications.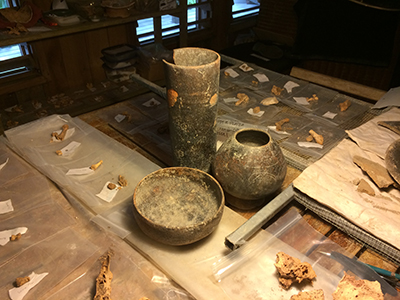 Safety
Chan Chich Lodge is remote, but that is how we like it! Many field schools stay in or near modern towns, but such situations expose students to an entirely different array of dangers (from crime, traffic, unclean water, improperly handled food, etc.). Many projects have to drive on public streets to get to their excavation site each day, but our ruins are literally right outside the door or just a few miles down a private road. We can safely walk or drive to work. The lodge offers a crime-free setting, purified drinking water, and professionally prepared meals.
Comfort
Chan Chich Lodge offers 24-hour electricity, hot and cold water, purified drinking water, cell phone coverage, and wifi (most of the time and only in the bar/restaurant area). Our students have access to a swimming pool, hot tub, and cozy bar. The food is exceptional, and the lodge can accommodate vegetarians and people with celiac disease.
Chan Chich Lodge
The real selling point for the project is the lodge. The staff includes the friendliest people you will meet anywhere, and the facilities are top-notch. The lodge is so special that it is listed in the book 1,000 Places to See Before You Die.
Frequently Asked Questions (Updated 9-5-18)
Question: Will not being a student at Texas Tech hurt my chances of being accepted to the program?
Answer: Not at all! Each summer we have students from many different universities participate on the program. However, preference will be given to students who plan to enroll for credit at Texas Tech.
Question: Does the $200 application fee for non-TTU students mean that the program is more expensive because I don't go to Texas Tech?
Answer: No. If you are accepted to the program, the deposit becomes a down payment and will be applied to the Study Abroad application fee. If you are denied a spot, your application fee will be refunded.
Question: How many hours is the field school worth?
Answer: The field school is worth 6-hours of credit (ANTH 4642) for those students who enroll at Texas Tech University.
Question: Why is the program fee so high?
Answer: Actually, the program fee is comparable to other field schools in Belize. However, we realize this is a lot of money. The costs of living at Chan Chich are much higher than living in a tent, and the costs of transportation to Chan Chich are higher than many programs located closer to the airport. A share of the program fees also goes to the fee charged by the Belizean government to operate a field school in the country. The program fee covers your room and board for 28 nights at the lodge, along with all your in-country transportation costs, laundry, and the cost of a day trip to visit nearby sites.
When comparing program costs, be aware that some programs do not include food (and sometimes lodging) on weekends or off days. The Chan Chich program does include those costs.
If you were a regular tourist staying at Chan Chich for the same length of time, it would cost you approximately $10,000.
Question: Can the lodge accommodate vegetarian and/or Celiac diets?
Answer: Yes, although the fare may be simpler than the regular menu. It will likely include lots of rice, beans, corn, etc.
Question: Do I need a travel visa to go to Belize?
Answer: No. Students from the US and Canada only need a valid passport. When you arrive in Belize, tell the immigration agent that you will be staying for 30 days (if you plan on traveling before or after the field school), and he or she will stamp your passport with a 30-day visa. If you are staying longer than 30 days, you will need to pay $25 to extend your visa. The project will assist with this.
Question: The electronic materials on the online application state that the pre-departure orientation in Texas is mandatory. Is that applicable to non-TTU students? Should I make arrangements to attend the orientation in April?
Answer: No. Study Abroad will make arrangements for you to view the orientation online.
Question: What happens if I miss my flight to Belize and arrive a day late?
Answer: If you miss your flight, you will be responsible for getting to Chan Chich Lodge on your own. This can be an expensive task if there is not a scheduled airport run by either the project or the lodge. We will do everything we can to assist you, but the project cannot spare a vehicle or staff member to drive to the airport for late arrivers.
Question: What sort of immunizations are required/advisable?
Answer: Because I am not a medical doctor, I can't advise you on that. You should check with your physician. However, no specific immunizations are required by the program for you to participate.
Question: When are the full program, insurance, and study abroad fees due? Can they be paid in the same manner as the deposit? Is a personal check acceptable?
Answer: For Texas Tech students, all program costs, including insurance, will be billed to your student business account. For students from other universities, your full payment will be due 4 weeks before departure. You may pay with personal check. International students may pay with a credit card over the phone. More details will be made available when the downpayment is due.
Question: Are there any scholarships available?
Answer: Texas Tech students can apply for the Study Abroad Competitive Scholarship and may qualify for other scholarships. Please see this link for more information.
Question: In regards to the "Texas Tech University Release and Hold Harmless Agreement"... this requires the signature of a notary from the state of Texas... what do I do if I am not from Texas?
Answer: We will send you a different form to sign if you do not live in Texas.
Question: If I am not a student at Texas Tech, do I have to pay the fee for tuition?
Answer: You only pay the tuition fee IF you enroll for credit at Texas Tech. All Texas residents must enroll for credit at Texas Tech and sign up for ANTH 4642, but students from out of state are not required to enroll for credit at Texas Tech. However, ALL students must be enrolled for credit at their home institution or at Texas Tech.
Question: If I am a non-Texas Tech student and I want to enroll at Texas Tech for course credit, what's the first step?
Answer: The first step is get admitted to Texas Tech for the summer. To do that, please email Adrianna Sotelo in the Study Abroad office and let her know that you are participating in the Field School for Maya Archaeology and wish to be admitted to Texas Tech for the summer.
She will need the following information from you: Full Name, Date of Birth, Street Address, City, State, ZIP Code, Telephone, Email, and Home institution.
Accommodations