Raiders Who Rock Nominees
All Raiders Who Rock nominees and their nominators are honored at the Raiders Who Rock Banquet, and the top nominee from each category will be announced and will receive a special award. The Raiders Who Rock Banquet is an opportunity to publicly honor and reward students, faculty, staff and organizations who make a positive impact on the Texas Tech community.
Texas Tech University and Transition & Engagement is honored to recognize each of the following groups and individuals as 2017 Raiders Who Rock.
Community Service and Leadership Award
Kyle R. Jay (Outstanding Faculty/Staff Raider Who Rocks)
Nominated by Maggie Gilchrest
Kyle is currently an instructor within the National Wind Institute. Kyle measures his success by students who grow in personal and professional capacities, not by the number of A's his students are able to obtain in his coursework. Kyle embodies the Community Service & Leadership Award most through his work with the Grace Campus Project. Kyle created a student organization made up of wind students whose primary goal is to find clean energy power solutions for a non-profit homeless shelter in East Lubbock. He meets with Grace Campus administrators to discuss options for clean energy, opportunities for community service for his students, and logistics of wind power at Grace. Even though they discovered that wind energy wasn't the best option for the organization, he and his students continue to provide some relief and aid to the inhabitants of Grace Campus.
Roshan Bimali (Outstanding Student Raider Who Rocks)
Nominated by Sagar Adhikary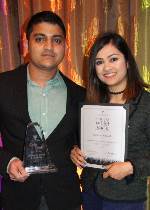 Roshan is currently pursuing a Bachelor's in Chemical Engineering. His academic success has led to several achievements including being elected to membership in Mortar Board. He has demonstrated a great work ethic and leadership skills during his time at Texas Tech. Through his involvement and Presidency of the Nepal Student Association he has had a remarkable impact on the organization and its members; one of which was raising $21,000 through 4 days of a fundraiser to support the earthquake victims in Nepal in 2015. Also, Roshan has served as the chairman of the diversity committee through student government, as a senator for the College of Engineering, as well as been a member of Engineers without Borders. His service both on and off campus demonstrates his passion to help others in any way that he can.
Amy Petry
Nominated by Kelly Riccitelli
Architecture and Design Learning Community Community Advisors:
Blake Hardesty, Daisy Limon, Alec Fuller, Samantha Salic
Nominated by Blake Hardesty
Avery Aiken
Nominated by Narissra Punyanunt-Carter
Brett McQuillen
Nominated by Mark Dotson
Christian Castro
Nominated by Brandi Corpier
Jared P. Harrell
Nominated by Travis Human
Lars Michelem
Nominated by Alexander Eckert
Lauren Carpenter
Nominated by Arren Wells
Mackenzie Hamilton
Nominated by Anonymous
Morgan Dill
Nominated by Bailey Buescher
Robin Duffee
Nominated by Narissra Punyanunt-Carter
Sandra Addo
Nominated by Sierra-Lane Draucker
Sara Marshall
Nominated by Kirsten Terveer
Toni Krebbs
Nominated by Donna Srader
Zachary Hearn
Nominated by Keri Shiplet
Tech Gay Straight Alliance (Outstanding Raiders Who Rock)
Nominated by Allison Cattel
The Tech Gay Straight Alliance is a student organization focused on encouraging other students to be open about who they are and to be accepting of others while effectively communicating with other organizations to also demonstrate acceptance across campus. The students who serve as officers have been extremely proactive in working together to orchestrate a number of high-impact events that serve the Texas Tech community. Through their phenomenal leadership and collaboration with other organizations they were able to raise money to offer scholarships to students on campus along with educational lectures. This organizations efforts continue to enrich both Texas Tech and the surrounding community by bringing people together as they serve to educate and benefit all students at Texas Tech, regardless of sexual orientation or gender identity.
Alpha Tau Omega
Nominated by Dillin Parsons
Army ROTC
Nominated by Odes Gish
Define American
Nominated by Aliza Wong
Delta Kappa Delta Sorority, Inc.
Nominated by Kelly M Cooper
Eta Omicron Nu (HON)
Nominated by Aliza Wong
Future Physicians of America - Waco
Nominated by Mac Ewart
Habesha Student Association
Nominated by Milen Haile
Human Sciences Ambassadors
Nominated by Cindy Villegas
Saddle Tramps
Nominated by Chris Snead
Sigma Delta Pi
Nominated by Sigma Delta Pi Hispanic Honor Society
Sigma Phi Delta
Nominated by Mitchell Dyer
Society For Industrial And Applied Mathematics (SIAM) Chapter at Texas Tech University
Nominated by Sara Calandrini and Giacomo Capodaglio
Society of Hispanic Professional Engineers
Nominated by Patricia Rodriguez
Tech Chapter of the Society for Human Resource Management
Nominated by Vivian Luu, Taylor Winter, Dallas Nicholas, Makenzie Roach, Jessica Layton, Miranda Coronado, Zackery New
Texas Tech National Residence Hall Honorary
Nominated by Vana Springer
Texas Tech REO
Nominated by Ryan Everett
The Daily Toreador
Nominated by Sheri Lewis
TTU iGEM Raiders
Nominated by Julie Isom
Wishmakers on Campus
Nominated by Claire Williams
Dr. David Rivera (Outstanding Faculty/Staff Raider Who Rocks)
Nominated by Johanna Valencia
Dr. Rivera is currently the Associate Chairperson for the Hospitality & Retail Management Department here at Texas Tech. Dr. Rivera has only been at Texas Tech for a few months but has already impacted many students in this department. He is consistently meeting with students to discuss their education and career goals and has a way of connecting to students. He works long hours, does not complain, and goes above and beyond expectations. Dr. Rivera illustrates a productivity level that is considered to be unmatched. His enthusiasm and commitment to work are unquestioned and his excitement for life is evident in all he does. Dr. Rivera's passion for helping others, education and student development along with his ability to lead shows his determination to be the best for himself and others.
Farah Mechref (Outstanding Student Raider Who Rocks)
Nominated by Dr. Aliza Wong
Farah is currently a pre-med student whose contributions and achievements at Texas Tech embody what it means to pursue excellence. She is committed to academic merit, social justice, global vision, campus safety, human rights, and honor evermore. Farah was one of only six women worldwide to participate in the women's global leadership program at the Andi Institute. Along with 2 other American students and 3 others from such places as Kuwait and Lebanon, got the opportunity to discuss issues concerning women from around the world. Farah is a senator for our student government, a member of President's Select, and a mentor and ambassador in the Honors College just to list a few of the organizations she's involved in. Her dedication and drive to make a positive impact on the lives of others, especially those here at Texas Tech, attest to her passion to make the world a better place.
Ashly Pingsterhaus
Nominated by Alex Scheidt
Bob Schaller
>Nominated by Carlos Perez
Chris Snead
Nominated by Gary McCrory
Christy Petry
Nominated by Kelly Riccitelli
Fahiym Webber
Nominated by Jordan Johnson Trunnell
Greyson Collier
Nominated by Malorie Reynolds
Jason Iozzi
Nominated by Johanna Valencia
Jeffory Rogers
>Nominated by Britney Garnica
Julianne Butcher
Nominated by Connor Collins, Truman Thompson, Payton Dedeyan
Kassidy Cox
Nominated by Shelby McMinn
Kele Gibson
Nominated by Antoinette Thomas
Lauren Head
Nominated by Johanna Valencia
Lili Kelley
Nominated by Shawna Hathcock
Malik Williams
Nominated by Abigail Jean Bouska
Meghan Self
Nominated by Desirae Davis
Rusty David
Nominated by Transition & Engagement Staff
Stephen Synder
Nominated by Johanna Valencia
Tera Stines
Nominated by Vana Springer
Tomica Gawlik
Nominated by Brandi Corpier
Kathryn Nelson (Outstanding Faculty/Staff Raider Who Rocks)
Nominated by Olivia Ross, Michael Ross, Marie Reinke, Thanh Tran, Natalie Campbell, Garrett Blackwell, Amanda Gunter, Megan Hatcher, Henry Oliver, and Kelly Aaron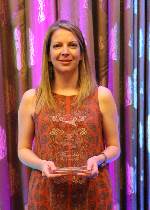 Kathryn is currently a professor in the Landscape Architecture department. She is multi-faceted in her professionalism whether it is in her formal role as classroom instructor and academic advisor, or informally as a mentor and cheerleader for her students and coworkers. Kathryn takes initiative and is known to be committed to doing the right thing. She is always supportive, dependable, helpful, and patient. Some of her students said that she is the definition of an extraordinary instructor. She displays a commitment to treating all students and coworkers in the department with respect regardless of her work load, stress level, or any negative factors involved in her day.
She understands the obligation that faculty have to students and, in turn, realizes that they deserve high value for their educational investment. She is naturally extraordinary even in, what would otherwise be, ordinary circumstances.
Aida Gutierrez (Outstanding Student Raider Who Rocks)
Nominated by Laura Thomas
Aida currently works for the Department of Recreational Sports as a Sport Club Student Director. She leads by example and is always up for a challenge. She takes initiative to complete tasks that fellow staff members maybe haven't gotten to or have forgotten about. She never asks for individual credit or appreciation, but is always first to use language like "we" and "the Team". The department of Recreational Sports has over 1,000 student athletes in the program, and her nominator believes it is because of Aida's passion for the direction that has spread positivity so far throughout the program. Aida doesn't use the word leader to describe herself, but you can tell that all other students and professional staff that work with her in any way, do respect and appreciate everything she does while striving for honor.
Alec Gonzolas
Nominated by Joseph Tawil
Ben Sharp
Nominated by Aliza Wong
Bryan Naul
Nominated by Jaxiel Lopez
Deshlin Franklin
Nominated by Allison Cartwright
Dillon Custer
Nominated by William F. Dean
Harlene Mraz
Nominated by Penny Mraz
Jesus Rojas
Nominated by Ashley Briseno
Katlyn Porter
Nominated by Kaylea Williams
Mason Chanza
Nominated by Fletcher
Noah Hearn
Nominated by William Dean
Noel Adrian Reyes
Nominated by Cesar Martinez
Nonye Agudumba
Nominated by Madi Werner
Zach Lind/ Redeemer College Ministry
Nominated by Redeemer College Ministry, Purshia Gambles, Leslie Moseley, Nicholas Krzewinski, Marcus Henderson, Derrick Simiyu, Brittany Brown, Brock Hedgecoke, Mandy McKamie, Jared Lewis, Bailey Barrett, Caroline Chapman
Dr. Kimberly Sparr (Outstanding Faculty/Staff Raider Who Rocks)
Nominated by Jordan Kirksey
Dr. Sparr is currently the professor of viola in the college of music. As a distinguished musician, with a resume that is flooded with conservatory and professional orchestral experience, she is one of the most sought-after violists in the nation. One of her many goals as a teacher is to cultivate her students' own thinking and decision-making as musicians. The most unique thing about Dr. Sparr, in regards to her teaching and performing, is her unparalleled energy. Faculty, Staff, and Students become different people by interacting with her. In the Fall of 2016, Dr. Sparr was diagnosed with cancer. It was an early stage of cancer, and there was no damage done to the body, but the
treatment she received would take a toll on her body. While remaining a full-time teacher, performer, and faculty member, she underwent a series of chemotherapy treatments that left her weaker. Despite undergoing a huge battle, Dr. Sparr continued to work in some concerts with the Lubbock Symphony and teaching as many of her students as she could throughout the process, remaining a rockstar to the people who she gracefully inspired with her sheer presence.
Chad Campbell (Outstanding Student Raider Who Rocks)
Nominated by Dr. Aliza Wong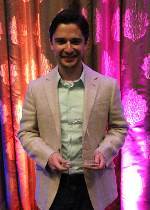 Chad is currently an undergraduate student. He has been part of the Bayless Mentoring Program in the Honors College for the past three years, even giving up a prestigious internship because he believed that the socio-economically challenged children of this local elementary school needed him more. Chad has been a constant, dependable, encouraging, hopeful presence for several children in the program. He can also be described as the quiet person in the back of the room who always provides support, who always encourages, gives strength, inspiration, and hope in the endeavor. Chad tirelessly works behind the scenes to improve the projects he is involved in.
Andrea Beaudin
Nominated by Bethany Pitchford
Benjamin Paul, Benny Bike Taxi
Nominated by Nathalie Lawrence
Breanna Harris
Nominated by Aliza Wong
Desireé Neudorf
Nominated by Madelyn DeChant
Dora Cisneros
Nominated by Michael K. Ross, Olivia Ross, Marie Reinke, Thanh Q Tran, Natalie Campbell, Garrett Blackwell, Amanda Gunter, Henry Oliver, Kelly Aaron
Dr. Annette Sobel
Nominated by Brandon Palomo
Dr.Courtney Meyers
Nominated by Paisley Cooper
Elaine Taylor
Nominated by Narissra Punyanunt-Carter
Erica Partida
Nominated by Tiffanie Thai
Gina Gonzalez
Nominated by Scott Layher and Johanna Valencia
John T Patterson
Nominated by Narissra Punyanunt-Carter
Jose Jimenez
Nominated by Tate Perkins
Kami Waden
Nominated by Drew Carter
Keri Shiplet
Nominated by Gary McCrory
Lisa Card
Nominated by Transition & Engagement Staff
Logan Winkelman
Nominated by Donna Srader
MVP Program Specialists in the Military & Veterans Programs Department
Nominated by Bernice Flett
Paula Webb
Nominated by PeeWee Roberson
Payton Ardoin
Nominated by Laura Thomas
Priscila Ipina
Nominated by Kelsey Linnartz
Rebecca Oldham
Nominated by Lorena Posadas
Tricia Earl
Nominated by Annika Conrick
Vincent Shoup
Nominated by D'Ann Holubec
Zachary Williams
Nominated by Carl Hartman
Raiders Who Rock
Address

201 Student Union Building, Box 45014, Lubbock, TX 79409

Phone

806.742.2993