Join Our Team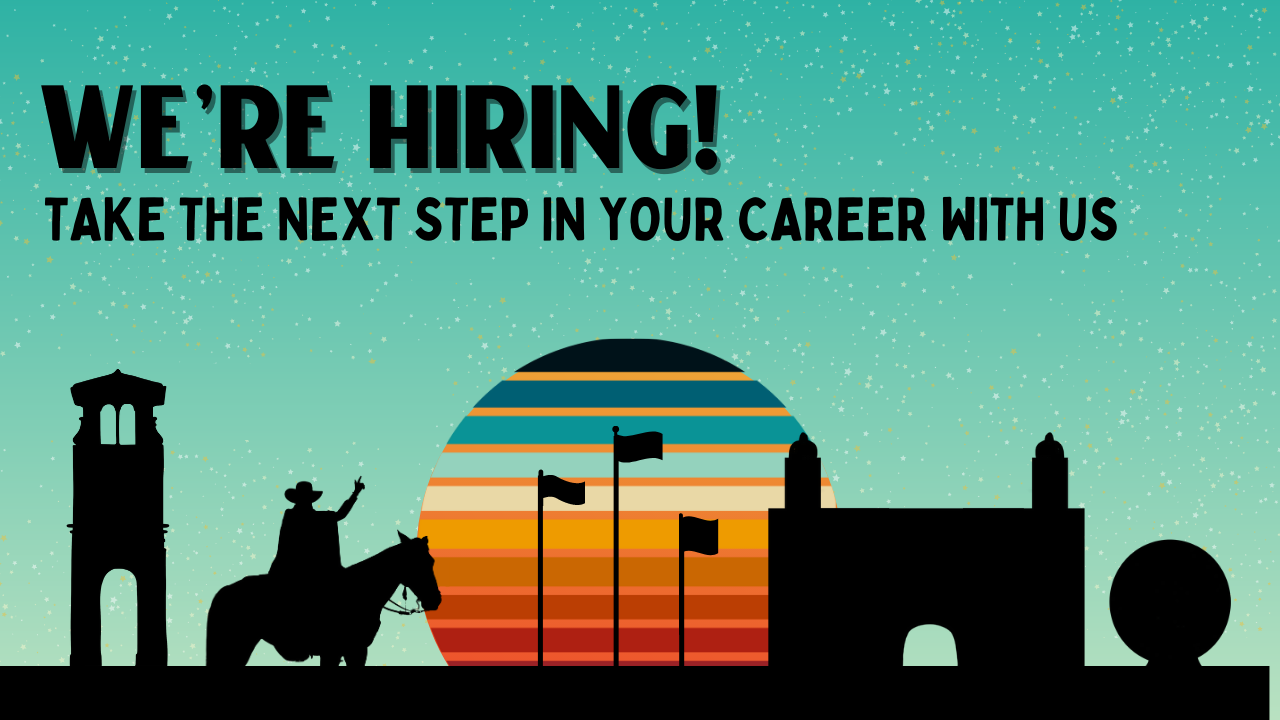 We're hiring! If you're looking for a job where you can make a big difference in students' lives as a member of a high-energy and innovative team, then consider joining us in Student Engagement at Texas Tech University!
*Note: For priority consideration, please apply by Sunday, September 10. Position will remain open until filled.
Program Director: First Year Experience & RaiderReady Programs
We want someone who is excited to grow their skills in leadership, curriculum development, training, and collaboration. Our ideal candidate is an individual who has experience working with students in transition from high school to college, as well as someone with a background in teaching or curriculum development. In this role, you can look forward to:
Leading a comprehensive and coordinated first-year experience across campus by developing relationships with campus partners and learning more about existing first-year student success efforts
Overseeing integrated marketing strategy for the RaiderReady program, working closely with the established Student Engagement social media channels to develop content that is relevant to first-year student success
Expanding the RaiderReady peer mentor program, including collaborating on the recruitment, training, and development of RaiderReady peer mentors and training instructors on best practices in implementing peer mentors in the classroom
Working with the full Student Engagement team to integrate other first-year programs such as Raider Welcome, Hub City Fest, Raider Roundup, the Texas Techspo, Tech Leadership Institute, and the Majors & Minors Fair into the RaiderReady curriculum to support a comprehensive first-year experience
Application Information
To find out more about the Program Director position, including a detailed job description and required qualifications, please visit the Texas Tech Jobs page. (Requisition #34891BR)
Our Department and More
About Our Department
Student Engagement is a team of people who are innovative, creative, and passionate about helping Red Raiders succeed. Our commitment to student success can be found in our mission, vision, and commitments. These are more than words on a website - we truly live these words out every day and strive to bring them to our work in tangible ways.
One of the hallmarks of our department is our committment to growth - of ourselves, of our programs, and of our students.
Growth of our employees. We strive every day to be the best versions of ourselves and to learn more about how to help students. We engage in individual and team development to ensure we not only serve our students well but also have fun while doing it. We know that a collegial atmosphere is essential to our success, and we work tirelessly to ensure we create an environment where people enjoy their jobs and can do their best work.
Growth of our programs. We are constantly looking for ways to improve our programs and the methods we use to support students, whether it is through first-year success programming, social media efforts, or academic and career development.
Growth of our students. We are committed to helping every Red Raider meet their academic and career goals. Whether it is the student employees in our department or the students we are working one-on-one with, each student has unique needs and requires an individualized approach to helping them achieve personal success.
We are looking for team members who bring a passion for student success and desire to grow as an individual and as a member of our team. Here in Student Engagement, we are looking forward to the next chapter of our growth, and we hope you consider joining us.
Working for Texas Tech
Texas Tech is recognized as one of the 2021 Great Colleges to Work for, and with good reason! When you ask people what they love about working at Texas Tech, one of the first things they will say is, "the people!" On campus there is a tangible energy and excitement, coupled with a down-to-earth and friendly atmosphere.
Other great things about Texas Tech are the competitive benefits and holiday leave schedule. We foster a family-friendly environment that is accommodating to mothers as well as offering affordable family benefits. There are also opportunities to get discounted tickets to athletics events, get an employee membership to the Rec Center, receive mental health support, and get a tuition waiver for a class each semester.
Finally, we love all the professional development opportunities available to help staff become better team members and better leaders. We truly believe the success of our team is related to the success of our individual team members, and Texas Tech is committed to investing in each and every member of our Red Raider family.
Life in Lubbock
If you're considering relocating or are new to the Lubbock area, we'd love to let you know more about the Hub City! We like to say that Lubbock is a big small town. There are lots of restaurants, live music venues, and places to get out and enjoy the warm weather. While Lubbock can sometimes rival Chicago in the title of the Windy City, the truth is that we boast over 250 days of sunshine a year while also getting to enjoy the occasional snow day. If you're looking for an affordable city with the friendliest people in Texas, then Lubbock is the place to be!
Lubbock is also home to an international airport and a short (in Texas-terms, anyway) drive to the DFW, Austin, San Antonio, Santa Fe, and Ruidoso areas. If the outdoors is your thing, about an hour and half north you can find top-notch hiking as well!
To learn more about the city and the great things it has to offer, we recommend checking out Visit Lubbock and Lubbock in the Loop.
Student Engagement
Address

Drane Hall 1st Floor, Box 45020, Lubbock, TX 79409

Phone

806.742.5928