About the Director
Dr. Stephen H. Balch became the director of The Institute for the Study of Western Civilization in September 2012. Before coming to Texas Tech, Dr. Balch served for twenty-five years as founding president and chairman of the National Association of Scholars (NAS), a Princeton, New Jersey based organization of higher education professionals dedicated to the traditional principles of liberal arts education.
During his years at the NAS, Dr. Balch worked to encourage universities and colleges across America to develop new academic programming dealing with Western civilization, "the Great Books", and the study of free institutions. He also played a major role in the founding of a variety of other academic organizations devoted to enriching scholarship and public discussion of higher education issues. In 2007, his work was honored by the National Humanities Medal, bestowed by President George W. Bush in a White House ceremony.
Dr. Balch holds a Ph.D. in political science from the University of California at Berkeley. Between 1974 and 1987, he served on the faculty of the Government and Public Administration Department of John Jay College of Criminal Justice in the City University of New York. In 2009, he received the Jeane Kirkpatrick Academic Freedom Award. Dr. Balch has written on higher education issues for a variety of publications and co-authored The Vanishing West: 1964-2010, a report that documents the decline of the study of Western civilization in America's universities.
Contact Dr. Balch at (806) 834.8289 or steve.balch@ttu.edu.
Talks Around the United States
Keynote Address | May 19, 2014 | James Madison Program, Princeton NJ.
"Why Study the West" | October 29, 2013 | University of Saint Thomas, Houston, TX.
"Why it's Important to Revive the Study of the West" | October 18, 2013 | Metropolitan Rotary, Lubbock, TX.
Panelist assessing Stanley Rothman's contributions to social science | August 29, 2013 | American Political Science Convention, Chicago, IL.
"Why it's important to Revive the Study of the West" | July 22, 2013 | Greater Southwest Rotary Club, Lubbock, TX
Chair of workshop on creating a network of programs on the study of free institutions | May 21, 2013 | James Madison Program/Association for the Study of Free Institutions Conference "Milestones in the History of a Free Society," Princeton University, Princeton, NJ.
"Abounding Anomalies: On the Fragility of the Western Achievement" | April 12, 2013 | McKenna Center Conference, Saint Vincent College, Latrobe, PA.
Panelist on "Whither the West" | March 2, 2013 | National Association of Scholars Conference, New York City, NY.
"Why it's Important to Revive the Study of the West" | October 17, 2012 | Rotary Club, Lubbock, TX.
Dr. Balch attended a Texas Tech basketball game and showed his support for the Red Raiders!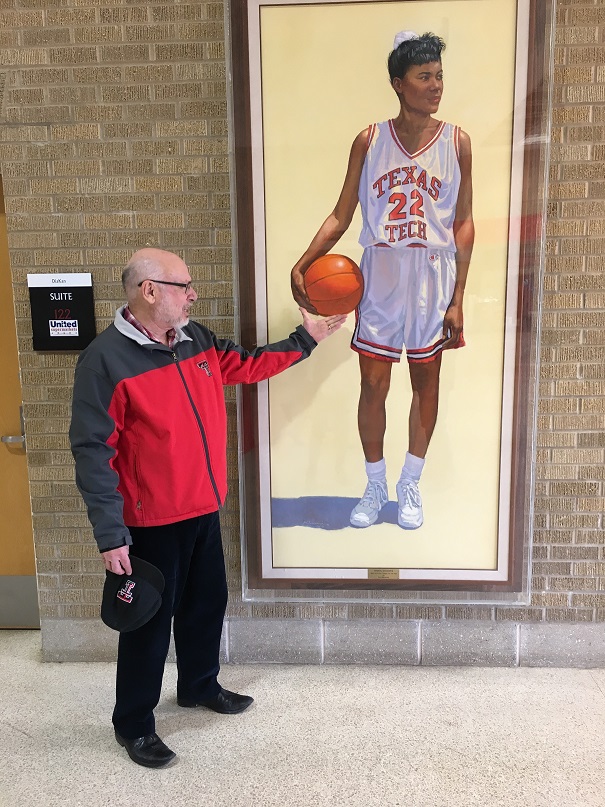 (Dr. Steve Balch "holding" a basketball in Sheryl Swoopes portrait hanging in the TTU City Bank Coliseum)
The Institute for the Study of Western Civilization
Address

Mailing Address: Box 42019 - The Institute for the Study of Western Civilization, Lubbock, TX 79409-2019

Phone

806.834.8289

Email

steve.balch@ttu.edu