Creating Livable Futures
What is Creating Livable Futures?
Creating Livable Futures prepares students to translate and communicate the work of sustainability thought-leaders, and engages them in using, describing, and discussing relevant research materials. The campus-wide initiative leverages the rich holdings and perspectives of TTU's Sowell Family Collection in Literature, Community and the Natural World. The Collection contains the papers of Barry Lopez, Bill McKibben, Paul Hawken, Gretel Ehrlich, and many other notable authors. Our initiative's points of focus include cleaner, safer, and healthier communities; reliable technology and energy; and new careers in sustainability.
Students conduct research in the Sowell Collection, as part of a Livable Futures assignment.
Ankush Saha, a member of the newly-founded student organization, Project Climate, speaks with Dr. Natasha DeJarnett at a climate conference in Houston.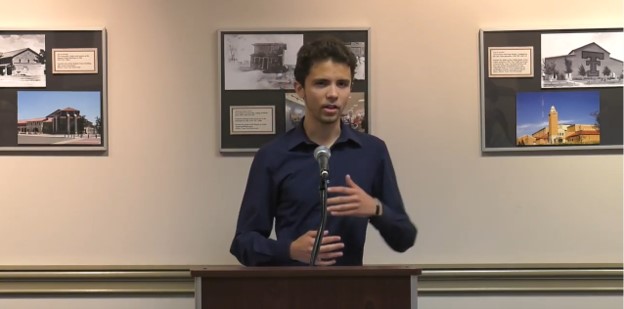 Matthew Sokol discusses indigenous agriculture, food chain supply, and Sowell Collection writers at the 2019 Sowell Conference.
Creating Livable Futures Activities
To date, Creating Livable Futures has
sponsored the Sowell Conference
conducted a climate interactive, screened films, and taken students to conferences
supported student engagement with the E.L. Reed Herbarium
helped to establish Project Climate, a student organization.
Upcoming projects include a Wikipedia edit-a-thon, book clubs, and student scholarships.
Participating faculty
Michael San Francisco, Kurt Caswell, Bryan Giemza, and Barry Lopez (Honors College), Katharine Hayhoe (Political Science/Climate Center), Matt Johnson and Nick Smith (Biology), Sara Spurgeon (English), Diane Warner (Sowell Collection), Andy Wilkinson (Engaged Scholarship), Danny Reible (Engineering), and Gad Perry (ICASALS).