West Texas Eco-Garden
The northern entrance to the Museum of Texas will be closed for a few days due to construction on the first stage of the West Texas Eco-Garden.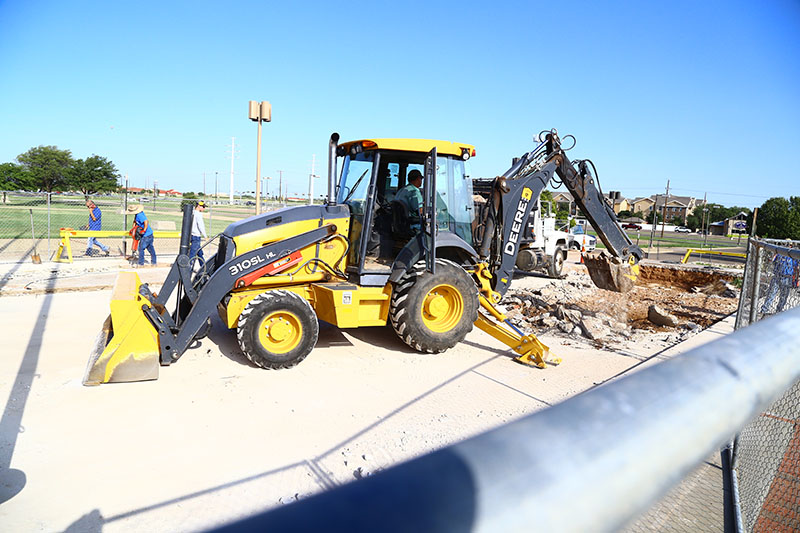 The west entrance to the Museum, through the Helen DeVitt Jones Sculpture Court will serve as a main entry point for visitors during the construction. There is plenty of free parking on the west side of the building. The north parking lot remains open and the east entrance doors will be open for visitors and deliveries.
We regret any inconvenience to our visitors. The north doors should be closed for only a few days.
Over time, the Eco-Garden will interpret the major natural habitats of West Texas, telling stories of the evolution of the High Plains, its geology and hydrology, and how humans have adapted to living in the region's wide open spaces.
The Eco-Garden will eventually feature a diverse vegetated landscape that does not need artificial watering. The plan is to use plants that are found in the region around Lubbock such as shortgrass prairie plants. Shortgrass prairie is one of the significant types of grasslands in North America and comprises a mix of grasses and other annual and perennial flowering plants. Shortgrass prairie needs less rainfall than tallgrass prairie.
A dominate feature of the Eco-Garden plan is an area that is representative of an arroyo that will form an entryway to the main northern doors of the museum. Arroyos are washes that divert water after rains but for much of the year are dry.
Preparing to move the Tug o' War sculpture during construction.
The project aims to achieve a highly sustainable landscape that requires minimal or no additional watering. Materials such as the concrete and bricks torn up by the construction will be reused in forming the arroyo. Recycling materials is an important principle in sustainable landscape management.
Eventually, there will be lighting, seating, and shade trees, creating an area that will be both educational and lovely to visit.
The West Texas eco-garden is made possible by the generous support of the CH Foundation, and funding through the landscape enhancement program of the Texas Tech University System. The system allocates 1 percent of the estimated total cost of each new construction project or each repair and rehabilitation project that exceeds $500,000 for landscape enhancement and an additional 1 percent for the acquisition of public art. The funding comes from the recent life safety project at the Museum.
Museum of Texas Tech University