Come and See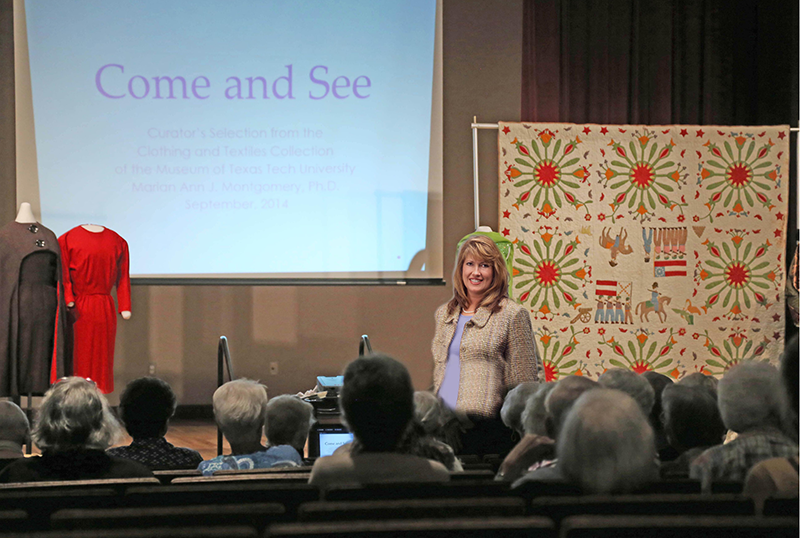 Dr. Marian Ann Montgomery, Curator of Clothing and Textiles, will show and discuss 20-30 pieces from the Museum's collection of clothing, accessories, needlework, and quilts.
This season, among other items the following will be seen:
New acquisitions
Quilts of Mrs. Price of Colorado City, Texas including the tricky Cross Roads to Bachelor Hall pattern
Shoes from the Wallace Collection
Cowboy boots worn by the first quarterback for Texas Tech College
Dolls made from promotional cotton sack packaging
The schedule for the rest of the season is:
Thursday, September 21th and Saturday, September 23th
Thursday, November 9th and Saturday, November 11th
Thursday, February 1st and Saturday, February 3rd
Thursday, March 29 and Saturday, March 31st
Please RSVP so that we have a seat for you at marian.ann.montgomery@ttu.edu or calling (806) 834-5146.
For those of you that are new, the programs run from 10:30 until noon and are held in the Helen DeVitt Jones Auditorium of the Museum which is off the Sculpture Court. Please plan to come in the West entrance of the building along Indiana. The doors will be open at 10:15 and close after 10:45 so if you arrive after 10:45 please come in the north entrance. The Thursday program is repeated on Saturday.
Museum of Texas Tech University