Commencement Speaker
Spring 2017
David J. Schmidly, Ph.D.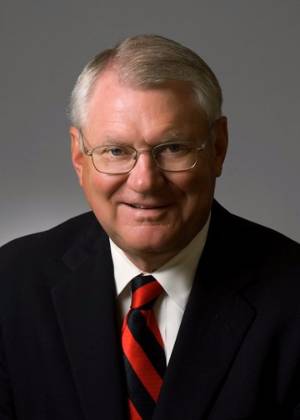 David J. Schmidly was born and raised on a cotton farm near Levelland, Hockley County, in west Texas. As a first generation college student, Dr. Schmidly was the first member of his family to attend and graduate. He received his B.A. and M.S. degrees from Texas Tech University (1962-1968) and his Ph.D. degree from the University of Illinois (1968-1971), all in Zoology. Dr. Schmidly has been recognized as a distinguished alumnus at both of these institutions.
Dr. Schmidly served as President of the University of New Mexico from 2007-2012. Previously he had served as President and CEO of Oklahoma State University (2003-2007) and Vice President of Research, Dean of the Graduate School, and President at Texas Tech (1996-2003). Dr. Schmidly started his academic career at Texas A&M University in 1971 where he served as head of the Department of Wildlife and Fisheries Sciences (1986-1992) and Chief Executive Officer and Campus Dean at Texas A&M University at Galveston (1992-1996).
Dr. Schmidly has served on many higher education boards, including the Executive Committee of the International Association of University Presidents (IAUP); the Council of Presidents, Association of University and Colleges (AGB); the Board of Directors, Hispanic Association of Colleges and Universities (HACU); the Board of Directors, American College and University President's Climate Commitment (ACUPCC); and as a Director and member of the Executive Committee of the National Collegiate Athletic Association (NCAA).
Dr. Schmidly is an internationally respected researcher and scientific author. He has been inducted into the Texas Hall of Fame for Science, Mathematics, and Technology, which recognizes Texans who have played a major role in significant scientific accomplishments. As a noted scientific naturalist, he has authored 11 natural history and conservation books and more than 150 scientific articles. In addition, Dr. Schmidly received a very prestigious honor when a new species of mouse was named after him – Peromyscus schmidlyi. Quite possibly, he is the only recent university president with this distinction! In 2003, Dr. Schmidly was awarded honorary membership in the American Society of Mammalogists (ASM), the most prestigious recognition awarded by that international scientific society.
Dr. Schmidly and his wife of 50 years, Janet Knox Schmidly, also a Texas Tech graduate (1966), are retired and live in Placitas, New Mexico. They are the parents of two grown children and four grandchildren.
Previous Commencement Speakers
John T. Montford
Fall, 2016
Andres Alcantar
Summer, 2016
Mark Lanier
Spring, 2016
Marsha Sharp
Fall, 2015
Mark Griffin
Summer, 2015
Arcilia Acosta
Spring, 2015
Dr. Mica R. Endsley-Jones
Fall, 2014
Douglas E. Barnhart
Summer, 2014
Kent R. Hance
Spring, 2014
Dr. O. Wayne Isom
Fall, 2013
Paul L. Foster
Fall, 2013
Duane Nellis
Summer, 2013
Senator Ted Cruz
Spring, 2013
Congressman Randy Neugebauer
Spring, 2013
Ray Maybus
Fall, 2012
W. Mark Lanier
Spring, 2012
Jerry S. Rawls
Spring, 2012
Edward E. Whitacre, Jr.
Fall, 2011
Bernard T. Mittemeyer, M.D.
Summer, 2011
Ginger Kerrick
Fall, 2010
Judge Royal Furgeson
Spring, 2010
Chancellor Kent Hance
Fall 2009
Donald E. Powell
August, 2009
Undergraduate Commencement
Ambassador Karen P. Hughes
May, 2009
Graduate School Commencement
Scott Pelley
May, 2009
Undergraduate School Commencement
Clay Sell
August, 2008
Dr. Dale E. Klein
Spring, 2008
Graduate School Commencement
James A. Baker, III
Spring, 2008
Undergraduate School Commencement
Katharine Hayhoe
Fall, 2007
Graduate School Commencement
Paul L. Foster
Fall, 2007
Undergraduate School Commencement
Lieutenant Governor David Dewhurst
Fall, 2007
Undergraduate Commencement
Geoff Wayne
August, 2007
Dr. John W. Ryan
Spring, 2007
Graduate School Commencement
The Honorable Roger Williams, Secretary of State
Fall, 2006
Undergraduate School Commencement
Grandmaster Susan Polger
Spring, 2007
Undergraduate School Commencement
Dr. William M. Marcy
August, 2006
Ambassador Gregory W. Engle
Fall, 2006
Graduate School Commencement
Margaret Spellings
Spring, 2006
Undergraduate Morning Commencement
Dr. Shelby D. Hunt
Spring, 2006
Graduate School Commencement
Senator John Cornyn
Spring, 2006
Law School Commencement
Dr. Donald R. Haragan
Spring, 2006
Undergraduate Afternoon Commencement
Wyman Meinzer
Summer, 1999
Dr. Kishor C. Mehta
May, 2005
Carole Keeton Rylander
Fall, 1999
George Bush
Spring, 1999
George W. Bush
Spring, 1997
Queen Noor of Jordan
Fall, 1996