The Man Behind the Cover
Story and photo by Alicia Daugherty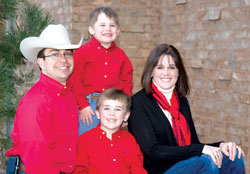 Warm. Hot. Blazing. These are words the average person rarely considers. However, to the senior director of marketing and publications at the largest equine breed association in the world, these three little words determine his priorities each day.

The American Quarter Horse Association, headquartered in Amarillo, Texas, boasts 310,000 members, all of which receive a magazine publication called America's Horse. Many of the members also subscribe to The American Quarter Horse Journal, a magazine that encompasses every aspect of the Quarter Horse industry. In conjunction with these magazines are several online publications.
But, were it not for the man behind the cover, none of these marketing and publication efforts would
be possible.

Jim Bret Campbell, a Texas Tech graduate, has worked within AQHA for 13 years. An avid horse enthusiast from a young age, Campbell considers his position at AQHA the best personal and professional position he could ask for.

"The association has been really good to me," Campbell said. "As a young kid I would read about great horsemen I could associate with because they were horsemen and cowboys just like my family, and now I get to meet and work with these people."

The road that led Campbell to work at the international headquarters of AQHA started when he was a young boy. Always enamored with any horse material he could find, Campbell spent many hours pouring through his parents' subscriptions of The American Quarter Horse Journal. Campbell possesses strong agricultural roots as both his grandfathers and his father were involved with farming and ranching. Thus, it was natural for him to continue in agriculture.

After completing high school in Hereford, Texas, Campbell decided to attend Tech after receiving a dean's scholarship to further his education as a pre-vet major, but he felt something was missing.

"I determined pretty quickly that my aptitude for chemistry was probably not as good as it should be," Campbell said as he smiled slightly, "so that's when I started looking around for the right fit for me."

Campbell said he was drawn to the relatively new agricultural communications program at Tech and decided upon its degree plan because writing, marketing and public relations were what he excelled in. During his undergraduate studies, Campbell also actively participated in both the livestock and meat judging teams, as well as Ag Ambassadors and Ag Council.

"The livestock judging team was a big part of my college experience," Campbell said as he pointed to a picture of his judging team sitting on the windowsill in his office. "The practical skills I gained and the people management skills I learned in the competitive, stress-filled environment of judging have carried over into my career."

Campbell completed his bachelor's degree in agricultural communications in 1996 and continued with a master's degree in agricultural education, which he received in 1997.
"There is no doubt in my mind that my degrees at Tech, and the time I spent there, and the experiences I had there helped prepare me to do this job," Campbell said.

In addition to heading the marketing and publications department at AQHA, Campbell spends much of his time giving back to his alma mater by serving on the Dean's Advisory Board, which assists in creating and implementing new programs for the College of Agricultural Sciences and Natural Resources.

Dr. Norman Hopper, associate dean of CASNR, not only taught Campbell during his undergraduate work, but has also worked closely with Campbell on the advisory committee. He said Campbell possesses a genuine desire to give back to the university.

"He's very analytical in his thinking as he formulates a plan to address an issue, then he presents that plan," Hopper said when describing what it was like to serve with Campbell on the board. "You can tell he is putting things together in his mind, and whenever he speaks he has very good points to make and always
has a proposed solution."

This progressive thinking allows Campbell to promote AQHA and The American Quarter Horse Journal through many different programs and publications. Not only do his responsibilities include overseeing the production of the association's two major publications and their online counterparts, he also works very closely with other departments within the association to host the Open and Amateur World Show, the Adequan Select World Show, the Built Ford Tough Youth World Show and the Versatility Ranch Horse World Show.

When he is not traveling or busy in the office, Campbell said his main hobby is spending as much time as possible with his wife Teri, and their two boys, Cash, 6, and Cooper, 3. He said the family likes sports, especially baseball, and they love to go snow skiing when time permits.

"I have been very blessed," Campbell said. "I really feel like God led me to be at AQHA and in Amarillo."