Alex Miller - Pre-Speech, Language, Hearing Sciences
Hello Red Raiders! My name is Alex Miller, and I have a bachelor's of Science in Speech, Language, and Hearing Sciences. I was born and raised in Lubbock, Texas and graduated from Lubbock High School in 2013. I am currently pursuing a master's degree in Speech Language Pathology with the Texas Tech University Health Science Center.
Attending Texas Tech has been a tradition within my family, and I always knew it was where I wanted to go. I loved the size of the university, and knew it would provide plenty of opportunities to meet new people. It was appealing to have the bachelor's degree, as well as, the master's program I was interested in, all available at the TTUHSC. Since so many of the Pre-Health students have similar prerequisites, it was easy to build new relationships. Taking "Introduction to Communication Disorders", with Carolyn Perry, solidified my passion for the Speech, Language, and Hearing Sciences. All of my professors were so helpful and willing to be a part of my success, that, along the way I found an interest in teaching as well. I would love to be a part of the program that has brought me so far.
I heard of Speech Pathology from a family friend and knew it would be an area that I would like to explore. While I did pursue my prerequisites through Human Development and Family Studies, Pre-Professional Health Careers are the ones that first told me about the health programs at Texas Tech. PPHC was at a college fair in my high school, and that is where I learned about the Speech, Language, and Hearing Sciences program. I was instantly interested. My advisor, Tim Spees, was very encouraging and supportive and made sure that I got all of the prerequisites that I needed.
During my time at Texas Tech University and the TTUHSC I have been very involved in many organizations. I was in High Riders, Tech Activities Board (now Student Activities Board), and did presentations for the local HOSA chapter in my undergrad. I also helped with the Pre-Speech, Language, and Hearing Student Organization. Being so involved put me in touch with people that were able to help me all along my journey. I have always felt that the more people you know, the more opportunities will become available to you. I will always recommend that students new to the Pre-Speech, Language, and Hearing Sciences designation be a part of Pre-SLHea and HOSA. They provide so many great volunteer opportunities and have amazing mentors.
I will be graduating with my master's degree in May 2019. My goal is to gain experience in my field and return to teach. I believe that SLHS is such a great science to pursue. It has been wonderful to be a part of, and is a growing and promising program with so much variety. It truly is a great way to become a well-rounded professional. I cannot wait to see where it goes from here!
Wreck 'Em Tech!
Alex Miller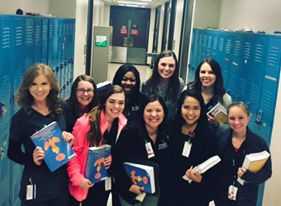 Alex, along with other graduate students, gather at the brain lab
to teach medical students about language disorders.
Pre-Professional Health Careers