Texas Tech Technology Company Looks to Revolutionize Synthetic Peptide Production
By: Sally Logue Post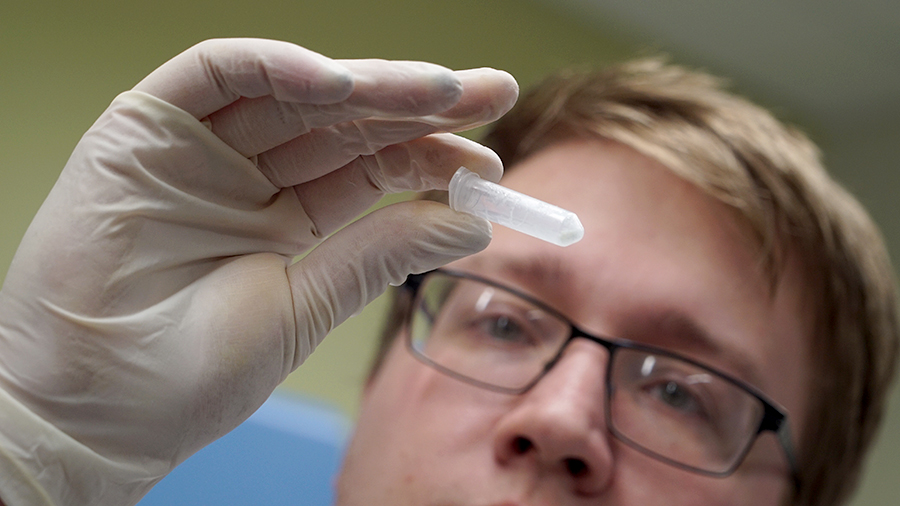 Peptides are everywhere. While they occur naturally in the body, it is the man-made synthetic version that is creating a marketing buzz and fueling a multi-billion dollar industry. Two Texas Tech University graduates have formed a company to produce synthetic peptides that they believe could be a game changer in an already hot market.
Peptides, such as insulin, are naturally produced in the body. Synthetic versions of these compounds are used in many pharmaceuticals, cosmetics and other products.
"For example, pretty much any good antiaging cream on the market today has peptides," said Cole Seifert, co-creator of the new technology. "The peptides are the activating agent that makes antiaging cream work."
Seifert, who holds a doctorate in organic chemistry, invented the new technology while a doctoral student in the laboratory of Guigen Li, a professor in the Texas Tech Department of Chemistry and Biochemistry.
When Seifert filed for a patent on his new process in 2015, it was reviewed by Carder Brooks, who was working in the Texas Tech Office of Research Commercialization. Brooks holds a law degree from the Texas Tech School of Law and a master's degree in biotechnology from the Texas Tech University Health Sciences Center. He thought the technology was interesting and had potential.
After some conversation between Seifert and Brooks, GAP Peptides, LLC was born. The company takes its name from the concept called Group Assistant Purification or GAP chemistry, which was developed in Li's laboratory. While developing synthetic compounds for use in pharmaceuticals and other products is not new, GAP chemistry is a relatively new process that uses less energy and materials and allows for the reuse of purification materials. Using GAP chemistry techniques, Seifert was able to produce higher yields of synthetic peptides with far greater crude purity than current industry standards.
The company began producing the synthetic peptides in January 2018 in space leased in the Texas Tech Innovation Hub at Research Park. The company will manufacture and distribute custom peptides to research laboratories at universities, institutes and commercial companies.
Seifert is the company's chief science officer and he is always looking for new applications for the product. Currently, GAP Peptides is a small operation, with Seifert teaching his partner manufacturing techniques, something that Brooks the lawyer is a little nervous about.
But with the rapid expansion of the field, Brooks is much more certain about the company's future.
"Peptides are a hot commodity. The market was worth about $16 billion in 2015, and it is predicted to grow at about 10 percent per year," said Brooks said. "Our technology produces purer synthetic peptides at a substantially lower cost than current methods. So I think our future is bright."
Discoveries
Address

Texas Tech University, 2500 Broadway, Box 41075 Lubbock, TX 79409

Phone

806.742.3905