Performing Arts Research Lab (PeARL)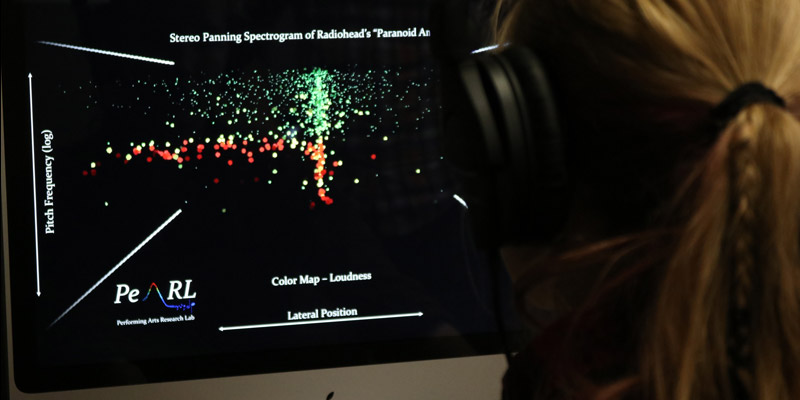 Directors
Assistant Professor of Interdisciplinary Arts
J.T. & Margaret Talkington College of Visual and Performing Arts
Associate Professor of Music Theory
School of Music
The Performing Arts Research Lab (PeARL) uses a combination of interdisciplinary experimental and computational methods to address fundamental questions about the composition, performance, and reception of music, theatre and dance, and the visual arts. We focus primarily on learning and memory for musical organization, the formation of expectations, and emotion and empirical aesthetics. The lab employs methods from psychophysics, cognitive psychology, psychophysiology, corpus linguistics, information retrieval, systematic musicology, and music theory and analysis.
The Performing Arts Research Laboratory is housed in the School of Music at the J.T. & Margaret Talkington College of Visual & Performing Arts at Texas Tech University.
Recent Publications
Sears (in press). String-based methods for tonal harmony. Oxford handbook of music & corpus studies.
Sears, Pearce, Spitzer, Caplin & McAdams (2019). Expectations for tonal cadences: Sensory and cognitive priming effects. Quarterly Journal of Experimental Psychology.
Sears, Spitzer, Caplin, & McAdams (2019). Expecting the end: Continuous expectancy ratings for tonal cadences. Psychology of Music.

Martens (2018). Instructor's manual for The Musician's Guide to Music Fundamentals, 3rd ed. The Musician's Guide to Music Fundamentals.
Sears, Pearce, Caplin, & McAdams (2018). Simulating melodic and harmonic expectations for tonal cadences using probabilistic models. Journal of New Music Research.

Martens & Benadon (2017). Musical structure: Time and rhythm. The Routledge Companion to Music Cognition.
Ogg, Sears, Marin, & McAdams (2017). Psychophysiological indices of music-evoked emotions in musicians. Music Perception.
News Flashes
8/5/2019 -- The PeARL presented four papers at the biennial meeting of the Society of Music Perception and Cognition in New York. Congrats to Lucas Hess, Jonathan Verbeten, Hannah Percival, Dr. Peter Martens, and Dr. David Sears.
4/26/2019 -- Kathryn Kelley won first place in the 18th Annual Graduate Student Research Poster Competition at TTU. Congrats Kathy!
4/6/2019 -- The PeARL participated in STEAM Day 2019 at the TTU Museum. Check out the coverage in the Daily Toreador.
1/23/2019 -- Music and language intersect in the PeARL! Check out the coverage in Texas Tech Today.
12/27/2018 -- The PeARL: Scientific Discovery at the Heart of the Arts! Check out the coverage in Texas Tech Today.
Performing Arts Research Lab (PeARL)