Dr. Belinda Kleinhans
Associate Professor of German
CMLL Associate Chair
Office: CMLL 270
ORCID: https://orcid.org/0000-0002-2200-1827
Research:
Dr. Kleinhans' research is located at the intersection of philosophy and literature within a posthumanist and poststructuralist framework and investigates how discourses of exclusion, discrimination and violence against (animal) others are expressed and countered in literature. Research interests are in the areas of biopolitics in literature, posthuman ethics, Literary Animal Studies, zoopoetics, German comics, as well as in Genocide Studies.
For an updated list of publications, please see https://ttu.academia.edu/BelindaKleinhans.
Teachings:
Dr. Kleinhans teaches German language courses on all levels which are created around skill-based approaches to German language instruction that include transferable skills usually not associated with language instruction. Dr. Kleinhans also teaches courses on all aspects of German culture which are based on multimodal reading skills and project-based learning and approach German-language literary texts through adaptations.
Courses Commonly Taught
Grad Level:
CMLL 5309: Representations of Genocides
GERM 5321: Seminar in Modern German Literature: Reading Animals
GERM 5315: German-language Literature & Culture in the West 1945-1989
GERM 5312: Weimar Republic and Exile Literature
CMLL 5309: German Literature in the 19th Century
Undergrad Level:
Select Honors & Awards
Member of the Texas Tech University Teaching Academy (since 2022)
President's Excellence in Teaching Award, Texas Tech University (2022)
Texas Tech Pi Beta Phi Faculty Appreciation Award (2019 & 2020)
Professing Excellence Award, Texas Tech University (2018)
Texas Tech Humanities Center Alumni College Fellow, Texas Tech University, Humanities Center (2017 & 2021)
CAUTG Prize for Best Canadian Dissertation in German Studies (2015)
Faculty of Arts Teaching Excellence Award – Sessional category (2014; University of Manitoba)
Conference Organization
2021 Canadian Association of University Teachers of German, University of Alberta, Canada (May 30-June 2, 2021) – virtual conference
2020 Canadian Association of University Teachers of German, Western University, Ontario, Canada (scheduled for May 30-June 1, 2020; cancelled last minute due to COVID-19)
2019 Canadian Association of University Teachers of German, University of British Columbia, Canada (May 31-June 3, 2019)
2019 Animal/Language: An Interdisciplinary Conference. Texas Tech University, Lubbock, TX (21-23 March 2019)
2018 Animals in the Humanities – Working Group Symposium, Texas Tech University, Lubbock, TX (18-19 April, 2018)
Education
Ph.D., German Studies, University of Waterloo (ON, Canada) 2013
Magister Artium, German Studies and Philosophy, Universität Mannheim (Germany) 2008
M.A., German Studies, University of Waterloo (ON, Canada) 2007
Licenses
IDI ® (Intercultural Development Inventory) Qualified Administrator since 2019
The Intercultural Development Inventory® (IDI®) assesses intercultural competence—the capability to shift cultural perspective and appropriately adapt behavior to cultural differences and commonalities. Intercultural competence has been identified as a critical capability in a number of studies focusing on overseas effectiveness of international sojourners, international business adaptation and job performance, international student adjustment, international transfer of technology and information, international study abroad, and inter-ethnic relations within nations.
Contact Information
Belinda Kleinhans, Ph.D.
College of Arts and Sciences
Classical & Modern Languages & Literatures
Box 42071
Lubbock, TX 79409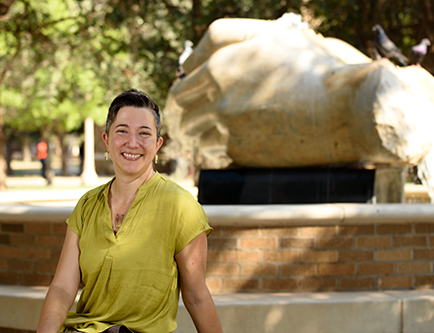 CMLL German Studies
Address

CMLL Building, 2906 18th St, Lubbock, TX 79409

Phone

806.742.3145