Professional Staff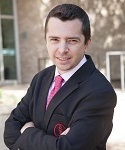 Grandmaster Alex Onischuk
Head Coach/Program Director
Alex Onischuk became an international grandmaster, the highest-ranking title in chess, at only 19. He has been one of the top 100 players in the world for 20 straight years, qualifying and playing in six straight Chess World Cup competitions. A former collegiate champion, he won the U.S. Championship in 2006, took second place twice and third place four times. He's played on six elite U.S. Olympiad teams in a row, including two medal-winning squads, and led the U.S. to a gold medal in the 2013 Pan-American Continental Championship. In addition to his achievements as a player, Alex is one of the most highly sought-after chess teachers in the world, training even world champions. He is also one of the most effective mentors for players of less exalted levels. Alex has earned his B.A. in modern languages and linguistics from the University of Maryland, Baltimore County and his M.A. in sociology from Moscow State University. Grandmaster Onischuk provides regular training to all members of the TTU chess teams. Since his arrival at Tech in the late fall of 2012, he's coached TTU team to 2015 Pan-American Chess Championship win, a berth in the 2016 Final Four of College Chess, and a number of other important titles. Several Tech players have increased their official ratings 200 points or more. "We have fun training. A great team makes even serious work enjoyable."
Claudia Munoz
Student Assistant
Claudia Munoz joined the Texas Tech Chess Program as a Student Assistant August 2016. Her role is to manage the media outreach of the Chess Program by managing social media. She also contributes to the making of the UIL Chess Tests. Claudia is a freshman from Wichita Falls, Texas working on completing her Bachelor of Arts Degree in Mathematics.
Claudia has been playing chess since the age of 6. At the age of 10, she won her first chess title as Woman Candidate Master granted by the International Chess Federation. Her most prestigious achievements include representing the United States in three Pan-American Youth Chess Championships, two World Youth Chess Championships, and one World Junior Chess Championship. Most recently she won the first ever 2014 United States Girls Junior Closed Championship. At Texas Tech University, Claudia looks to continuously improve her chess skills as well as learn, share and impact the community around her.
Luis Torres
Student Assistant
Luis Torres joined the Texas Tech Chess Program as a student assistant in January 2017 but has been playing for the Texas Tech Chess program since August 2014. His role is to coach and train the upcoming players that join the program. Luis is a senior working on completing his degree in Mechanical Engineering.
Luis is a native from Mexican and has been playing chess since the age of 10. He has represented Mexico in the World Olympiad and in several World Youth Championships. He became an International Master at the age of 18. His most prestigious achievements include finishing runner-up in the Mexican Absolute Championship, winning the North American Youth Championship-U14 at the age of 13, and consecutively becoming National Youth Champion of Mexico. He also represented Texas Tech in 2014 Final Four.
Richard Davisson
Student Assistant
Richard Davisson joined the Texas Tech Chess Program as a Student Assistant in January 2017. He directs the Check with Tech Tournaments and assists with the UIL chess tests. He is a junior microbiology major and chemistry minor on the pre-Clinical Laboratory Science track. He grew up in Randolph, New Jersey, and has played tournament chess since the age of 6, winning the U19 section of the New Jersey State Championship in 2013. He has become increasingly involved in the chess world since coming to Texas Tech, acting as the treasurer of the Knight Raiders chess club, and helping to grow the burgeoning chess community at Texas Tech.
Danielle Singleton
Student Assistant
Danielle Singleton joined the Texas Tech Chess Program as a student assistant in September 2017. Her role is to manage travel plans for tournaments. She is originally from Fort Worth, Texas, and is a transfer student working towards her Bachelors of Science in Computer Science. She is an entrepreneur in the making as she is currently working on her own business. She hopes after graduating she can travel the world.