Professional Staff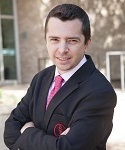 Grandmaster Alex Onischuk
Head Coach/Program Director
Alex Onischuk became an international grandmaster, the highest-ranking title in chess, at only 19. He has been one of the top 100 players in the world for 20 straight years, qualifying and playing in six straight Chess World Cup competitions. A former collegiate champion, he won the U.S. Championship in 2006, took second place twice and third place four times. He's played on six elite U.S. Olympiad teams in a row, including two medal-winning squads, and led the U.S. to a gold medal in the 2013 Pan-American Continental Championship. In addition to his achievements as a player, Alex is one of the most highly sought-after chess teachers in the world, training even world champions. He is also one of the most effective mentors for players of less exalted levels. In 2018, he was inducted into the Chess Hall of Fame. Alex has earned his B.A. in modern languages and linguistics from the University of Maryland, Baltimore County and his M.A. in sociology from Moscow State University. Grandmaster Onischuk provides regular training to all members of the TTU chess teams. Since his arrival at Tech in the late fall of 2012, he's coached the TTU team to a 2015 and 2019 Pan-American Chess Championship win, led the Texas Tech Chess team to the Final Four for five consecutive years, and a number of other important titles. "We have fun training. A great team makes even serious work enjoyable."
Dr. Jeff Day
Program Manager
Dr. Day is the Program Manager for the Texas Tech University Chess Program.

He earned his BA in English, his MFA in Directing, and his Ph.D. in Fine Arts (Theatre). In 2019, he was selected to participate in the prestigious Kennedy Center Playwriting Intensive in Washington, DC.

He began graduate studies in History at Texas Tech University in the Fall 2022 semester. His research area is World War II Naval history.



Kacy Hokett
Business Manager
Kacy Hokett joined the Texas Tech Chess Program in July 2018. She graduated from Texas Tech University in 2016 with a major in Psychology and a minor in Human Development and Family Studies, then went on to the Texas Tech Health Sciences Center to receive her Post-Baccalaureate of Science in Speech, Language and Hearing Sciences in 2017. Kacy is from Springtown, Texas, a small town outside of Fort Worth. She is a first-generation college student and has previously worked on TTU campus as a mentor to other first-gen students and as a summer camp counselor and supervisor for IDEAL. She loves working with students and helping them achieve their goals.