A NOTE FROM THE DEAN
Welcome to the newest edition of TTU Arts, the newsletter of the J.T. & Margaret Talkington College of Visual & Performing Arts (TCVPA). We are delighted that you are taking a few moments to browse through this publication, which is intended to serve as a vehicle of communication among the constituencies of the college. Whether you are a student, faculty, staff, alumni, member of the community, or simply a friend of the college—we hope that the content and message of this publication resonates with you.
The stories reflected here are only a sample of the activity and vibrancy of the college, as the daily activity and engagement with the community continues every day and grows stronger through the hundreds of performances, shows, concerts, plays, exhibitions, and community programs that we offer. The TCVPA continues to be a community of engaged artists, professionals, educators, and scholars dedicated to furthering the mission of the college, and ensuring that the arts remain relevant, critical, a transformative force of our students, and part of an inclusive community. As always, the college's doors to all events are always open.
As I am enjoying my first year as dean of the college, I am privileged to communicate to you through this publication, and it is my hope that we remain connected and working together for the benefit of our program and students, and to ensure that the future of the arts and of the college continues its growing momentum.
Dr. Martin Camacho, Dean, J.T. & Margaret Talkington College of Visual & Performing Arts
FACULTY NEWS
The Mesquite Mile Contributes to the Urban Streetscape

The in-progress rewilding of a volunteer yard in Lubbock after one year of sowing seeds and transplanting cactus and trees. photo credit: Mesquite Mile
Travis Neel, Assistant Professor of Art in the School of Art, works at the intersection of participatory urbanism and socially engaged art. Neel started a collaborative socially engaged art and ecology project called 'The Mesquite Mile', along with his partner and design collaboratives. The Mesquite Mile relocates regionally historic mesquite trees from commercial agricultural land (where they are considered a nuisance) to Lubbock's urban core, creating a resilient, drought resistant shade canopy across front lawns in the Heart of Lubbock neighborhood.
Dance Faculty Named Fulbright US Scholar

photo credit: Sarah Jean Condon, Skaneateles Journal
Yvonne Racz Key, instructor of dance in the School of Theatre & Dance has been awarded a Fulbright US Scholar award for 2023-24. Key will be teaching in Hungary in the spring of 2024 at the Hungarian Dance University.
Key is also the artistic director of Ballet Lubbock, a pre-professional ballet school with a regional performing company and a developed Community Outreach Program. A nationally ranked ballet school, Ballet Lubbock includes an alum of graduates performing and teaching nationally and internationally. Yvonne's teaching curriculum sustains diversity, equity, and inclusive practices in conjunction with the discipline of ballet technique. She has presented her methods of teaching at several conferences and in teaching workshops.
Honored by 2023 Texas American String Teachers Association

photo credit: Andrew Stetson
"The TexASTA Phyillis Young Outstanding Studio Teacher Award is given in recognition of excellence in and contribution to the area of private studio string teaching. Nominees for this award should epitomize every facet of excellence in string teaching in Texas" (TexASTA). Annie Chalex Boyle is the Associate Professor of Violin, one of two violin studio professors here at the Texas Tech University School of Music. We are so honored to have TWO professors of this prestigious award; Professor of Violin, Dr. John Haspel Gilbert is the 2015 recipient.
The session also presented performances of the 2023 TexASTA Senior and Junior Division Concerto Competition winners with the TexASTA Orchestra. The awarded senior division winner was TTU School of Music alumna, Ariya Tai, pictured above with Boyle.
Professor Boyle shares that she wouldn't have been able to make a difference as an educator, artist, and person, if it weren't for her students. "The only reason I'm here is because of the people who have come through my studio for the past whatever number of years."
Featured Artist

photo credit: CJDuncan Photography
The 2023 featured artist at the Lubbock Arts Festival is the School of Art's associate professor of Studio Art and Coordinator of Art Foundations, Carol Flueckiger. Flueckiger creates mixed media artwork about feminist history, weather, and geography. Her signature technique builds on cyanotype, a light sensitive chemical that she blends with drawing and painting via submersion and sanding techniques. Her mixed-media bicycle paintings will be on display at the event held April 15-16, 2023 at the Lubbock Memorial Civic Center.
DONOR SPOTLIGHT
World Class Designer Gives Back to Texas Tech

DJ Stout - photo credit: Ashley Rodgers
Acclaimed graphic designer DJ Stout launches a new speaker series to offer students the inspiration he discovered at Texas Tech.
By Lucy Greenberg
Texas Tech University's J.T. & Margaret Talkington College of Visual & Performing Arts (TCVPA) has announced the start of "Visions: The DJ Stout Distinguished Speaker Series." Stout is a 1981 alumnus of Texas Tech who served as the art director of Texas Monthly and is now a partner at Pentagram.
Paula Scher was the inaugural speaker. Scher is arguably the most influential graphic designer alive today. If you've seen the logos of Tiffany & Co., Citibank or the Metropolitan Opera, then you've seen her work.
The speaker series, funded by a generous endowment from Stout, was dreamed up with longtime friends and current Texas Tech School of Art faculty. The endowment will fund the speaker series in perpetuity, leaving a lasting legacy in the School of Art.
"Carla Tedeschi and Dirk Fowler were the ones who came up with the idea," Stout said. "They knew I was looking for a meaningful way to give back to the university; that's when they pitched the idea of a guest lecture series."
When he asked faculty what their greatest need was, they said funds to bring in world-class guests to inspire and work with students.
This concept jumped out at Stout.
As a student, Stout himself had been significantly influenced by a guest at Texas Tech. In 1979, he was wondering if he could really make a living in graphic design when a visitor from Los Angeles came to his class.
"Lou Danzinger came to talk with us and offered critiques of our work," Stout recalls.
Danzinger is a celebrated American graphic designer. His works include designs for Microsoft, the Los Angeles County Museum of Art (LACMA) and the National Endowment for the Arts. He also worked with the late Saul Bass.
"Bass was one of my design heroes, and here was a guy who worked alongside him, critiquing my work," Stout said.
Nervous at the time, Stout tells the story with ease now.
"Danzinger had good things to say about my work, and of course notes on how I could improve," Stout said. "That day was incredible. It pushed me out of the classroom and gave me a glimpse of what was possible."
Stout decided if Bass and Danzinger could make a living in graphic design, then he could too.
Since graduating from Texas Tech, Stout led Texas Monthly to win the prestigious National Magazine Award three times. He has been selected as one of the "100 most important people in photography" by American Photo magazine, and in 2004 I.D. (International Design) magazine profiled him as one of its "Fifty American Designers."
Stout's work is in several permanent collections including the Cooper-Hewitt, National Design Museum in New York; the Museum of Fine Arts, Houston; the Dallas Museum of Art, and many others. His studio Pentagram has worked on projects for the Bill & Melinda Gates Foundation, Saturday Night Live, Starbucks, Saks Fifth Avenue, The Shakespeare Theatre Company, The Art Institute of Chicago and hundreds of other brands.
So, one might say that day with Danzinger was well-invested time. As far as Stout's career has taken him, he unapologetically remains a West Texan. Born in the small town of Alpine, Stout also lived in Big Spring before eventually coming to Lubbock for school.
Now settled in Austin, the designer has no plans to leave Texas.
"I've always been a regionalist," Stout said. "One of the things I love about Texas Monthly is it's a regional publication. It's about one place, and yes, it tackles global issues, but unapologetically through the lens of Texas."
Stout himself is a fifth-generation Texan. While he believes conversations about globalization are important, he doesn't believe artists should lose their sense of place altogether.
"Great stories have a place and time – a setting," Stout said. "If you're going to tell compelling stories through design you need perspective."
Spending his formative years at Texas Tech helped establish a sense of place in Stout's design, many of which give a nod to the grit of the High Plains.
"What I love about Texas Tech is they embrace who they are," Stout said. "They're out in West Texas and everything they do, every problem they solve, is done through that lens. They're not trying to be the University of Texas or Texas A&M. They're comfortable in their own skin."
This is a concept Stout tries to get his clients to embrace.
"If I'm working with a client in the tech industry, they often want to emulate Google," Stout said. "What I do is discover who they really are, and hopefully, get them to embrace that."
Stout says well-known brands don't find success because of a great logo. They solved a problem that needed a solution and the recognition of its logo followed. It's for this reason Stout warns clients not to get too hung up on following the aesthetics of others.
Stout capitalized on this while visiting with students this week. Prior to the speaker series on Tuesday evening, Stout and Scher visited classes in the School of Art and engaged in the kind of collaboration that inspired Stout 40 years ago.
A crowded classroom with standing room only awaited Stout and Scher Tuesday afternoon. When the designers came through the door, applause broke out.
Over the following hour, students sat on the edge of their seats, asking questions and laughing over Stout and Scher's candid responses.
"It was inspiring to hear from people with so much experience," said Natalie White, a second-year graphic design major.
Students asked what the designers look for in intern portfolios, how they've learned from past failures and how the industry has changed over the years.
"It's surreal to have someone from our textbook here in person," said Arthur Drewen, a second-year graphic design major. "This speaker series will really add to the value of my education here at Texas Tech."
Stout and Scher talked about typography, early designs they now cringe over and how to sell ideas to clients.
This one-on-one student engagement will offer students at Texas Tech unparalleled experiences in the years to come.
"The college is most grateful for this new lecture series, and Stout's support," said Martin Camacho, dean of TCVPA. "In a fast-paced industry such as graphic design, giving our students access to top-level practitioners who are on the front line of these changes is critical, and will provide them with a strategic advantage as well as inspirational opportunities."
Stout also hopes providing students with access to top-level practitioners will further the conversation in which he and many Texas Tech School of Art alumni are engaged.
"I don't want to limit the series to only graphic design," Stout said. "I hope to bring in artists of all kinds. I want to push the limits of what students think they're capable of. There are many problems in our world today and we need creators at the forefront of the problem-solving."
SCHOOL OF ART
School of Art Endowment Continues to Provide Greater Opportunities to Students and Faculty
The Ryla T. & John F. Lott Endowment for Excellence in the Visual Arts was established in 1995 by John Lott in memory of his wife, Ryla,with the intent to provide greater opportunities to School of Art students and faculty and help make possible a wonderful fine arts resource that will bring additional cultural opportunities to the department and to the community through the following: visiting artists, scholars and critics, to include activities such as lectures, seminars, workshops, critiques and exhibitions. Exchanges of knowledge and personal contacts facilitated by the Ryla T. and John F. Lott Endowment for Excellence in the Visual Arts will benefit both faculty and students. All programs will emphasize maximum public contact and participation in lectures and other activities.
Each year this fund supports two major projects or programs with $5,000-$6,000 each. Lott Endowment funds have also been used to support exhibitions at the downtown Satellite Gallery at CASP, taking advantage of the hundreds of persons from the Lubbock community who come out each month to see the exhibitions of current faculty and student research and creative projects. This semester the school was able to fund three different projects – each with support of $6,000.
ANDREW KUEBECK
Identity, Gender and Masculinity in Enamel Artwork
Rob Glover, professor of jewelry design and metalsmithing, and his metals seniors, proposed and received support for the multi-day residency by enamel artist Andrew Kuebeck, for the benefit of both SOA students, and LISD teachers and students. Kuebeck works in a variety of formats ranging from functional jewelry to sculptural objects and vessels. He has lectured and taught workshops nationally on the incorporation of photographic images into jewelry pieces and vessels. He exhibits widely and has had his work appear in numerous publications.
BETTING ON THE SUN
Curated by Bethany Springer
Lott funds will also be used to support the Betting on the Sun exhibition artists' panel during the 2023 Texas Sculpture Symposium on Saturday, Mar 25th.
Betting on the Sun is an exhibition of contemporary sculpture curated by Bethany Springer, featuring works by nine regional artists. The exhibition is on display at the Landmark Gallery from February 16 through April 16, 2023.
TONJA TORGERSON
Printmaking Workshop, Exhibition & Artist's Talk
Sangmi Yoo, professor of printmaking & drawing, and associate director of academic affairs, received funding for a community printmaking workshop with Tonja Torgerson to include a healing installation in Studio C of the Charles Adams Studio Project – run by the 806 Collective. CASP also collaborated by letting us run the printmaking workshops at the CASP Print Studio.
Torgerson's artwork is regularly exhibited nationally and internationally; and is a part of numerous private and museum collections. Her recent work deals with death and the impermanent nature of the body.
SCHOOL OF MUSIC
Orchestra Sings! USO and Local Elementary Schools Participate in Carnegie Hall's Link Up Program

photo credit: Karina Dozal
In collaboration with Carnegie Hall, Texas Tech University Symphony Orchestra and three local Lubbock ISD elementary schools participated in Link Up's Orchestra Sings.
By School of Music Staff
On March 6th at 1:15 PM in Hemmle Recital Hall, approximately two hundred 4th grade students from Roscoe Wilson, Ramirez, and Maedgen Elementary performed Igor Stravinsky's The Firebird with the Texas Tech University Symphony Orchestra. This concert with USO and the 4th graders are in collaboration with Carnegie Hall's Link Up program: Orchestra Sings.
This project all began when Dr. Sarai Brinker, Lecturer of Musicology, was introduced to Carnegie Hall's Link Up program, Orchestra Sings, from a known contact from the Carnegie Hall's education department. Dr. Brinker currently participates in Carnegie Hall's Lullaby Project; a program connecting with young parent(s) in writing their own lullabies for their child(ren). With Dr. Brinker's passion to connect the community with music, Carnegie Hall introduced her to "Link Up."
Dr. Brinker shares with us more about Link Up:
Carnegie Hall's internationally recognized Link Up program partners with professional, community, and university orchestras across the United States and around the world to support existing local education programs and strengthen partnerships with local schools by providing free, high-quality resources that elementary music teachers can implement along with their own classroom materials. In 2022-2023, Link Up will partner with sites in the US, as well as in China, Canada, Colombia, Spain, Kenya, New Zealand, Poland, and Japan, to serve approximately 500,000 students and teachers globally."
"This program fosters and strengthens relationships and ties between public schools and universities. This relationship will "not only expose them to orchestra and live sounds of music, but to also give kids the idea of being welcomed on a college campus, having the opportunity to watch rehearsals and FREE performances. The Texas Tech Orchestras, led by Lanfranco Marcelletti, is now one of over 100 national and international organizations chosen for this program!"
It was then in January 2020, Dr. Brinker and Mandy Algate, Roscoe Wilson Elementary music teacher, were in collaboration in trying to get an affiliation with the Link Up program. Finally in August 2022, Dr. Brinker and Ms. Algate contacted Maestro Lanfranco Marcelletti and two other elementary music teachers, Kelly Crump (Maedgen Elementary) and Kendall Mencio (Ramirez Elementary) to make the project official.
Ms. Kelly Crump, Kendall Mencio, and Mandy Algate are Texas Tech University School of Music Alumni. When studying for their music education degree, they took Music for Children (year-long course) and participated in the West Texas Kodály Initiative under the tutelage of Dr. Susan Brumfield, Professor of Music Education.
For the collaborated performance with the University Symphony Orchestra, Maestro Marcelletti, Dr. Brinker, and the elementary music teachers had a meeting with Carnegie Hall on using their educational resources. Carnegie Hall's education department has full concerts with resources; hence leading to choosing Stravinsky's The Firebird for the collaboration performance.
For this performance, the USO and 4th graders followed the Firebird storyline while using materials and program ideas created by the elementary music teachers and Dr. Brinker. Students signed solfege, showed rhythm with sticks, followed listening maps, and showed the beat and dynamics with feathers! In the Finale of The Firebird, three students were selected from the golden egg to come and conduct the USO with Maestro Marcelletti. Carnegie Hall provided the listening map, where students were interactive by raising image cards in the Finale.
This performance was set as a casual performance. This is the first time for many of the students to see a live orchestra. To be able to come to a professional ensemble, seeing them wearing casual clothes, like how "normal people" do, gives the students comfort and welcomes them in a safe place.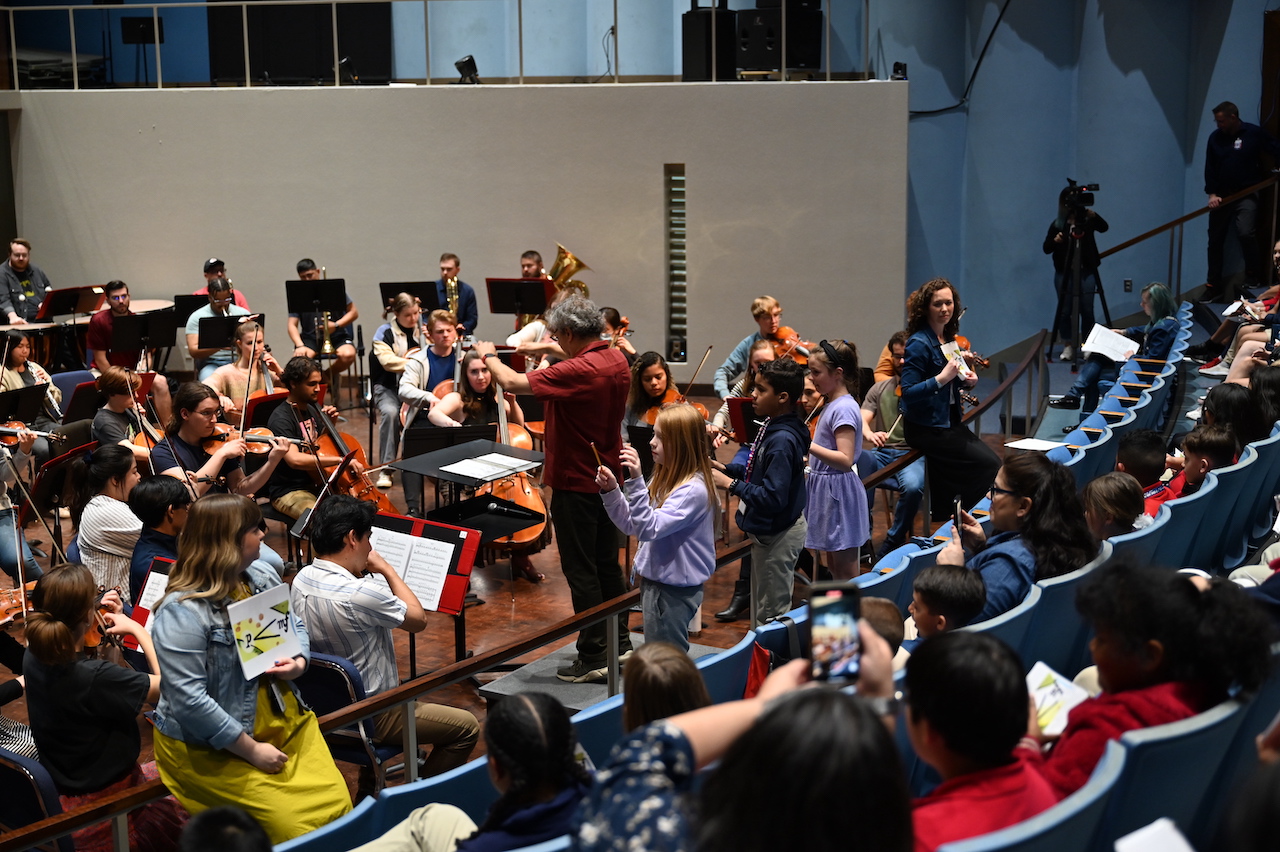 photo credit: Karina Dozal
Maestro Marcelletti shares with us his experience in this project. "For us, it is not just about wanting or loving music, it is about making memories for the children... One child came up and asked, 'Can you play lord of the rings?' It was interesting that children come up with an association with sounds of the orchestra to the things they have passion and enjoyment in... Another child approached his mother and said that one day he would like to learn the cello."
It was an amazing day with the Texas Tech University Symphony Orchestra and the 4th graders from Roscoe Wilson, Ramirez, and Maedgen Elementary! We look forward to more of these wonderful collaborations with our local schools!
SCHOOL OF THEATRE & DANCE
Past as Prologue: The Present and the Future of Theatre Studies
By Dr. Andrew Gibb
Many students pursuing a college degree today are seeking training to make them competitive in their chosen profession, and theatre and dance students are no exception. As a result, many university theatre and dance programs offer curricula designed primarily to impart professional skills. At Texas Tech, our core purpose is "to promote excellence in the practice and scholarship of theatre and dance." What that dual goal means for student experience is that, at the undergraduate level, the best of focused studio training programs is combined with the broader humanities instruction more often found at liberal arts colleges. For graduate students, we offer the rigorous professional preparation sought by continuing learners, but also classwork and experiences that make them effective teachers and leaders in the schools and artistic organizations where they seek post-graduate employment.
Classes centered on the history, theory, and criticism of theatre and performance play an important role in achieving our wider goal of excellence in multiple facets of artistry. They open spaces for students to envision the future of their profession, preparing them to someday take on leadership positions in the fields of theatre and dance (and beyond). Such intellectual exchange is doubly useful to our graduate students, who will shortly be teaching the student artists of tomorrow.
As we emerge from the ordeal of the COVID years, every industry wants to hit the restart button and address long-standing challenges brought into sharp relief by the pandemic. In the worlds of commercial and non-profit theatre and dance, a persistent problem highlighted in the last three years has been that of ongoing social injustices within the industry.
Another issue made more urgent by recent disruptions is the sustainability of traditional live performance. While many theatres (including ours) are back to live shows, artmakers and arts organizations are now fully aware that our age-old practices are entering a revolutionary era of digitized production, and they are coming to grips with long-overdue acknowledgments of issues of access. Theatre should not be restricted to, for example, the "able" or affluent.
In response to these new realities on the ground, HTC faculty have sought new approaches to theatre studies. In alignment with industry efforts to address historical and ongoing injustices within our field, we have doubled down on the goal of expanding the stories we tell about our past. Courses covering histories outside of the traditional Euroamerican narrative (such as those of Latinx theatre makers and African American female playwrights) have become regular offerings, and we have purposefully expanded our standard survey courses to bring those under-told stories into the collective memory of our fields.
Our students avidly follow the innovations of today's theatre and dance artists who are leading our industry into the digital age, and our curriculum is keeping pace with their interest. We have developed introductory and focused undergraduate and graduate courses that explore current and historical disciplinary and interdisciplinary crossings of the line between traditional in-person performance and performances delivered through screens both large and small. The established study of screendance, for example, provides a potent model for understanding how performance and media have been, and will continue to be, intertwined.
Taking advantage of the unique research specializations of faculty in the School of Theatre and Dance and in the J.T. & Margaret Talkington College of Visual & Performing Arts more broadly, we've been able to respond nimbly to the burgeoning needs of our students, taking them to the cutting edge of our fields while continuing to provide them with the established knowledges that afford them entry into today's profession. For students and teachers alike, it's an exciting time to be learning at Texas Tech!
Student Spotlight: Austin Dean Ashford
By Ella Shaddix
Austin Dean Ashford is a force of nature.
A former Great Debater of Wiley College, Ashford has earned 21 national championship titles and received top honors at the Kennedy Center American College Theater Festival (KCACTF) in Washington, DC. He is the playwright and performer of two monodramas, Black Book, and (I)sland T(rap), both of which have received multiple awards from various festivals internationally. He has two original albums on Spotify, and a musical special on Amazon Prime. In 2021, he was nominated for a Latin Grammy Award for the song "Negra Del Sur" that he recorded with Diana Burco.
Beginning March 10, Ashford will teach a six-week masterclass called SoloFest at Lubbock Community Theater where he is the artist-in-residence. Participants will learn the basics of playwriting, with a focus on monodrama, and present their work in a showcase, April 29 and 30.
Ashford is in Lubbock to complete his final semester of coursework in the Fine Arts Doctoral Program at Texas Tech. He initially learned about the program while working on his MFA at the University of Arkansas. The two school are both in Region VI of KCACTF region and Ashford was impressed by the recognitions Tech received at the KCACTF festivals.
"I chose Tech in the same way Tech chose me," explains Ashford. "I would not be able to dive into so much interdisciplinary work if it was not for this doctoral program which also allows me to respect all facets of art. Tech was the perfect package for me, and I'm happy it worked out."
After starting his performance career in the speech and debate world, Ashford was attracted to theater because of its potential to realize the imagination, as well as reach the community. He is passionate about giving equal access to less fortunate groups of people in the Lubbock community and loves that the School of Theatre & Dance encourages outreach to those groups.
"What keeps me doing this are the people who did it before me," said Ashford. "What they did was great, and I want to create things that people after me can advance even further. I have many stories that I want to tell, but I recognize that there are many stories I want to see. Storytelling can have an impact on society."
To younger artists, Ashford stresses the importance of building relationships because he believes performing is easier when you're performing for people with whom you know well. And he urges these artists to get help when they're creating, especially if they're feeling stuck.
"If you ever have a roadblock: collaborate," he explains. "Sharing your ideas with another brain and another heart can usually free you from whatever blocks you may be experiencing."
It is all about community.
"If you take care of the community, the community will take care of you."
"And give yourself time to grow."
For more information about SoloFest visit: lubbocktheatre.com/solofestclass.
To learn more about Austin, visit: www.austindeanashford.com.
ALUMNI UPDATES
Jaston Williams '70-'73 Speech Major
Creator of the Tuna plays, he continues to perform, write, tour, and make people laugh while finishing his second novel and is writing a children's musical that will perform in Austin, Texas this year. www.greatertuna.com
James Duff Attended 1974-75
Accomplished writer and an executive producer for both Star Trek: Discovery and Star Trek: Picard. Now lives in Paris and working to finish a new play.
Randy Cordray '75 BA Theatre Arts
Best known as a producer and production manager for Dharma & Greg, The Office and Still Standing. Now is enjoying retirement and time on the slopes of the Siskiyou Mountains.
Jennifer Smith '78 BA Theatre Arts
Seasoned Broadway professional with more than 40 roles in fifteen Broadway musicals and is now a regular recipient of the Legacy Robe.
Arch Hooks '87 BFA Theatre Arts
Owns Arch Hooks Entertainment. Has traveled the world with his Dueling Piano Show. Has current series called ImproVisions. archhooks.com
David Hummel '09 BA Tuba Performance and Music Education
Active music advocate, performer, and private lesson teacher in the greater Austin, Texas area. He has been the jprincipal tubist of the Central Texas Philharmonic since 2011 and is a founding member of the Austin Brass Collective.
Kathleen Felty '16 BA Vocal Performance, BS Business Administration
Helped the School of Music celebrate the past as she performed in their recent concert "A Scarlet Serenade". She is a recent alumna of the Lyric Opera of Chicago's Ryan Opera Center, and in 2022 performed at Des Moines Metro Opera, at the Santa Fe Opera, at UNCSA, and was a featured soloist in the Santa Fe Symphony's A Night at the Opera.
Dr. Ramli Mezraq '17 DMA
Oboe Serves at the University of Texas Rio Grande Valley as Assistant Professor of Double Reeds and Aural Skills, specializing in oboe and bassoon. He recently performed at Hemmle Recital Hall with Vientos del Sur, an outreach program/ensemble.
Davian Hopkins '20 BA Graphic Design
Designer at Pentagram Austin; Designed commemorative poster for Paula Scher's visit to Lubbock to kick off 'Visions: DJ Stout Distinguished Speaker Series'. See photo above, provided by Pentagram
Christian Ruiz '21 MFA Theatre Arts, Performance & Pedagogy
Famous on TikTok. Started film production company in Boston called Soul Prophet Productions. The lead in several big brand commercials. Has small role in Madame Web (to be released Feb 2024). www.christianruizactor.com
Submit your alumni updates at: vpa.ttu.edu/alumni
TTU Arts
Address

School of Theatre & Dance Building | Box 45060 | 2812 18th Street STE 222 | Lubbock TX 79409

Phone

806.742.0700

Email

tcvpa@ttu.edu