Animal Care and Use Committee
Animal research may never never look as exciting to the public as a college football game. However, everyone involved within this field of endeavor (from committee members to the animal care technicians and the investigators), are caring individuals that share, at their core, a deeply respectful and humane regard for the animals in their charge. Additionally, we should always be aware that it is through the work of dedicated individuals in animal research (past, present and future), that we can all look to the future as Fearless Champions.
Welcome to the Animal Care and Use Committee Web site at Texas Tech University. The committee is dedicated to providing resources for all faculty, staff, and students involved with animal research at Texas Tech. We would like to help make the submission and reporting processes as applicable as possible for our investigators.
Next Meeting: June 13th, 2017
Submission Deadline For Consideration/Approval During the meeting is 5:00 PM June 6th, 2017
Noteworthy Animal Use news:
Animal Care Services Participates in TTU Arbor Day Activities
Striving for excellence is what it means to be a Red Raider, and finding ways to help our fellow man is always worth recognition. So we salute Dr. Harvinder Gill and his recent inclusion in Texas Monthly Magazine.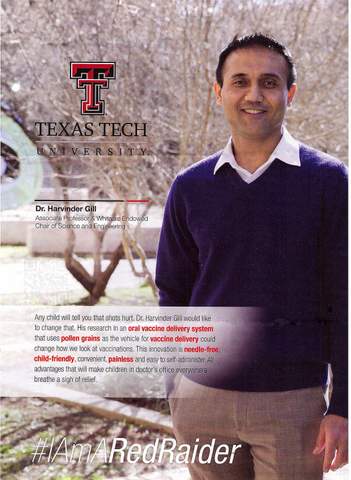 Animal Care Technician week is January 29 - February 4, 2017!! Please be sure to thank those very dedicated individuals that make sure all of our teaching and research animals are well cared for, when you see them.
TTU Researcher collaborating world wide to save bats. More here.
TTU Animal Care Program Receives AAALAC Accreditation during their tri-anual site visit. More here.
So what does it mean to be an AAALAC Accredited Institution like Texas Tech University? Check out this video to see why we have been proud Members for nearly 2 decades!!
Contact
Animal Care
&

Use