CASE Program Faculty and Staff
DeAnn Lechtenberger, Ph.D. has worked in the field of special and general education at the local community, state, and federal levels for over 30 years. She is a Research Assistant Professor in the Burkhart Center for Autism Education and Research at Texas Tech University and the Director of the CASE program. Dr. Lechtenberger has designed several grant programs that focus on serving individuals with autism and other developmental disabilities, their families, and the professionals who support them. Dr. Lechtenberger earned her Ph.D. in Special Education Leadership with a minor in Behavioral Analysis from the University of North Texas. She received her bachelor's degree in special and general education from the University of Texas at Austin and her Master's degree in special education from the University of Texas at Dallas. In her spare time, Dr. Lechtenberger loves to spend time with family and friends, church activities, swimming, traveling, and attending movies and theatre events.
Wes Dotson, Ph.D., BCBA is the Director of the Burkhart Center for Autism Education and Research and an Associate Professor in the Special Education Program at Texas Tech University. He is also the Director of Out-Patient Services for the Burkhart Center. Dr. Dotson earned his Master's in Behavioral Psychology and his Ph.D. in Behavioral Psychology from the University of Kansas. He has spent over 17 years in special education, working with individuals with autism and other developmental disabilities of all ages. He has worked as a high school special education teacher, a behavioral consultant, and an in-home therapist for individuals with severe disabilities before moving into higher education. His primary areas of research are social skills, relationship development, and successful life outcomes for adolescents and young adults with autism, as well as the preparation of teachers and therapists to work successfully with students with autism.
As an undergraduate at Texas Tech University, Taylor Brooks was a volunteer with students from CASE through a campus organization that aimed to help students alleviate their social anxieties. He graduated with a Bachelor's of Science in Psychology in 2014 and has returned to Texas Tech to pursue a Masters in Special Education with a concentration in Applied Behavior Analysis. In his role as a CASE Learning Specialist, Taylor offers his skills, understanding and ever growing knowledge of ABA to better approach students enrolled in CASE when addressing their social needs, soft skills and executive functioning skills. Taylor also works alongside the Burkhart Center's Clinical staff through the focused ABA program for children as young as 3 years old to adolescent/young adults in high school. During his free time when school or work is not the focus, he likes to go on hikes around the Lubbock area and doing practically anything outdoors. He has love and support for the Red Raider family and welcomes a good challenge. "Strive for honor evermore. Long live the Matadors!"
Rachel A. Harmon Harmon has been a Learning Specialist for CASE since the program's inception in 2012. Mrs. Harmon has served as a public school elementary teacher and principal, developer and principal of the TTUISD Distance Learning Elementary School, Academic Dean of a PreK-12 of a hybrid homeschool-public school known as Kingdom Preparatory Academy, consultant for the Lubbock Science Spectrum, and Coordinator of Field Experiences for education majors at South Plains College. Her multicultural background and diverse educational experience has prepared her to coach, mentor, and advocate for CASE students, enabling them to meet their academic goals and help them find real-world internships to help them be competitive in today's job market. Mrs. Harmon received her Bachelor's degree in English, Spanish, and French education from West Texas A&M and her Master's degree in Educational Leadership, Curriculum & Instruction from Texas Tech. She spends her personal time with her husband and son who is currently in medical school.
Kelly Golden has worked with Dr. DeAnn Lechtenberger as the Project Coordinator of Research Grants since September, 2011. Prior to working with Dr. Lechtenberger, Kelly was an administrative assistant at the Texas Tech University College of Education Virginia Murray Sowell Center for Sensory Impairments, working with the Deaf/Hard of Hearing program. Kelly has been employed at Texas Tech University College of Education for over six years. Kelly received an Associate's degree of Science in Respiratory Therapy in 1993, from South Plains College. Kelly worked for a short time as a respiratory therapist, then became a stay-at-home single mother raising four children. She is the grandmother to five grandchildren and enjoys spending time with her family and friends and also enjoys sewing.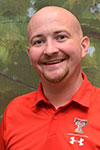 Jared Burgoon received a BA in Music and Psychology from Texas Tech University in 2011. During his time at Tech, Jared was a member of the Goin' Band and was active with his church. He enjoys any and all Tech sporting events, as well as rooting for Everton and U.S. Soccer. Above all, he values time with his family, friends, and his pug named O'Brien.