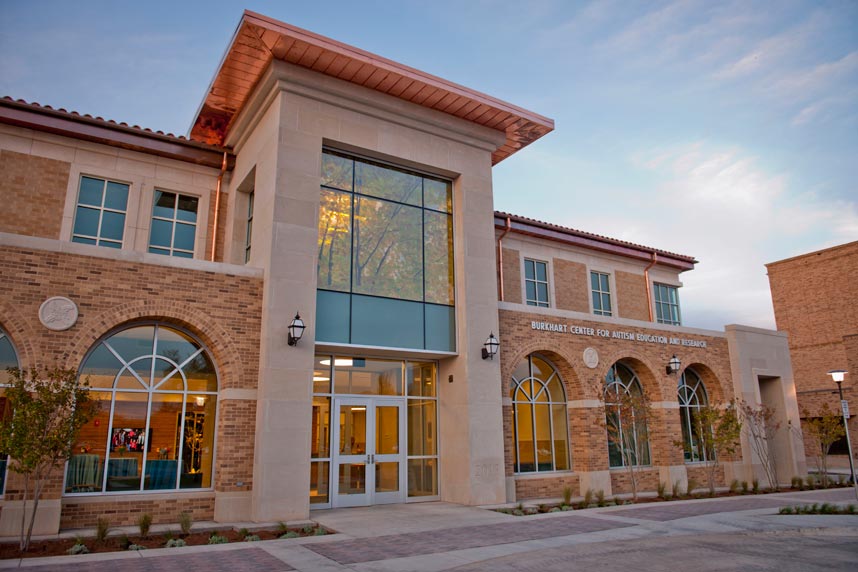 Photo by Artie Limmer for Texas Tech University System
Resources Offered on Our Website
Please visit the Autism Resources area of our website. There you will find resources including an array of information about autism, evidence-based intervention practices, navigating the special education process, and links to tools and suggestions you can start using today.
This area also includes our downloadable Local Autism Resource Guide. You can use the guide to find out about supports and opportunities in this area, including medical providers, specialists, social programming, community events, and family support resources.
You will find information about services for individuals of all ages and across all life areas. Please drop in and check it out!
News
Students Donate Proceeds from Lemonade Stand to the Burkhart Center
Matthew Noel gave all $4,685.43 of his proceeds from Lemonade Day to the Burkhart Center.
Read the full story on everythinglubbock.com
Zach Gonzales donated his proceeds as well. He's been donating his Lemonade Day sales to the Burkhart Center for four years. Zach was sponsored by Parkview Dentistry.
Dr. Dotson Discusses Sesame Street's Newest Character on BYUradio
Last week, Sesame Street got a new friend and, in a first for the show, she has autism. Dr. Wesley Dotson says the PBS show's move to include a character with autism is a huge step forward for those on the spectrum.
Listen to Dr. Dotson's segment and the whole show online
Upcoming Events
August IEP Clinic
An opportunity for parents and caregivers to meet one-on-one with your Regional Coordinator to discuss specific issues pertaining to your child or the school.
Download the flyer for dates and locations
RSVP to Megan Sanders at 806-544-9068 or msanderspen@sbcglobal.net to schedule a one-on-one appointment.
Best Practices in School Based Education Workshop
This workshop is designed to give parents an understanding of what "data based" decision making is and how it impacts their child's education program. The goal of this workshop is to prompt all parents to ask the school to prove that the programs their children are being educated with is "effective", based on data.
Download the flyer for dates and locations
Family Fun Events - Summer 2017
Learn about the Pool Party, Science Spectrum, and more events
South Plains Autism Network
The South Plains Autism Network (SPAN) meets on the fourth Tuesday night of each month from 6:30-8:00 p.m. at the Exercise and Sports Sciences Building on the TTU campus. Childcare is provided. For more information, please contact Sherry Sancibrian at sherry.sancibrian@ttuhsc.edu or 806-743-9049.
Educational Psychology Department's Developmental Screening Day
The School Psychology Specialization at Texas Tech University is offering a free Developmental Screening Day for children ages 0-12 at the Burkhart Center. Fall dates:
For more information, contact Terra Tindle at terra.tindle@ttu.edu or Brook Roberts at brook.roberts@ttu.edu.
Parents Night Out
2017 Parents' Night Out Dates:
Tour the Burkhart Center
Burkhart Center News
Spotlight: 10 Colleges with Programs for ASD Students - The Burkhart Center's Project CASE lands Texas Tech University the number six spot on this top ten list.
Research: Watching Right TV Shows Can Help Kids Develop Social Skills
The Burkhart Center: Giving Opportunity to Kids with Autism Spectrum Disorder - Read the article and watch the KAMC News segment on everythinglubbock.com
CASE - Connections for Academic Success and Employment
CASE assists students with developmental disabilities to navigate college in order to reach their academic goals and to find competitive employment after graduation.
Learn more about how CASE can help you in college and beyond
Learn More About the Burkhart Center
Donate to the Burkhart Center
Your generous donation can support the programs of the Burkhart Center.
We appreciate your gifts and invite you to learn more about donating.
Burkhart Center Mailing List
Receive updates about Burkhart Center news and upcoming events. Sign up for our email list today.
Burkhart Center for Autism Education and Research