Transition Academy
(VIDEO) Jennifer Hamrick and Janice Magness create a successful return to in-person activities at the Burkhart Center for Autism Education and Research.
The Transition Academy works to meet the needs of young adults 18 to 30 years of age who are diagnosed with Autism Spectrum Disorder (ASD) and aspire to be competitively employed. The Transition Academy is a non-residential program that emphasizes job and social skills that lead to productive, dignified employment as well as life skills that enrich the overall life experience. Students attend classes Monday through Thursday from 8:15 a.m. to 3:30 p.m. and follow the Texas Tech University academic calendar.
Vocational and Job Skills
Vocational and job skills instruction assists our students to identify personal strengths, develop a resume and portfolio, prepare for job interviews, participate in on-site internships every semester, understand the importance of following rules and directions in the workplace, practice punctuality, and cultivate a commitment to employment.
Social Skills
Social skills training teaches our students to learn to accept constructive criticism, give and receive compliments and apologies, develop and maintain friendships and relationships, establish short- and long-term goals, learn effective problem-solving and conflict-resolution skills, learn appropriate behavior for various social settings, and accept alternative opinions or points of view.
Quiznos Partnership
The Burkhart Center's fully-functional Quiznos restaurant offers paid vocational opportunities for individuals with ASD and other disabilities. Employees gain valuable working experience toward their goal of becoming independent in a supervised environment under the guidance of Burkhart job coaches and Texas Tech Hospitality Services personnel.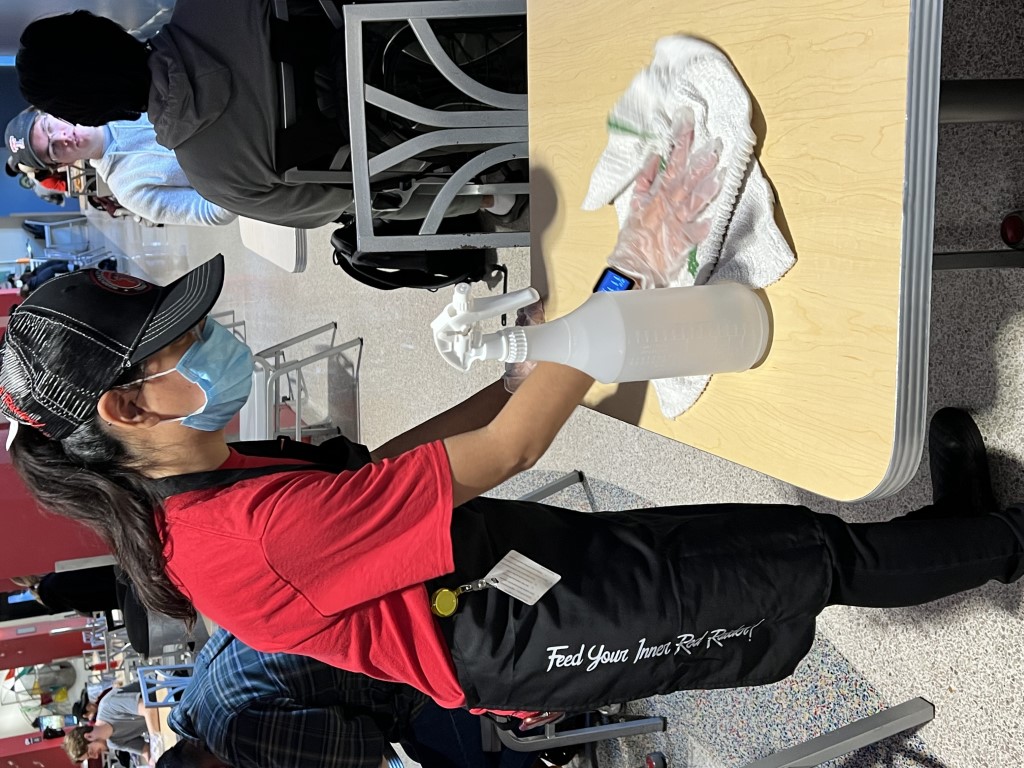 Creativity through the Arts
Artistic self-discovery is achieved by making jewelry, painting on canvas, creating animals and figures using paper-mâché, exhibiting artwork in Lubbock's First Friday Art Trail, participating in weekly music classes taught by a licensed musical therapist, and showcasing creativity and talent in an annual talent show.
Independent Living Skills
Independent living skills training includes personal hygiene, household chores, money management, nutrition and healthy food preparation, personal safety, and first aid, dressing for success, telephone etiquette, and fitness classes and activities.
Citizenship and Leadership Skills
Family and Community
Annual Special Education Conference: Jointly sponsored by Region 17 Education Service Center and The Burkhart Center to provide education and training to educators and parents in the South Plains.
The Burkhart Family Endowed Lecture Series: Brings distinguished speakers in ASD education to Texas Tech University and the greater Lubbock community.
Burkhart Walk for Autism: Held annually to promote ASD awareness.
Dillard's Spring Style Show: Students featured at the South Plains Mall location.
Ongoing Service Projects: Annual community volunteering at various non-profits benefiting members of the South Plains.
Our Team
Burkhart Center for Autism Education and Research