Arbor Day
Arbor Day is an annual event that provides an opportunity for students, faculty, and staff to join together to beautify the Tech campus, build a sense of community, and receive recognition. Activities on the circle and planting alongside other Red Raiders makes this one of the most anticipated events each spring.
April 29, 2022
11 AM - 2 PM
Memorial Circle
EVENT SCHEDULE:
11:00 am-1:30 pm
Pot-a-Succulent by Student Activities Board
Yard Games by UREC
Ethics Survey & Bahama Bucks by Student Affairs and TLPDC
11:00 am-1:00 pm
Free Food and T-shirt with TTU Student I.D.
$10 Faculty/Staff T-shirts will be on sale beginning April 25 at Sam's Place SUB while supplies last.
Planting Check-in at the big red tent
Water Bottle & Stickers Giveaway by Office of Sustainability - MUST bring something to recycle to trade for the water bottle!
11:30 am-1:00 pm
Music Entertainment
12:00 pm-1:00 pm
Affirmation Rocks by Student Activities Board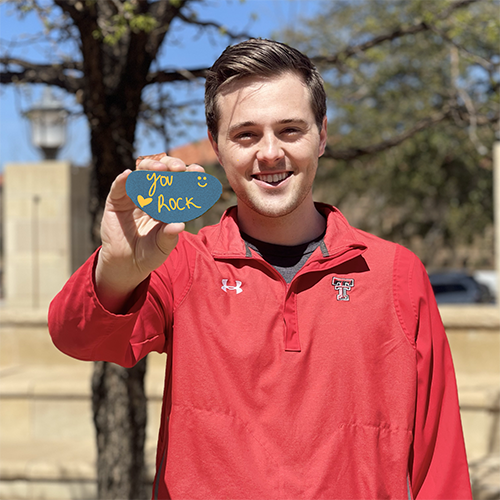 1:05-1:20 pm
Student Organization Awards Re-announced
Closing Remarks
1:25 pm
Planting Begins

*While supplies last.
A representative from your group must check-in at the Arbor Day tent at Memorial Circle before 12:30 pm on Friday, April 29.
Arbor Day Planting Map - visit the tent to see where you are assigned!
Faculty/Staff Shirt Sale
Shirts are available for purchase from Sam's Place SUB for $10 while supplies last!
Credit/Debit cards only. Limited quantities S-3X available.
Arbor Day is sponsored by:
Center for Campus Life
Division of Student Affairs
Grounds Maintenance
Hospitality Services
Office of Sustainability
Operations Division
Student Activities Board
Student Government Association
Student Union & Activities
Teaching, Learning and Professional Development Center (TLPDC)
Transportation & Parking Services
UREC
Contact Student Union & Activities at 806-742-4708 for more information.
Student Activities Board
Address

2625 15th Street Box 42031 Lubbock, Texas 79409

Email

sab@ttu.edu