Arbor Day & Eco Week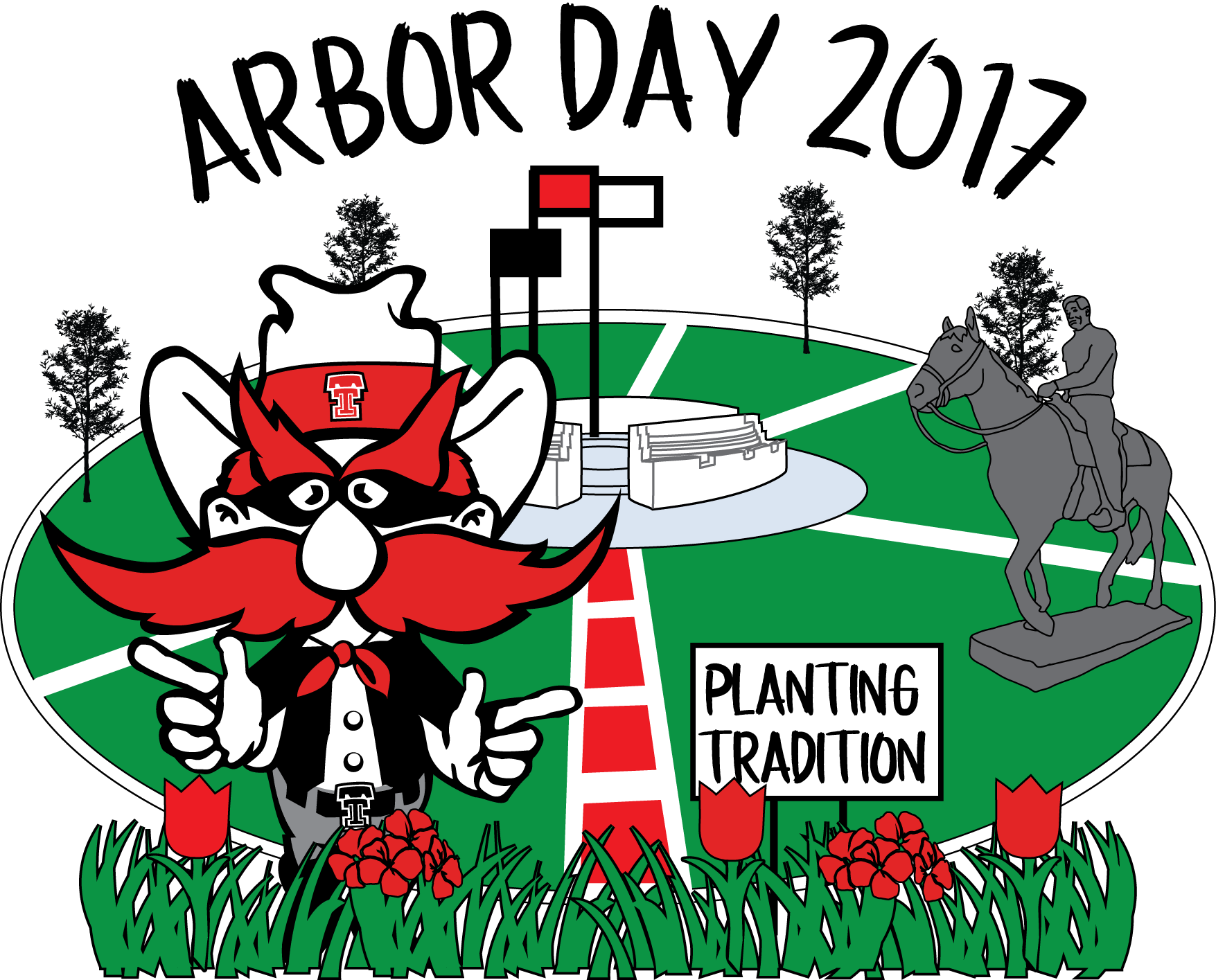 Friday, April 28, 2017
Memorial Circle
11am-3pm
Arbor Day is an annual event that provides an opportunity for students, faculty, and staff to join together to beautify the Tech campus, build a sense of community, and receive recognition. Live music, free food and t-shirts, and planting alongside other Red Raiders makes this one of the most anticipated events each spring.
EVENT SCHEDULE:
11:00 am-1:30 pm - Pot a Plant
11:00 am-1:00 pm - Free Food, T-shirt & Water Bottle* with TTU Student I.D.
($5.00/Shirt for Faculty & Staff*)
11:40 am-12:40 pm - John Rush: "The Human iPod"
12:45 pm-1:20 pm - Student Organization Awards
1:20 pm - Planting begins
*While supplies last.
A representative from your group must check-in at the Arbor Day tent at Memorial Circle before 12:30 pm on Friday, April 28.
Once you know your plot number, you can share the map with your group members.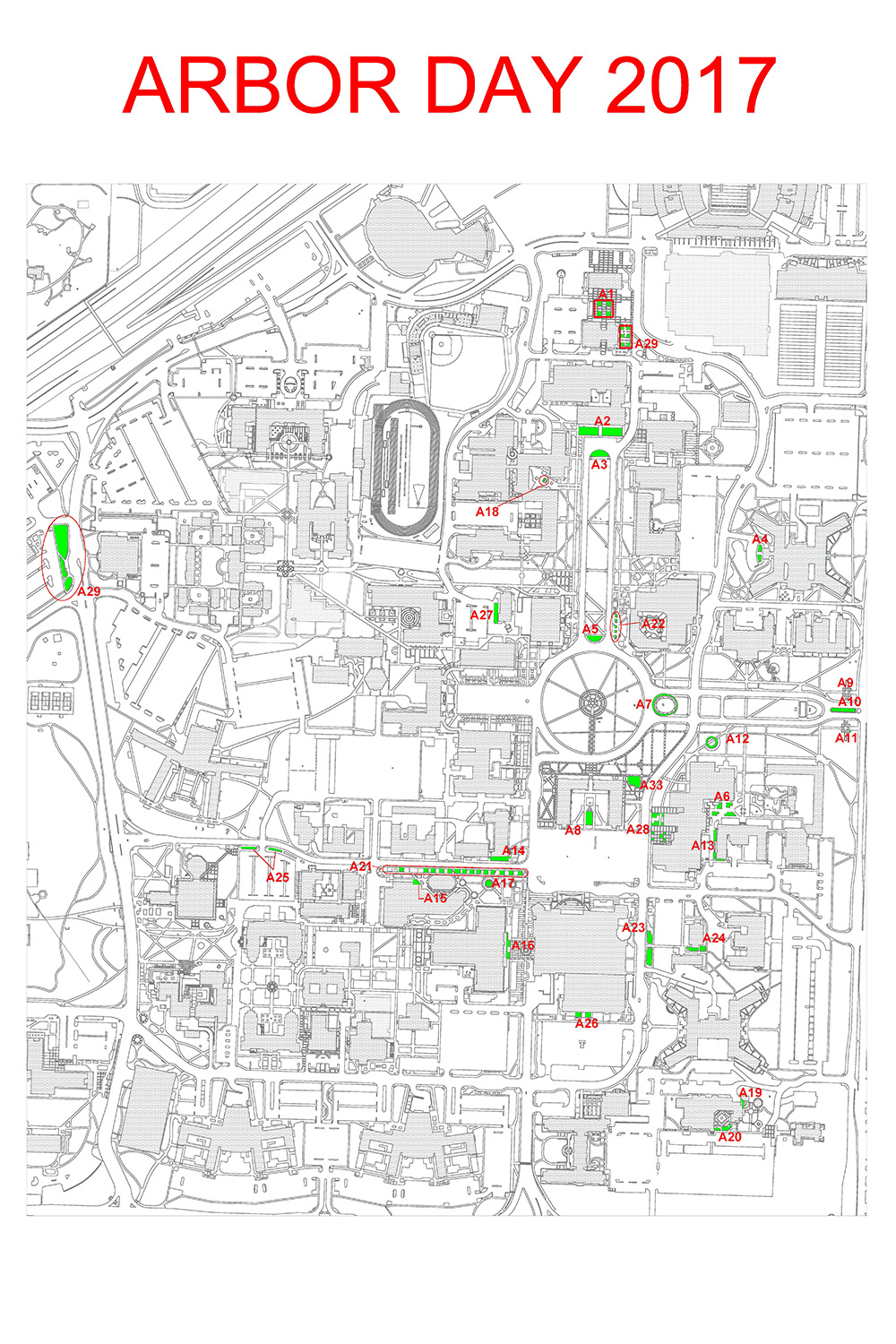 RELATED EVENTS
ECO-WEEK - April 24-28
MONDAY
Eco Week Kickoff
11 am - 12:30 pm
SUB North plaza
TUESDAY
Parts to Art
11 am - 3 pm
SUB courtyard
WEDNESDAY
Kevin Barnes: Green Magician
11 am - 1 pm
SUB North Plaza
Trashion Show
7 pm
SUB Red Raider Ballroom
THURSDAY
Wildlife Protection Awareness
11 am - 12:30 pm
Free Speech Gazebo
Thursday Night Movie
WALL-E
10 pm
SUB Escondido Theatre
Crush 'Em Tech Recycling Event
by Hospitality Services
Wednesday, April 26
SUB West Plaza
11 am - 2 pm
Bring 2 empty bottles for recycling and receive 1 free t-shirt!
Recycled Art Contest
by University Student Housing and SGA
Wednesday, April 26
SUB Ballroom
9 am - 2 pm
The competition is open to all students, student organizations, faculty and staff. The specifications are as follows:
1) Materials must be at least 75% recyclable material
2) Form is your choice, i.e. sculpture, jewelry, clothing, etc.
3) Artwork size should not exceed 24" x 36" for sculptures, etc. Clothing has a size exemption. Clothing entries require the artist to provide a way to display the entry.
Judging will be done by votes cast by visitors to the exhibit, so be sure and invite all of your friends. Decisions are final. Winner will be informed by email and announced on facebook/TTUgogreen. Prizes will be given for 1st, 2nd and 3rd place.
The link to register is https://housing.ttu.edu/forms/artsandcraftscompetition. The event will be Wed. April 26 and the deadline to register is April 23. If you have questions please email housing.gogreen@ttu.edu.
This event is sponsored by:
Student Union & Activities
Center for Campus Life
Grounds Maintenance
Hospitality Services
Recreational Sports
Tech Activities Board
Transportation & Parking Services
TTU Ethics Center
Operations Division
Contact Student Union & Activities at 806-742-4708 for more information.
Student Activities Board
Address

2625 15th Street Box 42031 Lubbock, Texas 79409

Email

sab@ttu.edu