Transition Academy
A paying job in the marketplace can give dignity and increased purpose to us all, particularly to those who may not qualify for college level work. For nearly ten years, the Burkhart Transition Academy of the Burkhart Center has been working to fill that need for young adults 18-30 years of age with Autism Spectrum Disorder (ASD), emphasizing job and social skills that can lead to productive, dignified employment, as well as life skills than can enrich the overall lifetime experience.
Students selected for the Transition Academy attend classes daily Monday through Friday from 8:30-3:00, as part of a three-year program that follows the Texas Tech academic calendar. Tuition is based on twelve months, with scholarships available for qualifying students. Students must have completed high school, have their GED, or have completed the Home School Program. A current diagnosis of autism is required. Emphasis is on autism, though those with other intellectual disabilities may apply for limited spaces.
Burkhart Center & Transition Academy Celebrate New Facility
The Transition Academy is located in the Burkhart Center for Autism Education and Research, which was founded through a generous endowment given by Jim and Jere Lynn Burkhart in honor of their grandson, Collin Burkhart. The Center, along with the Transition Academy, was established in 2005 in the College of Education at Texas Tech University. The Center celebrated the Grand Opening of its new $10.8-million facility on November 9, 2013. The building, 28,000 square feet of useable space, features state-of-the-art technology and equipment as well as innovative training areas designed as living space training centers for student learning, particularly designed for the Transition Academy Mission of transition to the work environment for students with autism. The Center has already established itself as the center of autism education and research in West Texas, and the Transition Academy is a model program for transition for students into the workplace.
Read about Burkhart Transition Academy students expressing themselves through art at Lubbock's First Friday Art Trail
Activities and Events
Students participate in: Music classes taught weekly by a certified music therapist, fitness classes twice a week, bowling twice monthly, nutrition classes taught by an Extension Assistant with Better Living for Texans; Volunteer opportunities twice monthly at the Food Bank; Yearly Talent Show; Annual Style Show sponsored by Dillard's; Annual Burkhart Walk for Autism Awareness at Jones AT&T Stadium; Annual Autism Conference sponsored by the Burkhart Center and Region 17 Service Center; Three summer camps per year for area children ranging from elementary school through high school-age student"s diagnosed with autism; Summer Family Fun Days sponsored by the Burkhart Center; and various other social outings and activities.
Internships, Coaches
The Burkhart Transition Academy is staffed with four teacher/job coaches who are trained to supervise students in internships both on campus and in the community. Currently, fifteen students participate in the internship program, a 4-1 student-teacher ratio. Students are placed into internships based on interest and skill level. Students attend 4 hours of internship each week, accompanied by a job coach. Each student participates in at least three ninety-day internships during their tenure at the Transition Academy, opening doors for introduction to opportunities as well as new skills and social environments. Internship sponsors meet with students during the process, as well, offering them opportunities for employment of students.
Student Training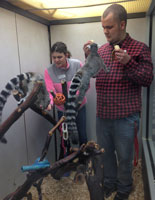 Student training, based on "Entering the World of Work," by Kimbrell & Vineyard, includes:
A. Life Skills training in the areas of: personal health and hygiene, household chores, money management, nutrition and food preparation, first aid, telephone etiquette, laundry, dressing for success, preparation for driving, and public transportation.
B. Social skills: initiating conversation, accepting constructive criticism, accepting compliments and apologies, getting along in social settings, setting appointments, time management, keeping a calendar, setting both short term and long range goals, organizing social events with friends, making and maintaining personal relationships, problem solving and resolving conflict.
C. Job skills: rotating internships, on-the-job training, preparing for the interview process, maintaining a resume and a portfolio, assessing personal strengths and weaknesses, following rules and directions in the workplace, and asking for help.
Contact Information
For more information, contact Director of the Transition Academy Janice Magness at janice.magness@ttu.edu or call 806.834.3725
Calendar
The Transition Academy follows the Texas Tech Academic Calendar as follows for 2016:
Spring 2016
Classes Resume: January 11
Martin Luther King Holiday: January 18
Spring Break: March 14-18
No Classes: March 28
Last Day of Class: May 20
Summer 2016
Classes Resume: June 6
Holiday: July 4
Last Day of Class: August 12
Fall 2016
Classes Resume: August 29
Labor Day Holiday: September 5
Thanksgiving Holiday: November 23-25
Christmas Holidays: December 9
Classes Resume: January 9, 2017
Burkhart Center for Autism Education and Research