Classics Graduate Students
Yesenia Brambila
I am currently a first-year M.A. student and T.A. within the department. I received my undergraduate degree in Classics with a minor in Art History from New York University in May of 2018, where my senior honors thesis focused on the presence of Athenian allies at the City Dionysia. My current research interests primarily lie in Ancient Greek religion, festivals, and performance and the various ways in which each facilitated social interactions between otherwise underrepresented groups.
Research interests: Ancient Greek religion and ritual, drama and performance, and history.
Email: yesenia.brambila@ttu.edu
Lawrence Chamunorwa
I am currently a graduate student and a teaching assistant in the department of Classics and Modern Languages & Literatures(CMLL). I previously earned my education in the Classics from the University of Zimbabwe.
I have a passion for research in classical philosophy and its interface with modern philosophy; Greco-Roman mythology; and material culture. Notwithstanding, I am also interested in researching on the intersection of Greek philosophical thought and the literary tradition. I also have a wider interest in as far as Africa's reception of classical culture is concerned.
Email: lawrence.chamunorwa@ttu.edu
Alex Claman
I received a BA in Classical Studies, and minors in Archaeology and Medieval and Renaissance Studies, from Carleton College. My research interests include cultural heritage, landscape survey, archaeological theory, gender and sexuality in the ancient world, and mythology.
Email: alex.claman@ttu.edu
Maurice Gonzales, Jr.
First-year MA student. I graduated from the University of California, Riverside, with my Bachelors in Classical Studies. My research interests are primarily in Augustan propaganda, the successes and failings therein, and its lasting effect on so-called 'Silver age' Latin literature, especially Juvenal.
Research Interests: Augustan age propaganda and poetry; Juvenalian satire.
Email: maurice.gonzales@ttu.edu
Sherry Huang
I graduated from Fudan University in 2016 with a BA in History. During the past two years, I attended the Post-Bacc program in Classics at University of Pennsylvania. My research interests include Greek historiography, literary theory and Classical texts, comparative study of ancient Mediterranean and ancient East Asia.
Email: sherry.huang@ttu.edu
Melissa Velpel
I received my AB in Classical Studies and Anthropology (with a focus in Archaeology) from Ripon College in Wisconsin in 2016. I am currently a first year MA student and TA. I am interested in archaeology of the Bronze Age and the Archaic Period in Greece and around the Eastern Aegean. Subjects in those times/places I enjoy exploring are monumental architecture, symbolism and symbolic actions, ritual and religion, and the transference of cultural practices between Greeks and those they came into contact with - all as seen within the archaeological record.
Research Interests:
Greek Archaeology, Bronze Age, Archaic Period, Ritual, Symbolism, Cultural Transference
Email: melissa.velpel@ttu.edu
Recent Graduates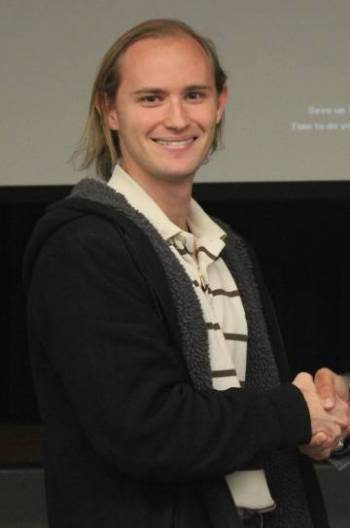 Jared Gaum
Research Interests:
I retrieved two bachelors from the University of Florida: Classical Studies and Anthropology. My main area of research is in monumental archaeology of the early Roman Empire and how building projects were used as propaganda for the Principate.
Miles Pedretti-Allen
I graduated with a Bachelor of Arts in Classics and Philosophy from Texas Tech, and an MA in LACU-Classics. My research primarily focuses on connecting mythological figures, abstractions, and concepts to the histories of the Greek and Roman world through tropes, language, and literary customs.
Research Interests:
Philosophy, Mythology, History, Warrior Tropes
Ayoma Saramatunge
Research Interests:
My research interests are towards comparative studies on ancient philosophy paying special focus on Greek philosophy and Buddhist philosophy. The subjects I am studying at the moment promise to provide a wide scope and strengthen the background for my future researches.
Brett Stine
Research Interests:
Greek Epic and Archaic Lyric Poetry; Greek Language and Linguistics; Classical and New Testament Textual Criticism; Papyrology and Codicology; Greek and Latin Paleography; Language, Concepts, and Contexts of Birth in the Ancient World
Classical Language & Literature Studies