The Haragan Lecture Series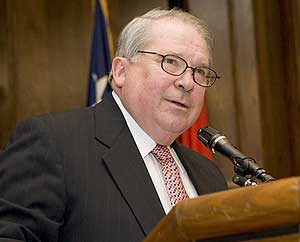 President Emeritus, Donald R. Haragan, began his long career at Texas Tech University in 1969 as an Assistant Professor of Geosciences. During his tenure as Executive Vice President and Provost, Dr. Haragan established the Office of International Affairs and the Office of Institutional Research. He was also responsible for reviving the University Honors Program and establishing the Center for Teaching, Learning and Technology and the University Writing Center. His many accomplishments as President included the elevation of the Honors Program to an Honors College and the establishment of the Texas Tech study abroad center in Seville, Spain. The impressive academic improvements made at Texas Tech under his leadership have us well on the way towards attaining our goal of being the undergraduate institution of choice in Texas.
As President, Dr. Haragan committed significant university funds to the university's 1998 proposal to the Howard Hughes Medical Institute. This tangible sign of the university's commitment was an important factor in Texas Tech receiving the second largest grant from the Institute in that competition. In 2003 Haragan and the TTU/HHMI Program Director, Dr. Larry Blanton, were instrumental in creating the Center for the Integration of STEM Education & Research (CISER) which is funded in part by the TTU/HHMI Program.
Upon his retirement as President, it seemed an appropriate recognition of his distinguished service to establish this lecture series in 2001, which features speakers whose work crosses disciplinary boundaries. As a first step in assuring the continuation of this series, Dr. Haragan himself established the President Donald R. Haragan Lecture Series Endowment, which partners with CISER each year to bring international scientific leaders to speak to the Texas Tech University system and surrounding communities.
Haragan Lecture Flyers
2017 Haragan Lecture Flyer - Barry Lopez
2014 Haragan Lecture - Graham Harman, Ph.D
2011 Haragan Lecture Flyer - Carol Mimura, Ph.D
2010 Haragan Lecture Flyer - Mark A. Batzer, Ph.D
2010 Haragan Lecture Flyer - Lynda Bonewald, Ph.D
2009 Haragan Lecture Flyer - Thomas R. Cech, Ph.D
2008 Haragan Lecture Flyer - Colonel J. Jaax, Ph.D
2007 Haragan Lecture Flyer - Tim Flannery
2006 Haragan Lecture Flyer - Kenneth Miller, Ph.D
2004 Haragan Lecture Flyer - Laura Otis, Ph.D
CISER: Center for the Integration of STEM Education & Research