Blended Learning/Personalized Learning
Imagine the Possibilities
Imagine a team of your teachers trained to implement today's most effective educational methods – personalized and blended learning.
Imagine students excited to come to school each day because their voices are heard and their choices matter.
Imagine a technology enriched learning environment that challenges each individual student while providing data to develop personalized pathways to educational success.
What Is Blended/Personalized Learning?
Blended Learning (BL) and Personalized Learning (PL) are teaching models that are based on the needs of students, the transformative thinking of teachers, and the willingness of school districts to embrace visionary goals – all based on measurable data that drives change. Collaboration is also at the heart of successful BL/PL and through a partnership with the Raise Your Hand Texas Foundation and several pioneering school districts, Texas Tech University's College of Education and its Department of Curriculum & Instruction are paving the way in customized professional development for schools and educators that will settle for nothing less than the best learning outcomes for their students.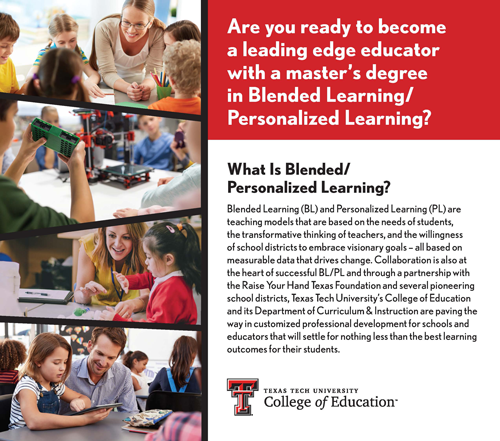 Through partnerships with Dallas ISD and Raise Your Hand Texas, we have developed a Graduate Certificate Program in Blended and Personalized Learning and are also one of the only universities in the country to offer a Master's Degree in BL/PL. However, our commitment to BL/PL and our belief that this is the future of education go far beyond traditional certificates or degrees. Our programs are created in a cohort model with distance delivery specific to the needs of your district and personalized to address your unique challenges. We invite you to explore this site to learn more about BL/PL and how we can partner with you and your team to best serve the needs of your district.
The BL/PL Framework
To gain a deeper understanding of the concepts that drive our approach to Blended and Personalized Learning, please visit our interactive framework of core competencies page. You will find detailed information on the six areas that will lead to the reshaping of your school or district's culture and how they relate to the learner, the teacher and the environment.
School District Partnerships
The College of Education at Texas Tech is celebrating successes and creating sustainability with our current partners. We are also actively seeking new district partners interested in exploring the transformative nature of BL/PL in their districts. For more information on our commitment to collaboration or to explore a potential partnership, visit our Partnership page.
Case Study Video Library
Our partnership model compels us to consistently provide access to the most up-to-date and applicable resources available. One example of this is the BL/PL Resource Library developed by our colleagues in the Center for Innovation in E-Learning (CIEL). Visit this vast archive of resources.
Contact Us
For more information on these opportunities or customizing a program to fill your needs, please contact Dr. Rebecca Hite (Rebecca.hite@ttu.edu). If you have interest in being a community partner or grant ideas, please contact Dr. Heather Greenhalgh-Spencer, Associate Professor and Associate Dean of the Graduate School, at heather.greenhalgh-spencer@ttu.edu.
See all faculty, staff, and students in the program
Dr. Heather Greenhalgh-Spencer

Our Blended Learning/Personalized Learning work is made possible through a partnership with the Raise Your Hand Texas Foundation.
Blended Learning/Personalized Learning