Red Raider Orientation
For First-Year Students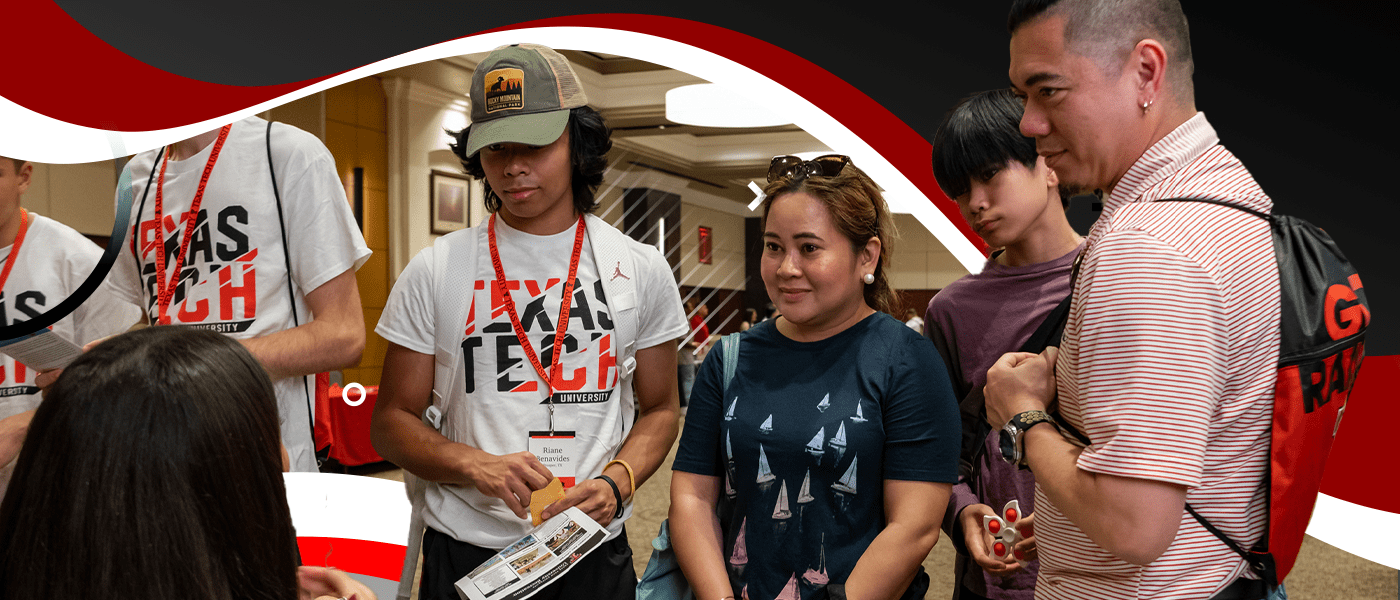 Selecting your Red Raider Orientation (RRO) session is an important step as you finalize your plans to become a Red Raider! All new undergraduate students are required to complete a session. At RRO, you'll meet other new students, get advice from current students, learn Texas Tech traditions, and have fun. Most importantly, you'll meet with your academic advisor and register for courses!
Be sure to review all items below before entering the registration system, and please know that once admitted, it may take 24-48 hours for you to access the registration system.
If you're not a first-year student beginning in the summer or fall term, visit the Transfer & Spring student page.
Registration Information
Review this information carefully before entering the registration system.
Your eRaider username and password is your electronic identification while a student at Texas Tech University. It is required to access many resources including the orientation registration system.
Account Activation:
Your eRaider username and an activation code was provided in your admission email. To get started, visit
eraider.ttu.edu
and select
Set-Up Account
. If needed, your admission email can be resent to you by contacting Undergraduate Admissions.
admissions@ttu.edu
806.742.1480
View and verify your declared major in the RRO registration system.
Major Change:
You are encouraged to register for RRO first, then change your major if needed. You'll be able to view/verify your major after registration. If needed, you can change your RRO date after your major is changed. Please note that it may take up to 48 hours for any major change requests to appear in the registration system.
For more information about majors and how to request a major change, click
here
.

RRO session availability is based on a first-reserve basis. Once a session has filled, it will no longer appear as an option, and there is not a waitlist. Session availability is specific to students based on classification, entry term, transfer hours on record, and major/college. Log in to the registration system to see the dates that you are eligible to attend.


While it is not mandatory that parents or family attend RRO, we encourage students to have at least one guest attend with them. To learn more about parent and family participation, click
here
.
Adding Guests:
To add guests to your RRO reservation, log in to the registration system, locate the
Guest
tab, and click the green plus sign to enter guest(s) information in the pop-up window. You can update or add guests up to two business days prior to your session.
Guest Fees:
RRO fees cover materials, dinner on day 1 (summer/fall sessions), and parking. Overnight accommodations are not provided for guests.
Summer/Fall Sessions
8+ years old: $50 per Guest
7 years old and under: Free
Spring Session
13+ years old: $10 per Guest
12 years old and under: Free
Please note that RRO Guest fees are non-refundable.

The Student RRO Fee, which is billed to the TTU billing account with the first semester's tuition, covers materials, meals, parking, and overnight accommodations. The fee is assessed even if you do not attend classes at Texas Tech. It is non-refundable and cannot be paid in advance or during RRO.

RRO Student Fee:
Fall/Summer Session - $175


We understand that your plans might change. You can update your RRO reservation up to two business days before your scheduled session. Guests may be added at RRO check-in.
Change Session Date:
Log in to the registration system to make changes to your information even after you have registered for orientation. Remember, there is no waitlist for closed or full sessions. At any time, you can check session availability and make updates.
Change Admit Term:
If you need to change your entry term, contact Undergraduate Admissions. (ie: Admitted for Fall term but would like to change to Summer.)
admissions@ttu.edu
806.742.1480
Once your term has been changed, please allow 24-48 hours for the change to be updated in the RRO registration system. You will then be able to see the new orientation dates for your term.
To cancel/withdraw your application and/or decline admission, please complete the online
Withdrawal Form
with Undergraduate Admissions.
Only withdraw admission if you no longer plan to attend Texas Tech. If you need to defer admission to another term, please contact Undergraduate Admissions at
admissions@ttu.edu
.
Once your acceptance is withdrawn, your RRO session will be canceled. Please allow 7 to 10 business days to fully process this request.
Get Ready for RRO
Now that you are registered for RRO, review the items below to prepare for your orientation session and enrollment.
Event & Travel Information
As you prepare for your RRO session, review the information below to coordinate your travel and arrival to campus.
To give you an idea of what you can expect at RRO, see last year's schedule-at-a-glance below.
Day 1:
10:00 am - RRO Check-In / College Check-In / Hold Removal
10:30 am - Campus Tours
11:00 am - Lunch on your Own
12:30 am - Official RRO Welcome
1:00 pm - College Welcome
2:30 pm - Raider-to-Raider (students) & Red Raider Families: Supporting Your Student's Transition (guests)
3:30 pm - Campus Resource Fair, Information Session, Fraternity & Sorority Meet-&-Greet, and much more!
5:45 pm - Fajita Dinner (students & registered guests
6:30 pm - Raider Life (students) & Parent & Family Social (guests)
8:00 pm - Night at the Rec
Day 2:
7:45 am - Breakfast & ID Pickup
8:30 am - Learn more about student success at Texas Tech
9:00 am - Academic Advising & Course Registration
10:00 am - Last Call for Questions, Residence Hall Tour, and Meet one-on-one with Student Financial Aid & Scholarships, Student Business Services, and Military & Veteran Programs
10:30 am & 12:00 pm - City of Lubbock Bus Tours
*Please do not make plans to travel before 2:00 pm to ensure adequate time to register for classes and ask last minute questions.
Arrival to Campus:
Check-in begins at 10 am at the
Student Union Building (SUB)
. To ensure you do not miss out on important activities, plan accordingly to arrive during the scheduled check-in time.
Parking will be available in
Lot Z-2
located at 17th and University Ave.

Parking on Campus:
Students and guests are able to park on-campus for free during orientation by registering their vehicle. A vehicle registration link will be sent to each attendee one week before your session with instructions. Please register your vehicle before arriving on campus. Vehicles not registered may receive a parking citation and could be towed.
Rental Cars:
If you are renting a car and do not know your license plate number, you can register for parking upon arrival.
ADA Parking:
Handicap parking spots on campus are available to registered vehicles with a current permit that is displayed on the vehicle.
Airport Information:
The
Lubbock Preston Smith International Airport
(Code: LBB) is less than 20 minutes from Texas Tech and is serviced by American, Southwest, and United Airlines.

Other Transportation Information:
For travel information in Lubbock, including rental cars, taxi services, rideshare services, and bus transportation, go to
VisitLubbock.org
.
Student Housing Accommodations:
All students will stay on-campus for one night. This cost is included in your registration fee and is automatically reserved for you. Please remember that linens are not provided. See the
What to Bring
section to learn more.
One of the many things you'll gain from RRO is meeting new people and forming some of your first friendships at Texas Tech! Unfortunately, we are unable to accommodate requests for preferred roommates during RRO sessions.
Even if family members or guests plan on staying elsewhere, overnight stays on-campus will allow you to experience life in the residence halls. We believe doing so enables you to better participate in all scheduled sessions and activities.
Accommodations for Guests:
The RRO Guest Fee does not include overnight accommodations and should be arranged on your own. Visit our
Parents & Families
page for more information.

Meals During Orientation:
All students and registered guests will be provided a Fajita Dinner for the evening of Day 1. Students will also receive a buffet breakfast on the morning of Day 2. Some on-campus dining facilities will be open for additional meals and snacks. All dining facilities on-campus are cashless.
Plan Ahead:
Lubbock serves as host to many programs, camps, and festivals throughout the summer. We encourage you to make any additional reservations once you have registered for your RRO session, especially if you are arriving early or departing later than your session.
Support with RRO Registration
We're here to assist you through the process of registering for RRO and answer any questions you may have. Review the information below and our FAQs.
If you are having issues logging into the RRO registration system, make sure your
eRaider
is set up. If you've forgotten your username or password, utilize the
Forgot Username
or
Forgot Password
option to retrieve this information.
For assistance with eRaider issues contact:
IT Help Central
806.742.HELP(4357)
ithelpcentral@ttu.edu
Note: Your eRaider login is different than the RaiderConnect credentials which you used during the admissions process.
Your eRaider username and activation code was provided to you in your admission email. If you need this resent to you, please contact Undergraduate Admissions:
admissions@ttu.edu
806.742.1480
If you get an
Unmatched Registration Attempt
error, your admissions application may not match the following conditions to register for RRO:
Fully Admitted for at least 24 hours
Undergraduate student
Degree-seeking
Attending the Lubbock campus
Please contact Undergraduate Admissions at
admissions@ttu.edu
or call (806) 742-1480 to verify or change any application information if needed.
To ensure a smooth registration process, please review all items above before entering the registration system.