Fall 2021 Officials Information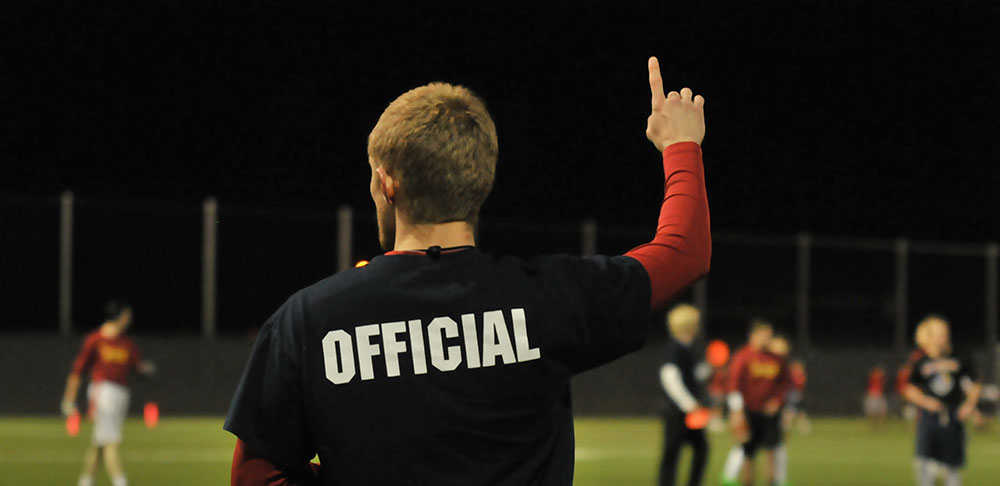 Do you enjoy intramural sports? Want to give back to the intramural program? Become an intramural official! We are looking for enthusiastic and energetic men and women to officiate team sports. The best part is-- the hours are flexible and the job starts early in the semester. No prior experience as an official is needed, but basic knowledge of the sport is required. Each sport has a comprehensive officials training program before the season. Detailed information can be obtained from the Sport Programs' office (SRC Room 203) or by calling (806) 742-2945.
There are more than 200 of your fellow students who will throw flags, blow whistles and call balls and strikes. We schedule to your availability and supply all the training necessary. Join in, meet some people interested in sports and get a great part-time job!
So How Do I Get Started?
Decide which sport(s) you want to work and attend one of the MANDATORY meetings listed below. If you cannot attend the meeting listed below please contact the Sport Programs' office at (806) 742-2945, or come by the Sport Programs' office, Rm. 203.
| Sport | Room | Officials Meeting Dates | Wage/hr | Meeting Times |
| --- | --- | --- | --- | --- |
| Flag Football | 201 | Wed. Sept. 8th | $9.50 | 6-8 PM |
| Flag Football | 201 | Tue. Sept. 14th | $9.50 | 7:30-9:30 PM |
| Indoor Volleyball | 201 | Wed. Sept. 29th | $9.50 | 6-8 PM |
| Indoor Volleyball | 201 | Thur. Sept. 30th | $9.50 | 7-9 PM |
Texas Tech Intramural Sports Officials Honor Roll
University Recreation would like to recognize our Intramural Sport Officials that represent Texas Tech at state, regional, and national tournaments. (alphabetical order by last name)
Andrew Brockman
2008 NIRSA Regional Basketball, UT-Arlington
2007 NIRSA Regional Basketball, Texas A&M University
Jason Buchta
2005 NIRSA National Flag Football, UT-Dallas
2005 NIRSA Regional Flag Football, Arizona State University – *All Tournament Official
2004 Regional Flag Football, University of Nebraska
2003 Regional Flag Football, Baylor University
2002 Regional Flag Football, Baylor University
Jake Bush
2019 NIRSA National Flag Football, University of West Florida
2018 NIRSA Regional Flag Football, UT-Austin - *All Tourney Official
2017 NIRSA Regional Flag Football, UT-Dallas
2016 NIRSA Regional Flag Football, UT-Dallas
2012 NIRSA Regional Flag Football, Texas Tech University
2012 NIRSA Regional Flag Football, University of Arkansas
2011 NIRSA Regional Flag Football, Stephen F. Austin State University
Joe Bush
2010 Texas Collegiate Softball Championships, Tarleton State University
Lance Dockery
1999 NIRSA Regional Basketball, Southern Methodist University
Jeff Estrada
2004 Regional Flag Football, Arizona State University
Drew Farrar
2003 Regional Basketball, University of Texas
2002 Regional Flag Football, Baylor University
2002 Regional Flag Football, Arizona State University
Caleb Finsterwald
2003 National Basketball, University of Central Florida
2003 Regional Basketball, TCU – *All Tournament Official
Abe Garcia
2003 Regional Basketball, University of Texas
2002 Regional Flag Football, Baylor University
Jarrod Gee
2004 Regional Flag Football, University of Nebraska
Ben Germ
2012 NIRSA Regional Flag Football, Texas Tech University
Corbyn Gilbert
2015 NIRSA Regional Basketball, TCU
2014 NIRSA Regional Flag Football, Texas Tech University
2014 NIRSA Regional Basketball, TCU
2013 NIRSA Regional Flag Football, Texas Tech University
Jack Harper
2003 National Flag Football, University of New Orleans - *All American Official
2003 Regional Flag Football, Arizona State University – *All Tournament Official
2003 Regional Basketball, University of Texas
2003 Regional Basketball, University of Arizona 2002 National Flag Football, University of New Orleans 2002 Regional Flag Football, Baylor University - *All Tournament Official 2001 Regional Flag Football, University of Nebraska 2001 Regional Basketball, University of North Texas 2000 Texas Collegiate Softball Championships, Tarleton State University
Wade Howard
2012 NIRSA Regional Basketball, Oklahoma State University
Hayward Johnson
2015 NIRSA Regional Flag Football, Western Kentucky University
2013 NIRSA Regional Flag Football, Texas Tech University
Brett Jackson
2004 National Flag Football, University of New Orleans
2004 Regional Flag Football, Arizona State University – *All Tournament Official
2003 Regional Flag Football, Baylor University
2002 Regional Flag Football, Baylor University
Robert Jenkins
1999 NIRSA Regional Basketball, Southern Methodist University
Jamie Kemp
2014 NIRSA National Flag Football, University of West Florida
2014 NIRSA Regional Flag Football, Arizona State University – *All Tournament Official
2013 NIRSA Regional Flag Football, Texas Tech University
Byron Kennedy
2002 Regional Flag Football, Baylor University
Jeff Kuenzle
2009 NIRSA Regional Flag Football, Oklahoma State University
Michael Magee
2004 Regional Basketball, University of Houston
Jordan Mainer
2015 NIRSA Regional Flag Football, Texas A&M University
2014 NIRSA National Flag Football, University of West Florida
2014 NIRSA Regional Flag Football, Texas A&M University – *All Tournament Official
John Marquez
2016 NIRSA Regional Flag Football, UT-Dallas
2015 NIRSA Regional Flag Football, Texas A&M University
Nicholas Maxwell
2011 NIRSA Regional Flag Football, Stephen F. Austin State University
Ronnie Miller
1999 NIRSA Regional Basketball, Southern Methodist University
Jody Moore
2010 Texas Collegiate Softball Championships, Tarleton State University
Marshall Motley
2004 Regional Flag Football, University of Nebraska
Josh Navarro
2015 NIRSA Regional Flag Football, Western Kentucky University
Jeffly Noel
2012 NIRSA Regional Flag Football, Texas Tech University
Dustin Plattor
2014 NIRSA Regional Flag Football, Texas A&M University
2013 NIRSA Regional Flag Football, Texas Tech University
Ryan Randle
2004 National Basketball, Georgia Institute of Technology
2004 Regional Basketball, University of Houston – *All Tournament Official
2003 National Basketball, Ohio University
2003 Regional Basketball, University of Texas – *All Tournament Official
2002 Regional Flag Football, Baylor University
Ashlynn Robinson
2014 NIRSA Regional Flag Football, Texas A&M University
Noris Rogers
2015 NIRSA Regional Basketball, TCU
Andrew Ruffin
2004 National Flag Football, University of New Orleans – *All American Flag Football Official
2004 Regional Flag Football, University of Nebraska – *All Tournament Official
2003 National Flag Football, University of New Orleans
2003 Regional Flag Football, Arizona State University – *All Tournament Official
2002 Regional Flag Football, Baylor University
Russ Scholl
2014 NIRSA Regional Flag Football, Texas A&M University
LaDarius Slider
2011 NIRSA Regional Flag Football, Stephen F. Austin State University
2009 NIRSA Regional Flag Football, Oklahoma State University
Jack Squires
2007 NIRSA Regional Basketball, Texas A&M University
Jacob Tibbels
2019 NIRSA National Basketball, Wichita State University
2019 NIRSA Regional Basketball, Texas A&M University * All Tournament Official
Derek True
2010 NIRSA Regional Flag Football, Stephen F. Austin State University
Charlie Winfrey
2010 Texas Collegiate Softball Championships, Tarleton State University