Interpreter Information
Interpreter Services
In order to receive interpreting services in the classroom, a student must be approved through Student Disability Services (SDS). Approval is contingent upon documentation of disability. Each semester a student enrolls for courses and desires interpreting services, the student must make contact with the Interpreter Coordinator to request services. Once approved, interpreting services are guaranteed for the entire semester, as long as students adhere to the guidelines established by SDS and approved by the Office of Civil Rights (OCR). Services are determined each semester and are on a case-by-case basis.
To receive interpreter services, the student must contact the Interpreter Coordinator at least two weeks before the semester begins, place a request for interpreting services for the upcoming semester, and provide a current schedule. This process must be followed so that we can efficiently provide services and accommodations on the first day of class. If a student makes any changes to his/her course schedule, he/she must notify the Interpreter Coordinator immediately. The Interpreter Coordinator will have one week from the date of written notification to provide services for any changes to class schedules already in place.
For outside class requirements, such as field trips or other assigned activities, as well as meeting with professors during office hours, students should request an interpreter from Student Disability Services. The interpreter request form is for students who are currently registered with Student Disability Services (SDS) and is intended for academic purposes on the main Texas Tech University campus only. Interpreter requests for events lasting less than 3 hours require at least 72 hours advance notice. Requests submitted with less than 72 hours' notice cannot be guaranteed. Interpreter requests for events lasting longer than 3 hours (e.g. conferences, training, etc.) require at least 3 weeks advance notice in order for our office to determine the appropriate accommodations. Events outside of Lubbock will be considered on a case-by-case basis contingent on availability of interpreter services in the area.
*Note: In the event that interpreters are not available, other appropriate services will be considered (e.g. RCART, UbiDuo, FM System, or other supportive technology).
Role of the Sign Language Interpreter
Sign language interpreters are trained professionals who provide a culturally appropriate communication link between Deaf, hard of hearing and hearing individuals. Interpreters have education in the field and a certification by a state/national board, which must be maintained by Continuing Education Units. Interpreters follow the Standards of Ethical Behavior established by the Texas Board for Evaluation of Interpreters (BEI). For more information visit the DARS DHHS website or the Registry of Interpreters for the Deaf (RID) website. It is a conflict of interest to be both an active participant and a neutral communicator between Deaf, hard of hearing, and hearing persons. For this reason, it is not the interpreter's role to advise, edit, advocate, teach, participate or have conversations with students while in the interpreting situation. The interpreter must faithfully convey the spirit and content of the speaker. Interpreters do not interject personal opinions. Deaf, hard of hearing and hearing persons using interpreter services have the right to control the communication interaction and make their own decisions. Interpreters will not answer questions of clarification or explanation; students should direct questions toward the professor. The professor can give a better explanation as to how it may relate to the class material.
Working With a Sign Language Interpreter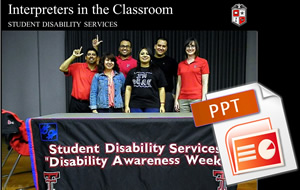 The interpreter will position himself or herself so the Deaf or hard of hearing student can have a clear line of sight of the teacher, the interpreter, and any visual aids.
Make sure there is adequate lighting in the classroom.
Speak at your normal pace.
Talk directly to the person who is Deaf or hard of hearing as if the interpreter is not present. For example, say "The meeting will be Friday at 9:00 a.m.," rather than, "Tell him or her that the meeting will be Friday at 9:00 a.m."
Don't request that the interpreter not interpret something you say. It is the interpreter's job to interpret everything that is heard.
Often there will be a pause in the interpretation. The interpreter is taking time to receive the complete thought and render an accurate interpretation.
Provide the interpreter a copy of any handouts given to students. This allows the interpreter to scan over the material and prepare an accurate translation of the message.
Allow time for a pause when referring to handouts or visual aids. If you do not pause, the student may miss part of the message because he or she is looking over the materials.
Do not communicate vital information in high traffic areas or while walking. For example, don't tell a Deaf person that the date has changed for the next exam while walking down the hall. The Deaf person must watch you, the interpreter, and where they are going; this could lead to missed information.
Do not ask the interpreter to take on any responsibility other than relaying information.
Seek clarification if needed.