Recent Events
LLL&RC | Applied Linguistics | Arabic | ASL | Chinese | Classics | French | German
Japanese | Russian | Spanish & Portuguese
CMLL
Foreign Languages Building Renamed
The Texas Tech Foreign Languages building was built and named Foreign Languages-Mathematics & Statistics in 1969, housing both foreign languages and mathematics. As the department expanded, Mathematics & Statistics moved to a new location near Memorial Circle. The department changed its name to The Department of Classical & Modern Languages and Literatures while the name of the building stayed unchanged. In May 2017, the Foreign Languages Building was officially changed to The Department of Classical & Modern Languages and Literatures. The new sign was installed on the newly designated main entrance located on the east side of the building.
CMLL Receives Campus Internationalization Award
Drs. Carmen Pereira-Muro, Spanish and Charles Grair, German nominated the Department of Classical & Modern Languages & Literatures for the Campus Internationalization Award presented annually by the Office of International Affairs. The department was chosen as one of two finalists selected by a committee composed of the members of the International Affairs Council. The award recognizes a College, a Department, or an Office within the Texas Tech University System that has made significant contributions toward internationalization. The Department of Classical & Modern Languages & Literatures was selected to receive this year's award at the Campus Internationalization Award at the Global Vision Awards ceremony on May 1st in the International Cultural Center's Hall of Nations with President Schovanec and Provost Galyean presenting the award.
Bob Holman Lectures on Disappearing Languages
CMLL had the pleasure of hosting poet, activist, and teacher Bob Holman for a public lecture on disappearing languages entitled, "Endangered Languages/Treasure Languages". This was part of a lecture series sponsored by the Texas Tech University Department of English that took place on February 22-23, 2017. Two subsequent lectures were entitled, "Global Linguistic Diversity: The Threats/Opportunities Posed by Media" and "Language & Community".
Q&A with Floyd Cable - Diplomat in Residence, Central Texas, Bureau of Human Resources
Mr. Floyd Cable, Diplomat in Residence from the U.S. State Department, graciously engaged Texas Tech students in a Q&A on March 31, 2017 in the CMLL Qualia Room. The session was open to all Texas Tech students who gleaned knowledge on the important role foreign languages (Spanish, Italian, and ESL) played in his career. Cable's shared rich experiences serving in nine overseas posts and in all six of the Department of State's regional bureaus definitely stirred up questions which he gladly answered.
2017 Comparative Literature Symposium - The Word in the World: Culture, Technology, and Discourse in the 21st Century
The 2017 Comparative Literature Symposium (April 7-8) focused attention on the impact of the unprecedented number of mediums around the globe affecting cultural communication and interaction across various channels. Kanika Batra, Symposium Director emphasized the fact that from entertainment to protesting during turbulent political times, technology has become important sources of entertainment, information, and knowledge without borders despite governmental control of traditional media outlets. She highlights that it is critical that an understanding of the contours of discourse in the context of technological developments and needs of communities from the Global South and North be addressed with an understanding that they are grounded at the intersections of book history, global literature, technical communication, material production, digital textuality, film and media studies, and the literature of rhetoric of science and technology. This year's symposium attracted scholars from across the region, the nation, and the globe.
CMLL Presenters
Sumaia Aldubaikhi – "The Effects of Social Media on the Attitudes of Young Saudi Female toward Saudi Pidgin Arabic: A Case Study"
Camille Vilela – "Language, Translation, and Comparative Literature"
Sponsors and Supporter Acknowledgements
Dr. David Roach and the TTU Dean's Office, College of Arts & Sciences
Dr. Noel Zahler, Dr. Brian Steele, and the TTU College of Visual & Performing Arts
Dr. Bruce Clarke, Dr. Rich Rice, Kenna Neitch, Kerry Manzo and the TTU Department of English and Media Lab
Dr. Yuan Shu, and the TTU Asian Studies Program
Dr. Juan Muñoz and the TTU Division of Institutional Diversity
The TTU Department of Classical & Modern Languages & Literatures
The TTU Department of English Student Volunteers
Dr. Shannon Samson and the TTU Graduate School
CMLL Live Poetry
In keeping with tradition, the CMLL Live Poetry readings completed a great semester in CMLL. Faculty, staff, and graduate students came together on May 10th to share and read their personal creative writing in any language which included fiction, poetry and short story.
Gain Time and Differentiate with a Flipped Learning Approach Webinar
CMLL LLL&RC hosted the IALLT Webinar presented by Lauren Rosen (University of Wisconsin) entitled, "Gain Time and Differentiate with a Flipped Learning Approach" in the Qualia Room on March 29, 2017. This unique Flipped Approach to teaching offers insight to those who are frustrated that they can never get to those interactive communicative activities at the end of the lesson plan or for those struggling to figure out how to differentiate for specific student needs. Consideration was given to flipping lesson plans and gain the time instructors are missing to help students reach their potential. The webinar covered how well this approach works and imparted techniques and technology knowledge to start building one's own flipped lessons.
Advancement in the LLL & RC
"We keep moving forward, opening new doors, and doing new things, because we're curious and curiosity keeps leading us down new paths" (Walt Disney). The Language Lab & Research Center (LL&RC) continues to be active in our mission to provide cutting edge technological resources for faculty and students of CMLL. The LL&RC has assisted faculty and graduate students in second language research; specifically in the Spanish linguistics and Applied Linguistics programs. Their studies will add to the body of literature on second language acquisition.
In addition to research, the LL&RC is in the process of creating a Smart Classroom that will cultivate opportunities for learners by integrating specialized software, audience response technology, and audio/visual capabilities. Thus far, the classroom is equipped with a wall-mounted large screen TV and four gaming computers that are equipped to handle Virtual Reality language gaming software. In this classrooms, students will also able to use mobile devices to connect to the existing technology. Overall, by fall of 2017, this Smart Classroom will provide faculty with high tech resources in order to integrate technology into the curriculum and class sessions by engaging students in language learning while staying abreast of today's fast-paced technological advances.
New specialty lightbulbs have been ordered for the stage in the Qualia Room. The full set of stage lights will be complete and functional for performances in fall 2017.
In spring 2017, a series of workshops was held to support CMLL faculty as they search for and apply for external grants. Several walk-in clinics and grant writing sessions were held to provide additional support.
A CMLL promotional video was created and released in fall 2016, and work was begun on several videos to promote CMLL's faculty-led study abroad programs. The first of these was released in spring 2017. Follow us on Facebook, Twitter, and YouTube to learn more about what's going on right now in CMLL! - David Villarreal, Director, LL&RC
CALICHE 2017
The 6th annual conference on Applied Linguistics & Intercultural Communication in Higher Education took place on April 7, 2017. The one day conference was sponsored by the Graduate Society of Applied Linguistics and the Department of Classical & Modern Languages & Literatures.
Vedran Dronjic, Ph.D. (North Arizona University) gave the plenary talk on "The Universal and Language-Specific Characteristics of Reading".
CMLL Presenters
Francesca Mirti, Ph.D. – "Fitness workouts for immersion in Italian and Spanish Language"
Achintha Bandara – "Courses under radar: Course logic study of academic writing course (ESL 5315) at TTU"
Sumaia Aldubaikhi – "The effects of social media on the attitudes of young Saudi females toward Saudi Pidgin Arabic (SPA): Case study"
Lo-An Liu and Junyao WU- "Music aptitude, language aptitude, and mandarin tone acquisition: A correlation study"
Olga Pahom, Ph.D. – Gender and bilingual Interaction: A conversation analysis approach to couples' storytelling practices"
Rachel Berlingeri – "A wee bit ay patter: An introduction to the nonstandard dialect of Glasgow"
Maxwell Stocker – "Language contact and intercultural communication in the ancient Mediterranean: Deceptions of home and other in Greek and Egyptian epic poetry"
Camille Vilela – "Bilingual children language production: The influence of topics of conversation in code switching"
Josh Prada – The development of group identity through translanguaging in a study abroad context"
Astrid Sierra – "Individual and language learning: Language aptitude, personality, and learning strategies"
English Practice Groups
Three English Practice Groups were organized this spring for anyone wanting to work on English proficiency skills in three targeted areas. Each Monday, the Support Group met to discuss the challenges of being an international student. Following the Support Group, the Conversation Group met for an hour to discuss a variety of conversational topics. A third group was designed specifically for students wanting practice with public speaking. The Public Speaking Group met on Wednesday evenings to discuss and practice techniques for improving in public speaking.
The Barnes & Noble Bookstore in the Texas Tech Student Union remains the central meeting place for the Arabic Club. Students and instructors engaged in meaningful conversation on Tuesdays throughout the semester.
The Arabic Club branched out of B&N and headed to the bowling alley for a friendly competition with other TTU CMLL language clubs on February 22, 2017. Participants enjoyed good competition, laughter, and new friendships so much which spurred on a second competition on March 31st!
Other creative competitions between the TTU CMLL language clubs evolved as a result of the bowling competition. The Arabic club challenged the Italian Club to a Scavenger Hunt on May 2, 2017.
Sampling Middle Eastern food and dancing the Dabka while listening to Arabic music made for a culturally rich ending to the semester and the academic year during the final meeting of the semester.
The ASL Silent Raiders met throughout the semester at different locations on campus on around Lubbock. The Welcome Back meeting took place on February 7th in the FL Qualia room during which students were informed of the semester events for Silent Raiders. In February, a Deaf Panel took place in the TTU Student Union Building. Silent Raiders enjoyed screening ASL films throughout the semester. Silent dinners were enjoyed regularly at local restaurants. In February, the group enjoyed American food and in March, the group gathered for Asian cuisine.
Fundraisers provide excellent opportunities for supporters of ASL to practice signing over a shared meal. Raising Funds with Raising Cane's took place on February 23 at the University Avenue, Lubbock location. Cane's generously donated 15% of sales to anyone who mentioned Silent Raiders, TTU. Fundraising funds enable the Silent Raiders to fund special activities and events.
The Silent Raiders began in the fall and continued throughout the spring semester to engage in teaching signs on Snapchat with Kenna (ASL president). Snapchat proves to be a great media source for promoting and improving ASL signing skills.
Interpreters Workshop
Caprock Society of Interpreters for the Deaf and LIFE/RUN Center for Independent Living hosted a workshop for the local interpreting community from Midland, Odessa, Big Springs, Lubbock and Amarillo on April 1, 2017. The workshop addressed demands that interpreters face in areas such as environmental, interpersonal, paralinguistic, and intrapersonal (EIPI) as identified by Robyn Dean and Robert Pollard. Discussion was given to the EIPI demands as well as the influence of the interpreter's own thoughts on work product. The group analyzed various controls interpreters may use- age, gender, ethnicity, among many others – in an interpreting assignment and how those controls shape the outcome. Using the CPC, the group explored different decisions that are possible in any given situation and learned to weigh the positive and negate consequences that our decisions may bring.
Audrey Sendejo, ASL program coordinator, and Jess Ingalls, sign language interpreter at Texas Tech, presented a workshop titled, "Ethical Decisions Making based on the Demand-Control Schema". By the end of the workshop, participants were able to navigate ethical dilemmas that arise by using their critical thinking skills.
Several Texas Tech ASL students from every level attended the workshop. Some who hope to pursue the language and become Interpreters after finishing their current degrees and others who plan to pursue a Deaf Education teaching degree. Still others simply want to be able to communicate with Deaf individuals in their own professions. Here are what some of the said about the experience:
"I thought the workshop was really informative. I learned a lot more nuances and difficulties that I never would have thought of (in regards to interpreting)." Omar Samad
"I really enjoyed the workshop! I gained new insight about how much really goes into interpreting. Lindsay White
"I attended the workshop and really enjoyed the content. It was useful material. I loved hearing the experiences of interpreters and talking through solutions. Julie Newell
The Chinese Club met regularly throughout the spring semester in order to promote Chinese culture and to provide a place to practice language skills while sporting the new club T-shirt.
Students not only enjoyed Chinese traditional celebration customs and food during the Chinese New Year celebration on February 3, 2017 in the CMLL building, but also enjoyed an insightful presentation on the 2017 Spring Festival by the Chinese Club President, Amelie Xie. The club also participated in the Chinese Lunar New Year Evening on February 4th at Lubbock High School, followed by a celebration of the Lantern Festival during which students crafted paper lanterns and learned the cultural history associated with the festival.
Chinese calligraphy was the theme of the meeting led by Karen Urbano on February 16th, providing students the opportunity to try their hands at it. Participants were introduced to the art of calligraphy as well trying their hands at Chinese Calligraphy. Discovery of the history of Ping Pong and a ping pong match made for an enriching club meeting on February 22nd.
In March, Alec Harward heightned cultural awareness through his presentation on the architectural styles of China throughout different dynasties and eras, as well as their influence on Southern and Eastern Asian countries. Kelly Carter, the webmaster for the Chinese Club, gave a presentation on the Shangsi Festival and its origins on March 30th. Kelly Carter presented a talk on the Chinese traditional Qingming Festival (also called Tomb-sweeping Day) followed by Karaoke Night in Chinese at the April 6, 2017 club meeting. On April 13th, a presentation by Karen Urbano on Chinese food and food culture that included a potluck with favorite Chinese dishes made for a tasty club meeting. The club concluded the semester with a screening of a movie on April 20th in the Foreign Languages Building.
TTU Chinese Language Speech Competition
The TTU Chinese Language Speech Competition was held on April 22 in the Qualia Room. Participants included Texas Tech students and Lubbock High School students from all levels of Chinese language courses. Four levels were organized to accommodate the various language levels of students: beginner, intermediate, advanced, and heritage speakers. The judging criteria was based on the oral explanation of a provided topic. Beginners spoke for one minute; intermediate students for two minutes, and third year or advanced students for 3 minutes. Heritage speakers included students who speak Mandarin at home as their first language, and spoke on a provided topic for 3 minutes with emphasis on articulation, content, language use, and delivery.
The first Classical Society meeting of the spring semester took place on February 15 during which discussion was focused of the election of officers for the AY 2017-2018, t-shirt design, event planning for the spring. Several enlightening lectures were given during February and March: Dr. Rachel Bruzzone gave a talk about Thucydides on February 25; Professor Jacob Blevins Sam Houston State, on reworking of Classical authors in the Renaissance (Institute of Western Civilization) on March 6th; Dr. Michael Taylor, Santa Clara University, presented on "Etruscan Identity and Service in the Roman Army." He also generously provided a 45 minute Q&A session in the Foreign Languages Qualia Room on March 27th. Three interesting lectures took place in April: Justin St. P. Walk (Chapman University), gave a lecture entitled, Archaeology and Heritage of the Human Movement into Space" an April 6th, (AIA); Crystal Rosenthal (Episcopal School of Dallas) presented, "Leones et Tigridae et Phocae, eheul The Lod Mosaic Reimagined through the Fears of Ariadne" on April 13th.
Several members of the Classical Society ventured over to the Music School on March 24th to hear a presentation on and receive a free ticket to a screening of Mozart's Idomeneo at a local movie theater.

Pictured Left to Right: Kristin Brooke, Chloe Morris, Chloe Lowetz
During the Classical Society meeting on March 29th, next year's officers were elected. Candidates shared an informal short speech explaining why they were seeking the position for which they were running. Starting with the election of the president and continuing through all offices, members cast their anonymous votes which were counted by Dr. Tortorelli.
2017-2018 Officers
President - Chloe Morris
Vice-President - Chloe Lowetz
Treasurer - Kristin Brooke
The meeting concluded with finalizing new t-shirt designs. A cast of votes and the members' choice was Athena statue for the Piraeus Museum.
DFP B2 Exam - Offered at Texas Tech
Texas Tech Department of Classical & Modern Languages & Literatures offered the DFP B2 Exam for the first time this spring on April 12 in the Learning Language Lab & Research Center. The 2 ½ hour exam is comprised of three components: knowledge of international business, and written and oral expression. Students who pass the exam earn a diploma for the Chamber of Commerce of Paris Professional French.
A big "Merci" to the French Chamber of Commerce for preparing an exceptional website promoting the partnership with Texas Tech at http://www.centredelanguefrancaise.paris/texas-tech-university/.
French Club
A variety of activities called "Soirée Cinéma, Pause Café, Soirée Musique, Soirée Crêpes and Pique-Nique were planned and executed by the French Club this spring. Members and friends were invited to take part in the activities as a way of putting those grammar lessons into oral practice. Once a month, Pause Café (AKA French Conversation Hour) took place at a local coffee shop near campus providing a comfortable environment to delve into some good conversations in French. Regular club meetings took place on Tuesdays in different locations on and around campus.
Valentine's Day was celebrated in French style at the first French Club meeting of the spring semester. A meet and greet theme provided the perfect setting to welcome new guest and members.
Soiree Cinéma included screening 3 French movies which are always intriguing with unexpected endings on February 28, April 7, and April 25 in the basement of the Foreign Languages Building. Back by popular demand, a game day was planned on March 7 where members engaged in a "jeu de société" (boardgame) called loups-Garous, an exciting game of strategy!
The French Club hosted a fundraiser in the lobby of the Foreign Languages Building on March 28 with an array of cookies, madeleines, crepes, and of course café. That same evening, members of the French Club brought butter, eggs, flour, sugar, milk, and toppings and met in the basement lobby ready to discover the recipe and the art of crêpe making.
As a special treat, members enjoyed learning a few Euro Folklore dance steps from the TTU Vernacular Music Center who provided a live performance.
To bring the semester to a close, the members of the French Club gathered at Wagner Park on May 2nd for the annual spring picnic. In addition to tasty food, the Vernacular Music group who delighted the members with their Bal-Folk music and dance agreed to join them at the picnic.
Pi Delta Phi Induction Ceremony
The annual Pi Delta Phi Ceremony took place on April 28, 2017 during which six new initiates and five honorary members were inducted into the honor society. Dr. Andrea Jonsson emceed the ceremony which included French poetry readings by graduate students, Daniela Macias reading, "Souffles" by Birago Diop and Jerry Cuellar reading "Élévation" by Charles Baudelaire.
2016-2017 Officers
Marine Roussat, President
Elizabeth Hammond, Vice-President
Daniela Macias, Secretary-Treasurer
Dr. Andrea Jonsson, Faculty Advisor
Honor Cords Awarded
Drs. Bains and Jonsson recognized the Honor Cord Recipients:
Ashley Anderson
Sarah Norlin
Akua Obeng
Alexander Smith
George Stern
Tessa Vaughn
Honorary Members
Aleksandra Aleksic
Daniela Macias
Marine Roussat
Jerry Cuellar
Elizabeth Hammond
Scholarship Awards
French Scholarship awards were presented by Dr. Edwards: Beatrice Alexander Endowment, established through the continuing generosity of Mr. Larry Gill and Mrs. Mary Gill, in honor of Professor Beatrice W. Alexander; Beatrice Alexander Scholarship Fund, established through the continuing generosity of Mr. Larry Gill and Mrs. Mary Gill, in honor of Professor Beatrice W. Alexander. Beatrice W. Alexander Scholarship, created in memory of Professor Beatrice W. Alexander, Associate Professor of French at Texas Tech (1945-1984), and the Christine de Pizan Scholarship, named after Christine de Pizan (c. 1364- c. 1431), the first professional French woman writer.
The ceremony concluded with remarks by Dr. Andrea Jonsson from "La Passion des Mots", Louise Dupré.
German Certificate of Achievement in the Study of German Award Ceremony
The German faculty recognized the achievements of students in the study of German during an awards ceremony held on May 4, 2017. Congratulations are in order to all of the students in the German program who made this such a great year!

German Club Officers 2016-17
Harrison Hawkins and Allison Kowalczyk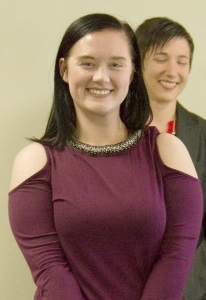 MA Candidate - Languages & Cultures-German
Laura Schuster
Certificate of Achievement in the study of German Fourth Year Award
Presented by Dr. Grair

Dr. Ed Quitevis, Allison Kowalczyk, Brittany Herrin,
and Lilly Quiroz (not pictured)
Certificate of Achievement in the Study of German Third Year Award
Presented by Dr. McChesney

Audrey Fragniere, Madison Babovec, Camille Kirk,
and Hailey Hunt (not pictured)
Certificate of Achievement in the Study of German Second Year
Presented by Drs. Kleinhans, McChesney, & Selker

Krysten Moore, Sarah Von Readen, Shannon McCown, Wyatt Prewitt,
and Josh Bear (not pictured)
Certificate of Achievement in the Study of German First Year
Presented by Dr. Selker & Laura Schuster, GPTI

Edward Hieb, Josh Twaddle, Dominique Holalde, Hannah Deeter, Meagan
Bradley, and not pictured: Kevin Bess, Evan Dunn, Rianna Randolph
Certificate of Achievement in the Study of Literature of the Holocaust
Presented by Dr. Kleinhans

Robert Chad Campbell
German Club
German Club activities this spring included weekly gatherings for Stammtisch at Fuzzy's Taco Shop on Thursdays evenings.
Holocaust Remembrance Day 2017
Belinda Kleinhans, Ph.D. (Assistant Professor, Texas Tech CMLL) and Joe Hodes, Ph.D (Assistant Professor, Texas Tech Honors College) provided an insightful lecture on the Holocaust to Texas Tech students. The lecture took place on January 27 during the Holocaust Remembrance Day commemoration at the Honors College Forum.
The German Club took the challenge and came out in large numbers to bowl against other CMLL language clubs on March 31st at a local bowling alley.
German sweets and the smell of freshly brewed coffee in the lobby of the Foreign Languages building drew students passing between classes on April 27th to the Taste of German Culture – deutsches Frühstück. This annual fundraiser provides the club the opportunity to fund various activities throughout the academic year.
The Genki Club engaged in Japanese conversation practice and discussions on Japanese culture, traditions, and movies.
For Valentine's Day, the meeting was devoted to terms and phrases of endearment. Discussion was given to Valentine's Day and White Day in Japan. Did you know that in Japan, Valentine's Day is typically observed by girls and women offering chocolate and gifts to boys or men? However, on White Day, men who received chocolates on Valentine's Day return the favor by giving gifts two to three times the worth of the Valentine's gift which include: cookies, jewelry, white chocolate, white lingerie, and marshmallows.
On March 22nd, a presentation on the Japanese tradition of Hana-mi (flower-viewing) was given, followed by an outdoor excursion to observe flowers made.
Thank you to the hard working 2016-2017 Russian Club Officers!
President: Megan Grimes
Vice-President: Matthew Horn
The Russian Club officers did an outstanding service in providing club events to promote the use of Russian language skills and culture. Several presentations on a variety of cultural topics took place this spring.
Unique cultural events included lectures, movies, bowling, wedding proposals, and attendance at a Greek Orthodox Church. Dr. Qualin gave lecture on February 1 entitled, "Vladimir Vysotsky's Humor" which shed light on the humor found in the works of the legendary Russian poet and singer.
Movies in Russian definitely provide opportunities to learn culture while improving listening comprehension so the Russian Club offered several throughout the semester.
Bowling was a new event this semester which made for some friendly competition between CMLL clubs. Students clubs bowling night took place on February 24th at a local bowling alley where the Tech Russian club joined Arabic, Japanese, and Italian clubs for an evening of bowling. It was such a huge success that a second bowling night took place on March 31st with friendly competition between the Russian, German, Japanese, Arabic clubs.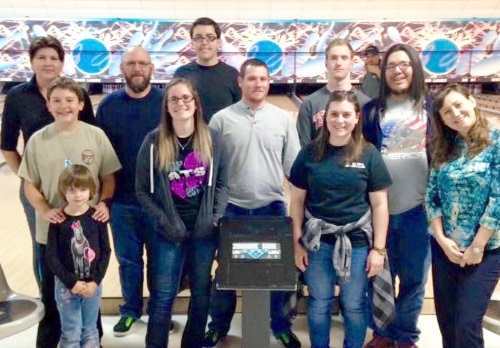 Valentine's Day wedding proposals on bended knee made for a unique and memorable cultural opportunity to experience first-hand the most traditional ways to fish for compliments in Russian, to propose marriage on bended knee and to participate in a wedding rehearsal. Of course, acceptances or rejections of the proposals were left to the women.
The Russian Club celebrated Maslenitsa on February 22, 2017 during which time students learned about this cherished week-long spring festival celebrated in February in Eastern Slavic countries. The group enjoyed a presentation by Irina Drigalenko, played games, sampled traditional festival foods, and took a fun quiz prepared by Instructors Irina Drigalenko and Anna Morton.
On February 26th, members of the Russian Club attended the Divine Liturgy of the St. Andrew's Greek Orthodox Church of Lubbock to observe traditions of the main religion of Russia. The Club reached out to the Lubbock Children's Home by collecting food, clothing, and battery donations from the TTU community in front of the SUB on April 3, 2017 and from the Lubbock community in front of Wal-Mart on April 8th. Several movie nights were screened throughout the semester offering comprehension practice for learners of Russian. For those who love Russian Classical Music, a screening of Tchaikovsky's opera, "Eugene Onegin" was held at a local cinema with free admission to those attending a pre-concert lecture.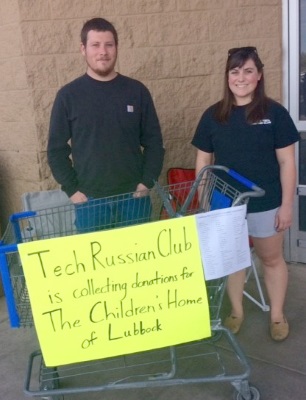 Members of the club enjoyed two events organized to wind down the 2016-2017 Academic Year. First, a great afternoon in Wagner Park took place chocked full of fun sharing good food and playing Russian games on April 8, 2017.
Following the picnic, the annual spring banquet took place on May 5th during which everyone enjoyed reminiscing over the great semester, eating delicious food, recognizing five new members of the National Slavic Honor Society "Dobro Slovo", and congratulating the graduates and the best students in each of the divisions of Russian classes.
New Dobro Slovo Members

Left to right: Matthew Horn, Wendy Wurmstein, Kristin Leffingwell,
Anna Morton, and Sean Swigert (not pictured)
Best Students of Spring 2017

Left to right: Brendon Kelly, Jean Kaydee, Karen Rucker, Emily
Schiermann, Benjamin Craddock, Kristin Leffingwell, Ashley Morales,
Matthew Horn, and Suhrit Duttagupta (not pictured)
Russian Lessons from 1917 Featuring Gary Morson
This year marks the centenary of the Bolshevik Revolution, an event that tragically reshaped Russian and Western history. This extraordinary event produced a ghastly regime and the theoretical arcana of Karl Marx but, perhaps even more, the outlook of the Russian intelligentsia and its assumptions about its social role. These same psychological and ideological predispositions continue to be found among intellectuals today. Hence, understanding the cultural setting of the Russian Revolution also helps us understand some of the more dangerous currents in contemporary intellectual life.
Such parallels were explored in a lecture entitled, "Russian Lessons From 1917" by Professor Gary Saul Morson, under the sponsorship of the Institute for the Study of Western Civilization on Tuesday, May 2, 2017. Dr. Morson is the Lawrence B. Dumas Professor of the Arts and Humanities, as well as Professor of Slavic Literature and Languages at Northwestern University in Chicago, a scholar of far ranging interests, including literary theory, the history of ideas and authors like Chekhov, Gogol, Dostoevsky and Tolstoy.
18th Annual Céfiro Conference - March 30-April 1, 2017
The 18th Annual Céfiro Conference on Latin American and Iberian Languages, Literatures, and Cultures was the largest one in its history with 3 keynote speakers, 70 participants from Texas Tech as well as 12 other universities across the country. The conference topic was "Discursive Landscapes: Connecting Geographies, Cultures and Languages". The conference is organized by Texas Tech graduate students in Spanish and Portuguese and is the perfect opportunity for all of us to teach, to learn and to familiarize ourselves with the research of our colleagues. A special section will be included in the next volume of the graduate student journal. This conference would not be possible without the generous sponsorship of Texas Tech offices and organizations: The Texas Tech University Division of Institutional Diversity, Equity & Community Engagement, the College of Arts & Sciences, Texas Tech Student Government Association, the Texas Tech Graduate School, the Department of Classical & Modern Languages & Literatures, and Charles B. Qualia Endowment Funds.
Texas Tech CMLL Graduate Student Presentations
Vicente Iranzo, "Reaction Time in Spanish Heritage Speakers"
Ana Padial, "Perceptions of Digital Storytelling in Mixed Classrooms"
Mayra C. Mancera, "Cabeza de Vaca: Un vaivén de transculturación"
Joana Paola Guerrero Rodríguez, "From Indemnity to a Dual Identity: The Role of Spanish Monolingual Speakers in the Development of a Dual Identity in Spanish Heritage Learners"
David Arocho-Pérez, "El cartero de Neruda y la representación del autoexilio político"
Diana Aranda, "Las identidades plurales en Historia de la Monja Alférez"
Rachel Gamarra, "Mujeres emprendedoras en el Virreinato del Perú"
Camille Gonçalves Vilela dos Santos, "Bilingual Children and Language Production: The Influence of Topics of Conversation in Code Switching"
Violeta Rodríguez de Vindel, "La educación de la mujer en la época colonial tardía"
Gloria Anzaldúa and Cecilia Palacio Ribón, "The De-Colonizer Discourse about the Border Language in Borderlands/La Frontera: The New Mestiza"
Manuel J. Martín González, "Laberinto de Fortuna, la Carajicomedia: Una historia sexual satírica"
Carlos Cornejo, "Palatalización del fonema /d/ante vocal anterior en el español como segunda lengua de los brasileños en el sur de Texas"
Gilberto García, "Instructional Error Correction Treatment to Improve Students' Writings"
Zachary Brandner, "Kisinil miatzil, Sabiduría diabólica: La manipulación del discurso cristiano entre los yucatecos del siglo XVI"
María Ortiz Martínez and Sergio Hernández, "The Impact of CSCL in the Acquisition of Verbal Aspect in Spanish"
James Haney, "El papel de la iglesia católica en la construcción de identidades femeninas: Inés Suárez y Ursula de Jesús"
Rocío Vargas, "Otra cara de la misoginia: El masoquismo femenino en la canción ranchera 'Me golpeaste tanto anoche'"
Arturo Ramírez, "Pragmatic Competence of Heritage Speakers"
Verónica Treviño, "La voz de la esposa en el claustro novohispano: autobiografía y vida espiritual de Sor María Magdalena Lorravaquio Muñoz (1576-1636)"
Carolina Archer, "The Learning of Vocabulary in Flipped-Model Classrooms of Elementary Spanish"
José García Machado and Violeta Rodriguez de Vindel, "Analysis of Definite Article Use among Learners of Spanish as a Foreign Language"
Panels organized by: Zachary G. Brandner, José Juan Colín, Idoia Elola, Gilberto García, Sara Guengerich, Susan Larson, Cecilia Palacio-Ribón, Rocío Vargas, Gema Vela, Jorge Zamora
Sigma Delta Pi 2017 Annual Conference
Sigma Delta Pi National Collegiate Hispanic Honor Society, Chapter Alpha Phi, held the Sigma Delta Pi 2017 Annual Conference on Thursday, April 20th under the auspices of Dr. Comfort Pratt and the organization's president, Gayle Jeffers. This theme this year was "Bridging Cultural Gaps through Hispanic Music and Dance with guest speaker, Dr. Kim Pineda (Visiting Assistant Professor of Musicology, Texas Tech) CMLL graduate student, Isabel Ojeda was one of four presenters who gave a talk entitled ,"La evolución de la cumbia: transformaciones del género a partir de los años treinta".
Webinar - Guiding Principles and Practical Strategies for Teaching Mixed Classes
Dr. Maria Carreira, (Professor of Spanish, California State University, Long Beach and director of the National Heritage Language Resource Center at UCLA), provided a brief overview of the research pertaining to mixed classes in a webinar on April 20, 2017. Students had the opportunity to explore guiding principles and practical strategies for responding to the needs of both HL (heritage language) and L2 learners in flexible grouping strategies, collaborative learning, and formative assessment. In addition, a discussion on strategies for adapting materials for the mixed context were also included.
The Spanish Club
Each Monday throughout the semester kicked off the week with Spanish conversation in order that learners of Spanish could practice their language skills and earn extra credit. In addition, great films in Spanish were screened throughout the semester on Wednesdays providing great insight into Spanish and Hispanic culture, language, and exercises in listening comprehension.
Spanish Graduation Ceremony
The annual CMLL Spanish Program graduation ceremony took place on May 18, 2017. Both undergraduate Spanish majors and graduate students were honored for their hard work and dedication to learning the Spanish language and culture. Faculty presented students with a diploma as they filed past all of the Spanish and Portuguese faculty.
The ceremony opened with welcoming remarks by Dr. Steve Corbett and Dr. Zamora's words of gratitude to the organizing committee. Dr. Lorum Stratton gave an inspirational message about graduation to the graduates. The presentation of the candidates by Dr. Zamora, the conferring of degrees by Drs. Carmen Pereira-Muro and Steve Corbett and a recessional followed. Families and friends were invited to a reception in honor of the graduates at the end of the ceremony.
Classical & Modern Languages & Literatures