Administration
William Ballenger, Director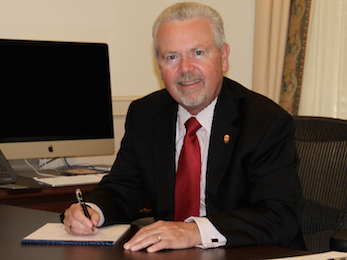 William L. Ballenger has served as Director of the School of Music at Texas Tech University since fall 2004. Prior to his appointment at Texas Tech, he served for twelve years as Department Head of Music at Oklahoma State University. Professor Ballenger's previous academic appointments include Associate Director of Bands at Oklahoma State University, Associate Director of Bands at the University of Nebraska-Lincoln, and public school teaching positions in Ankeny and Oskaloosa school districts in Iowa. Professor Ballenger has composed more than seventy original compositions and arranged more than six hundred works for various ensembles. In 2010 Professor Ballenger was elected President-elect of the Texas Association of Music Schools (TAMS). Previous appointments include TAMS Director of the four-year state-supported schools (2009). Professor Ballenger remains active in the National Association of Schools of Music (NASM). Previous NASM appointments include Chair and Vice Chair of Region 9, Chair of the Ethics Committee, and member of the Nominating Committee. Professor Ballenger serves as an on-site evaluator for institutional NASM accreditation reviews.
William Ballenger can be contacted through email at: william.ballenger@ttu.edu
---
Michael Stoune, Associate Director, Graduate Studies
Michael C. Stoune is Associate Director of the School of Music for Graduate Curriculum. He holds Bachelor of Music Education and Master of Music (Music History) degrees from The University of Texas (Austin), and the Doctor of Musical Arts degree from the University of Michigan. He is the flutist in the Devienne Trio, which has played twice for the National Flute Association, at Music Teacher National Association (Spokane) and the International Double Reed Society in Buenos Aires, Argentina. Dr. Stoune also performs in the Lubbock Symphony and Roswell (NW) Symphony orchestras. He chaired the Special Publications Committee of the National Flute Association for eleven years, and supervised and edited five books. He has been president of the National Association of College Wind and Percussion Instructors. A student of flute bands in Northern Ireland, he has conducted their music at the NFA in 1989, and is preparing a paper on flute bands for presentation.
To contact Dr. Michael Stoune, email Michael.Stoune@ttu.edu.
---
Lisa Rogers, Associate Director, Undergraduate Studies
LISA ROGERS is Professor of Percussion Studies at Texas Tech University where she teaches applied studies as well as directs ensembles such as "Apocalypso Now". She attended Texas State University and Texas Tech University for her undergraduate and graduate studies. Rogers received a Doctor of Musical Arts degree in percussion performance from the University of Oklahoma. Rogers released her first compact disc recording, Paint Me a Sky, in January 2000 for solo vibraphone. Currently, Rogers serves as President of the Percussive Society as well as Associate Research Editor for Percussive Notes. Rogers was the 2007-2008 recipient of the Texas Tech University President's Excellence in Teaching Award.
To contact Lisa Rogers, email lisa.rogers@ttu.edu.
---
Eric Fried, Assistant to the Director
Eric Fried, Associate Professor of Music and Assistant to the Director of the School of Music at Texas Tech University, earned music degrees from Indiana University, the University of Denver, and the University of Arizona. He currently serves as Assistant Concertmaster of the Lubbock Symphony Orchestra and served for fifteen years as music director/conductor of the Lubbock Youth Symphony Orchestra. Prior to coming to Texas Tech, he served as orchestra director and professor of violin on the music faculties of Oklahoma State University and Hendrix College (AR). During the summers of 1997 and 1998 he was assistant concertmaster of the Classical Music Festival Orchestra based in the Schloss Esterhazy in Eisenstadt, Austria, and performing in numerous locations throughout Austria and Hungary. He also has served as concertmaster of the Arkansas Symphony Chamber Orchestra, the Little Rock Chamber Orchestra, and the Arkansas Ballet and Opera orchestras. He was president-elect of the Oklahoma String Teachers Association immediately before accepting his position at Texas Tech. In addition, he has served as conductor/clinician in numerous places throughout the country. He currently serves as Chair of the Texas Division of the American String Teachers Association National Solo Competition, a position he has held since 2006. Dr. Fried has served as professor of music at the Texas Tech University Center in Seville, Spain six times since 2007, teaching a course on the Music of Spain.
Dr. Fried has published articles in American String Teacher, California Music Educator, College Music Society South Central Music Bulletin, and Upbeat (publication of the American Symphony Orchestra League).
To contact Eric Fried, email eric.fried@ttu.edu.
Address:

18th and Boston Avenue Box 42033, Lubbock TX 79409-2033

Email:

cvpa@ttu.edu