J.T. & Margaret Talkington
College of Visual & Performing Arts
School of Music
Apply for Undergraduate Programs Apply for Graduate Programs
Who
We

Are

Music is essential to the human experience.

Take control of your future as you prepare for a career as a professional musician, educator, or industry leader. Our music students thrive in small class sizes and 1:1 studio courses with faculty across a variety of instrument areas and musical styles. From outstanding teachers in public schools, colleges, and universities, to professional careers as musicians and performers on some of the biggest stages, our students find their calling through a long tradition of excellence at Texas Tech.
Latest
School of Music

News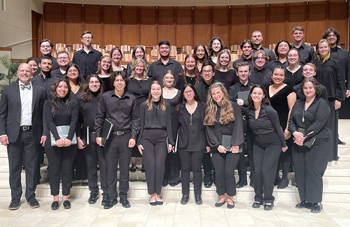 Jazz Ensemble I & Jazz Combo I

7:30 pm @ SUB - Allen Theatre

Event Page

Contemporary Music Ensemble

8:00 pm @ TTU School of Theatre & Dance Black Box Theatre

Event Page

2023 Carol Concert

7:30 pm @ St. John's United Methodist Church

Event PagE
Audition
RequireMENTS
Students applying to most programs are required to audition or interview based on your primary instrument or chosen area of study.
The audition and entrance requirements for each area are linked below. Questions about auditions? Email schoolofmusic@ttu.edu.
Saturday, February 17, 2024
Saturday, March 2, 2024