Animal Care Services
Welcome to the Animal Care Services Department at Texas Tech University. We are anxious to help with your animal needs and questions, so get to know our dedicated department, by getting to know a little bit about us below.
Mission Statement
To provide for the physical and psychological well-being of animals used in research and teaching. To aid investigators in obtaining and properly using these animals.
More specifically, the ACS serves to facilitate the use of animals in research and teaching at Texas Tech University while assuring compliance with all applicable regulations. ACS maintains responsibilities in animal procurement, animal housing and daily care, the provision of veterinary care, health surveillance and preventative care, assisting investigators and their staff with animal procedures, and the care, maintenance and replacement of equipment and facilities.
IMPORTANT PEOPLE IN ACS
DR. TIFFANIE BROOKS (DIRECTOR /ATTENDING VETERINARIAN)
(806) 834-8588 tiffanie.brooks@ttu.edu
Dr Tiffanie Brooks was born and raised in Houston, Texas. She received her BS in Animal Science at Texas Tech University in 1993, and a Master's Degree 1996, before receiving her DVM from Texas A&M University in 2000. Dr Brooks spent 8 years in private clinical mixed and small animal practice in Oklahoma and Texas, before beginning her association as the consulting veterinarian for the Animal Care Services Department, and teaching in the Animal and Food Sciences Departmentat Texas Tech in 2007 . Dr. Brooks completed and received her qualification as a Diplomat of the American College of Laboratory Animal Medicine in 2013. After serving as the Attending Veterinarian for Texas Tech for 7 years, she accepted and started the position as the Director of the Animal Care Services Department in 2015. Tiffanie is married to Dr. Chance Brooks, (Associate Department Chair of the TTU Animal and Food Sciences Department) and they have 2 children, dogs "Skye" and "Rey", and a horse named "Von".
DR. PAUL STONUM (ASSOCIATE DIRECTOR/CLINICAL VETERINARIAN)
(806) 834-7373 paul.b.stonum@ttu.edu
Dr. Paul Stonum was born and raised in rural West Central Missouri. He received his BS in Animal Science at Texas Tech University in 1989. He then received his DVM from the University of Missouri - Columbia in 1994. After graduation, Dr Stonum spent 10 years as a mixed animal associate veterinarian in central Texas before starting his own mixed animal practice in Northwest Missouri in 2003. Dr. Stonum started in the Animal Care Services Department as the clinical veterinarian at Texas Tech in 2013. Paul is married to Kathy and they have 2 children.
DR. BRITTANY BACKUS (POST-APPROVAL MONITOR/COMPLIANCE ADMIN)
(806) 834-5280 brittany.backus@ttu.edu
Dr. Brittany Backus, born in Hawaii and raised at Ft. Hood, Texas. She received her BA in Biochemistry at Texas Tech University in 2007. After receiving her undergraduate degree, Dr. Backus began working in an animal welfare research laboratory as a Research Aide, where she found a new passion for research and pigs. Brittany received her M.S. in 2010, and her Ph.D in 2013, with a focus on animal welfare and behavior and comparative medicine.Brittany began her position as the PAM Administrator in the fall of 2013. She is married to Justin and together they 2 children, which makes for a full house along with their dog "Cash".
SYDNEE WOODMAN (ON-CAMPUS FACILITIES MANAGER)
(806) 834-2872 sydnee.woodman@ttu.edu
Sydnee Woodman was born and raised in Phoenix, Arizona. She received her BS in Zoology at Texas Tech University in 2013, and her LATG certification in 2017, her MS in Lab Animal Sciences in 2019. After graduating, Sydnee spent a year working and studying
lygus
and
thrips
with the cotton entomology department at TAMU Agrilife Extension center in New Deal, Texas. Sydnee then moved into the role of veterinary technician before joining the Animal Care Services Department in May of 2015. Sydnee is married to her husband Ian, and they share their free time with their cat "Harvey" lovingly known as the spawn of Satan, 3 dogs, "Gamble" a Louisiana Catahoula Leopard Dog and "Barett" and "Lucy" lovable doodles.
JUSTINE LATHAM (BUSINESS COORDINATOR)
(806) 834-4332 julatham@ttu.edu
Justine was born in Lubbock and raised in Slaton, Texas. She has worked in the banking and accounting fields for the past six years. Justine joined the ACS team in the summer of 2021. She is the mother of a seven-year-old son that loves baseball and Star Wars. She has a turtle named "Ramon" along with her rescue "Remy", a Catahoula. Justine plans on returning to school to earn her bachelor's in Business Administration soon.
MARK GOZA (LEAD TECHNICIAN)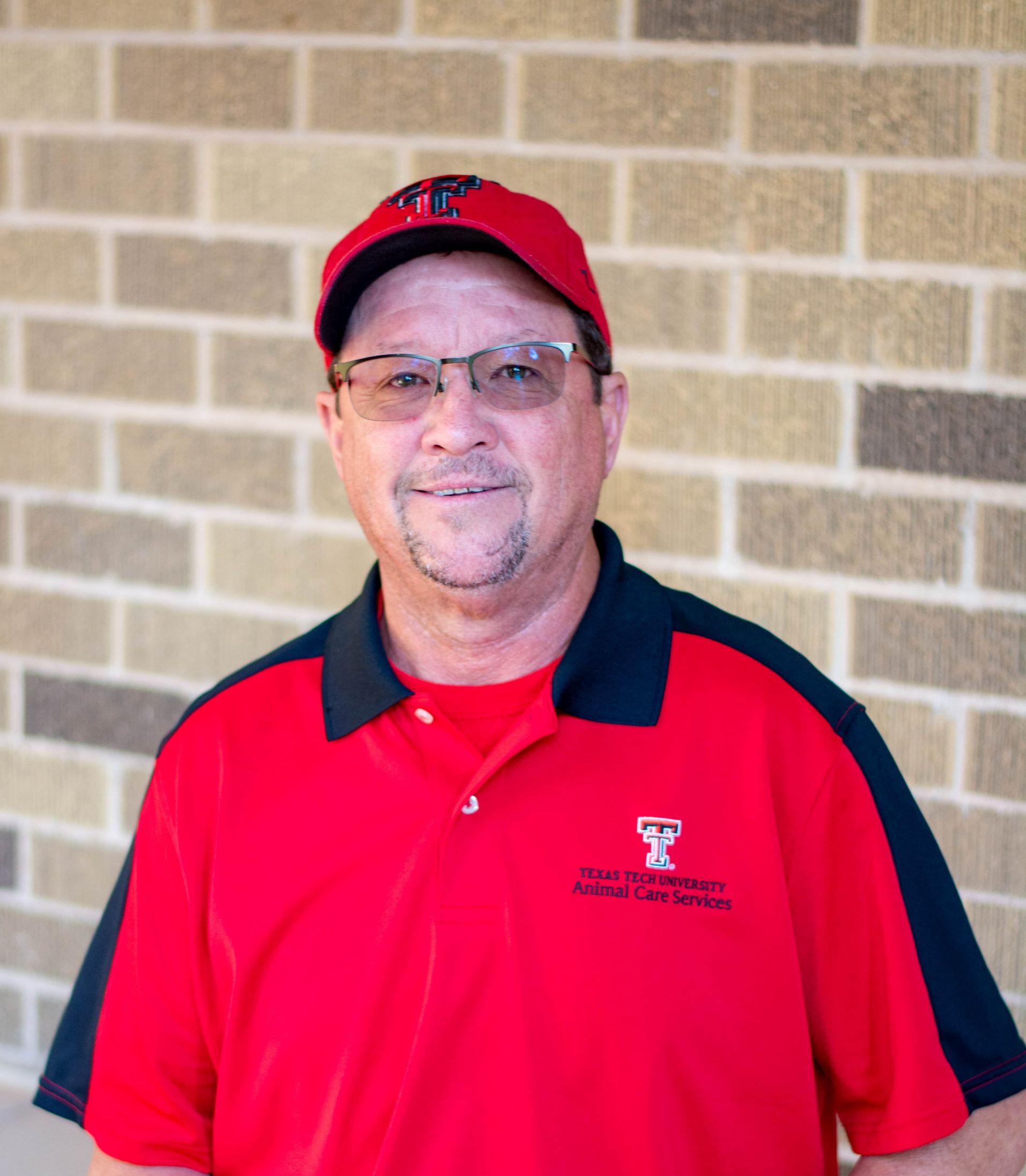 (806) 834-8151 mark.goza@ttu.edu
Mark was born and raised in Amarillo, Texas. He received his EMT certification in 1987 and began working in human medical field at several different hospitals, until 1997 when he moved to Plainview, Texas. Mark then started and ran his own landscaping/mowing business. Having growing-up wanting to work with animals, Mark started looking for, and found, his position with Texas Tech and started in the Animal Care Services Department in 2005. Always trying to improve his level of knowledge about, and care for animals, Mark received his ALAT certification in 2014. Again always attempting to improve his quality of care, he is working on the next level of certification, his LAT. Mark is married and has 2 adult daughters, a son and 4 grandchildren. Mark has a rambunctious dog named "Daisy" who never met a stranger, but he also takes great pride in taking care of every animal.
VERONICA VASQUEZ (TRAINING/BREEDING COORDINATOR)
(806) 834-8575 veronica.vasquez@ttu.edu
Veronica was born right here in Lubbock and raised in Shallowater Texas. She has always had a passion for animals and decided to pursue a degree as a veterinary technician in 2010. After graduating from Vista College in the spring of 2013 she joined the Animal Care Service Department's team here at Texas Tech University. Veronica is married and has a daughter. She also has 2 dogs named " Honey" and "Kolby", a cat named "Kittie", and a turtle named "Mikah". Veronica takes great pride in her work and she cares for each and every animal with the utmost respect.
MICHAEL CHANDLER (ANMIAL HEALTH TECHNICIAN)
(806) 834-8829
michael.chandler@ttu.edu
Mike is a native of Vicosa, Minas Gerais, Brasil. He was raised in Lubbock, Texas where he is pursuing his bachelors degree in wildlife management at Texas Tech University. Michael's dad, Dr. Leland Chandler, was an entomologist at Texas Tech and taught agronomy, horticulture, as well as entomology. Michael started his career with the department in the spring of 2017, and has brought his caring, compassionate atti In his free time, Michael and his wife Sybil like to travel as much as possible and enjoy the outdoor life with their English mastiff "Chai".
ALEX FREYBURGER (TECHNICIAN)
(806) 834-0666 Alexandria.Freyburger@ttu.edu
Alexandria was born and raised in Lubbock, Texas and has always been passionate about working with animals. She obtained her BS in Animal Science from Texas Tech University in December of 2022. She worked as a student assistant in the Animal Care Services Department from 2020-2022, and after graduating she joined the ACS team as a Lab Animal Attendant. Alexandria is currently in the Texas Tech STEM MBA Program and is set to graduate in December 2023. She has a cat named "Stellanova", a Mini Australian Shepherd named "Whiskey", and two chickens named "Elvis" and "Hermione". Alexandria takes great joy in her job and treats the animals under her care with compassion and respect.
Animal Care & Use
Address

Texas Tech University, Animal Care Services, Box 43132, Lubbock, TX 79409