Distinguished Alumni Awards Program
>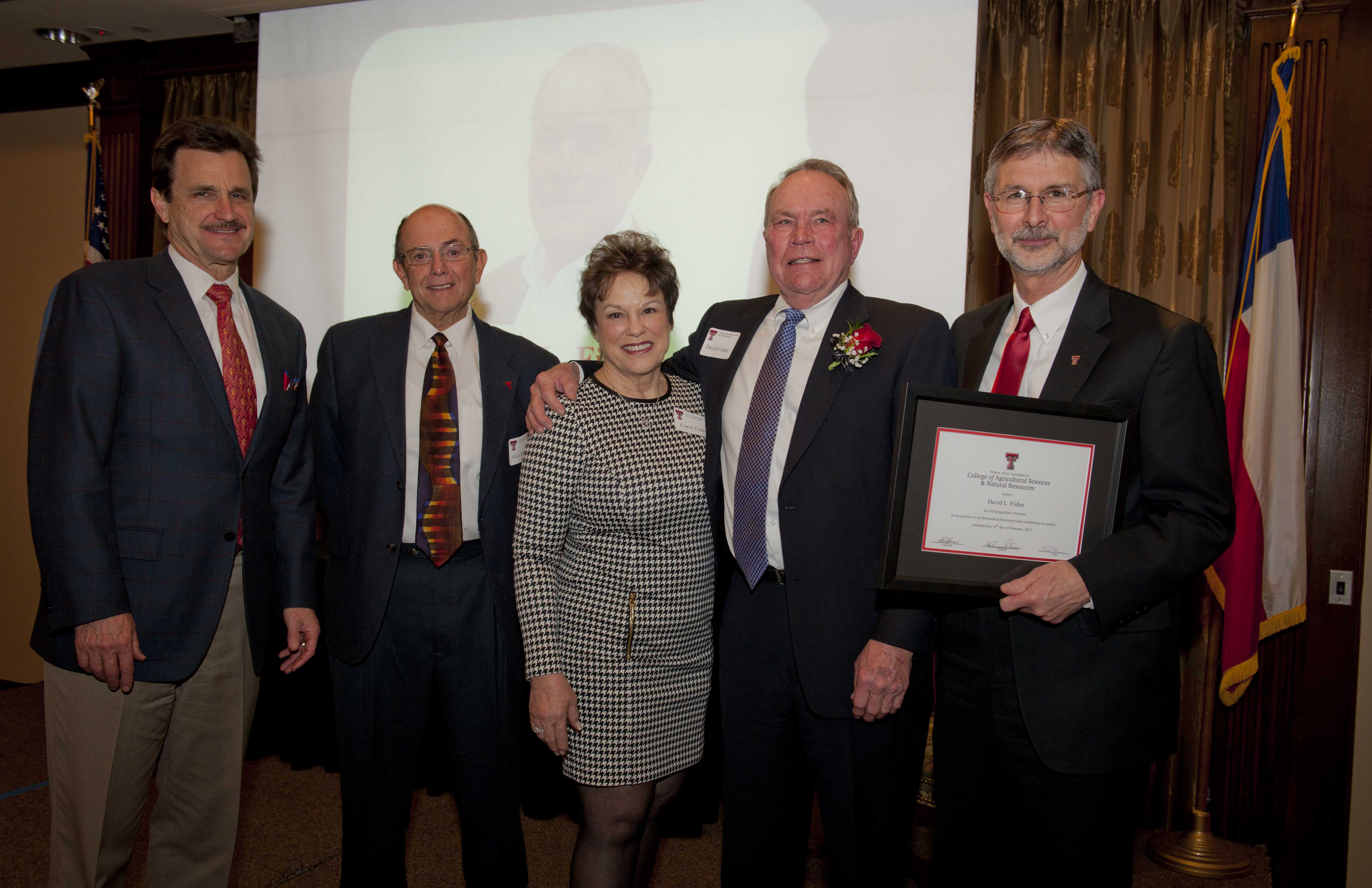 College of Agricultural Sciences and Natural Resources
Texas Tech University
The measure of a college's distinction and influence depends greatly upon the achievements of its alumni and the positions they attain in their respective communities and fields of endeavor. To recognize some of the most distinguished alumni of Texas Tech University's College of Agricultural Sciences and Natural Resources, the Distinguished Alumni Awards were established.
Purpose and Philosophy
The purpose of this program is to recognize and honor Agricultural Sciences and Natural Resources alumni who have made significant contributions to society, and whose accomplishments and careers have brought distinctive credit to the College of Agricultural Sciences and Natural Resources of Texas Tech University and to the professions associated with agriculture and natural resources.
This program does more than honor those alumni. It spotlights the accomplishments of the college and thereby enhances the pride of alumni, students, faculty and staff. It also presents to the people of Texas and the nation tangible evidence of the effectiveness of agricultural and natural resources programs at Texas Tech University.
Past Landscape Architecture Distinguished Alumni Award Recipient
2023 Russell Laughlin (Landscape Architecture, 1981) Current Recipient
2022 Tim A. Bargainer (Landscape Architecture, 1992)
2021 Kelly David Cook (Landscape Architecture, 1988)
2020 Charles R. Eatherly (Park Administration, 1961)
2019 B. Dan Kamp (Horticulture and Park Administration, 1957, 1966)
2018 Christopher B. Hoffman (Landscape Architecture, 1988)
2017 Shawn T. Benge (Landscape Architecture, 1989)
2016 Michael Chad Davis (Landscape Architecture, 1994)
2015 Eric A. Bernard (Landscape Architecture, 1996, 2000)
2014 Pamela Hefner (Landscape Architecture, 1983)
2013 David L. Fisher (Park Administration, 1966)
2012 Dewey L. Shroyer (Park Administration, 1966, 1973)
2011 Alice McLarty (Landscape Architecture, 1987)
2010 Dennis C. Wilkinson (Park Administration, 1974)
2009 Pat D. Taylor (Park Administration, 1967, 1969)
2008 Sean D. Davis (Landscape Architecture, 1986)
2007 Horst Schach (Park Administration, 1964)
2006 Bob Riley (Landscape Architecture, 1977)
2005 Gary Bellomy (Park Administration, 1974)
2004 Jackie K. Bubenik (Park Administration, 1971, 1972)
2003 C. Patricia Westbrook (Landscape Architecture, 1979)
2002 James E. Bertram (Park Administration, 1966)
2001 Christine E. Ten Eyck (Landscape Architecture, 1981)
2000 Dennis L. Law (Park Administration, 1967)
1999 Anne K. Young (Landscape Architectue, 1982)
1998 J. Robert Anderson (Park Administration, 1973)