Agricultural Biotechnology Law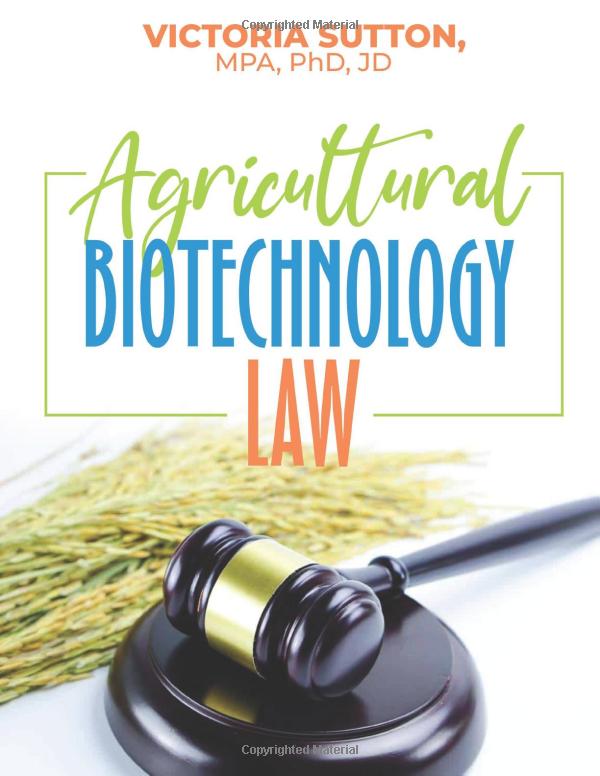 Book Description:
This book examines issues of policy and law in agricultural biotechnology, and the scope of interests of farmers and manufacturers in food and pharmaceuticals. The regulation of areas both old and new include synthetic biology, genetically modified organisms, transgenic animals, foods, cloning, CRISPR, crimes, economic espionage, intellectual property and environmental laws. These issues are considered within the context of governmental regulatory approaches as well as private sector participation.
Author Bio:
Victoria Sutton, MPA, PhD, JD is the Distinguished Horn Professor and Associate Dean for Digital Learning and Graduate Education at Texas Tech University School of Law.
Prof. Sutton is Director of the Center for Biodefense, Law & Public Policy and founding editor of the Journal for Biosecurity, Biosafety and Biodefense Law. Her work was cited by the White House supporting an Executive Order to review the regulatory program for biodefense laboratory biosafety and biosecurity.
She is a member of the Lumbee Indian Tribe of North Carolina.
She has taught Environmental Law, Administrative Law, Constitutional Law, Global Biosecurity Law, Visual Advocacy and the Law, Indigenous Justice, American Indian Law, Environmental Law and International Environmental Law as well as a course in Native American culture and law in the TTU Anthropology and Archaeology Department.
Prof. Sutton is a founding Member of the National Congress of American Indians, Policy Advisory Board, serving since 2005.
She served as the Native American Students Association advisor at Texas Tech University and at Yale University during her visitorship. She currently serves on the Diversity, Equity and Inclusion Committee of TTULaw and leads the TTU Indigenous & Native American Circle on developing a certificate program for graduates and undergraduates and building community at TTU.