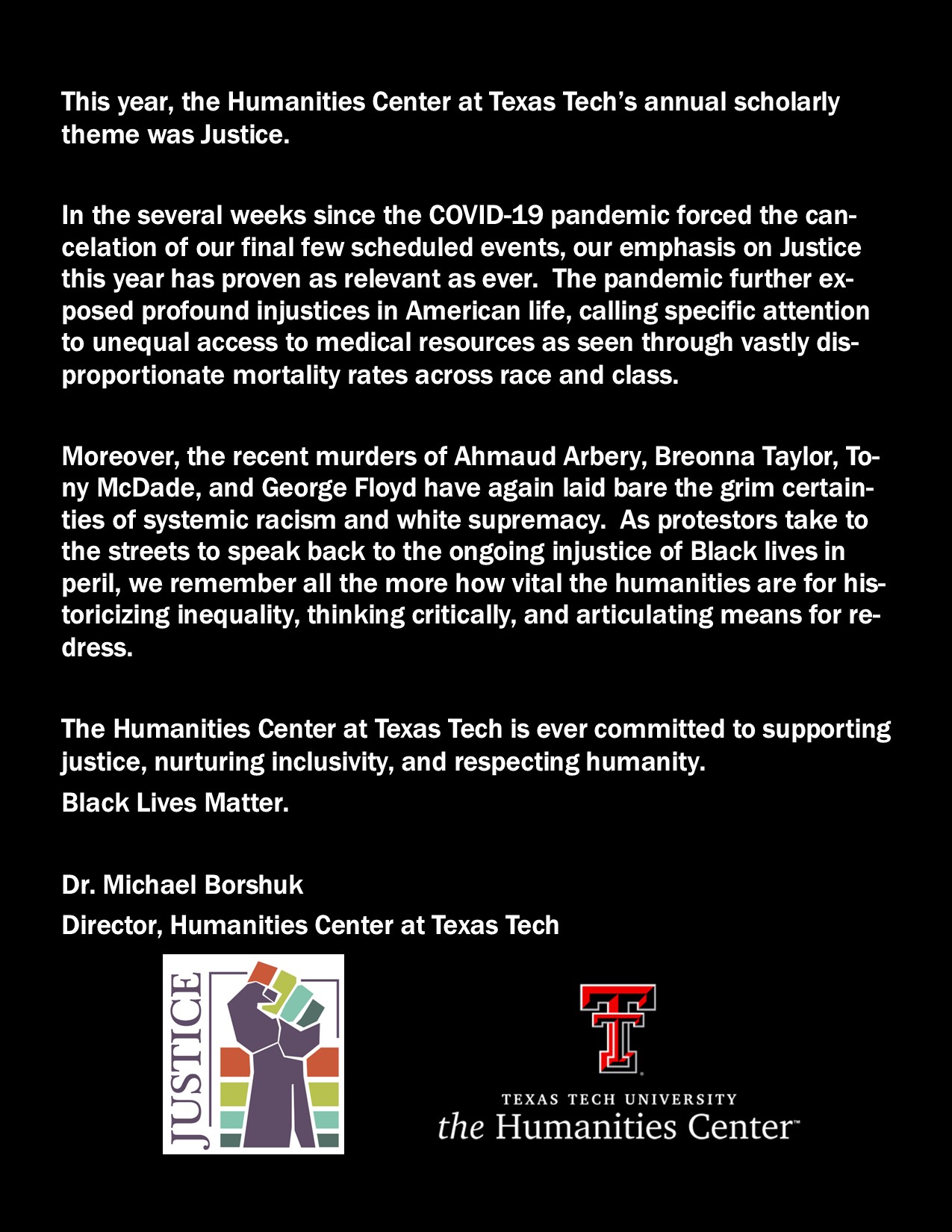 2019-20 Theme: JUSTICE
It is easy to draw Americans into a conversation about "being human" when we focus on love, families, old age, grief, even poverty or educational opportunities. It is especially easy when we aim our support at those people we deem worthy of the label human. It is much more difficult to discuss, much less acknowledge, the humanity of people who have broken the law. Frequently, we fail to grant them the same human emotions and trouble that we, who are not incarcerated, experience. We live in a country of punitive vengeance more than a country of restorative healing and rehabilitation.
The Humanities Center's 2019-2020 themed events will be realized across several platforms, including a guest lecture series, a film series, a podcast series, the presence of the Visiting Scholar, and an anticipated interdisciplinary conference during the spring semester. JUSTICE may easily be the only bipartisan issue in the current decade; addressing it is one way that the TTU Humanities Center can build a bridge between the divided sides in this country, between those working in education and those who consider the academy an insular, troublesome enemy.
Featured Scholar
Meet our April 2020 Humanities Featured Scholar Dr. Costica Bradtan. Please visit FEATURED SCHOLAR to learn more about this month's scholar.
Humanities Spotlight: 2020 Faculty Awards
The Office of the Provost has announced the 2020 Faculty Awards. Numerous humanities-affiliated faculty members received recognition. For a list of those winners, please click HUMANITIES SPOTLIGHT.

In accordance with University guidelines and to protect the health of our students, faculty and staff, all TTU departments will be working remotely for the remainder of the Spring 2020 semester.
For the immediate future, the Humanities Center office in Drane Hall will not be open. If you need assistance, please contact us at (806) 834-7822 or humanitiescenter@ttu.edu. We will try to respond right away but if that's not possible will get back to you by the end of the business day.
We will keep the Red Raider community updated on important Humanities Center topics here, on Facebook (@ttuhumanitiescenter) and Twitter (@TTUHumCtr) as we navigate our way through this challenging situation.


Donations to the Humanities Center assist all of our free programming and contribute to the research support we offer to faculty and graduate students.
Welcome to the Humanities Center at Texas Tech. The Center's raison d'être is to shift the narrative from any particular discipline or college to the positive and integral humanities "brand." The Center is an umbrella for humanities thinking. It is a neutral space outside departments and colleges. Please browse through our website to learn more about public events, funding opportunities, future plans, and our history.

The humanities are the natural history of culture, and our most private and precious heritage. —Edward O. Wilson
Upcoming Events
March's Humanities Happy Hour has been cancelled in accordance with Texas Tech University's COVID-19 Phase IV plan issued by the Office of the President.
2020 VISITING FELLOW ROSS FORMAN
The Humanities Center is pleased to introduce our 2020 Visiting Fellow Ross Forman. Dr. Forman teaches in the English and Comparative Literary Studies Department at the University of Warwick (UK), where he is Associate Professor of Anglophone Nineteenth-century Literature and Culture.
For more information about the 2019 Visiting Fellow, please visit Humanities Spotlight.
Click below for a list of faculty members available to serve as a Dean's Representative for Doctoral Dissertation Defense.