Raegan Higgins Appointed Assistant Vice Provost for Faculty Success
Math Professor Currently Co-Directing Summer Program at Oxford
7.14.2022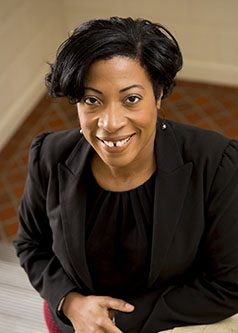 Raegan Higgins, an associate professor in the Department of Mathematics & Statistics, was appointed as one of two assistant vice provosts for faculty success. Announced by the Texas Tech University Provost Office July 11, Higgins' appointment recognizes the critical role that faculty members play in student success and programs.
In this new position, Higgins will develop initiatives, programs and opportunities specific to inclusion and equity, mentorship, professional development, and help implement reviews of, and changes to, current policies and procedures that faculty have identified as barriers to advancement.
Higgins is no stranger to the Provost Office. In January 2021, she became one of two new fellows in a faculty success initiative. Those duties saw Higgins focusing on improving diversity, equity and inclusion for faculty and expanding support and engagement for faculty of color.
Highly awarded for her teaching, one of Higgins' most recent such recognitions is as the recipient of the 2022 Ron Barnes Distinguished Service to Students Award, granted by the Texas Section of the Mathematical Association of America at an awards banquet on April 1.
Higgins currently is co-directing the EDGE 2022 Summer Program. Held this year at the University of Oxford July 10-Aug. 6, EDGE 2022 is a summer intensive program whose goal is to increase gender and racial diversity and equity in the mathematics community.
College of Arts & Sciences
Address

Texas Tech University, Box 41034, Lubbock, TX 79409-1034

Phone

806.742.3831