A&S Student News
2022
First 3 Students Earn Doctorates in Exercise Physiology
Ahalee Cathey Farrow (left), Stephen Fischer (center), and Arun Maharaj (right) are the first to graduate from Texas Tech with doctoral degrees in exercise physiology.
Ahalee Cathey Farrow, Stephen Fischer and Arun Maharaj are the first to graduate from the Department of Kinesiology & Sport Management as PhDs in exercise physiology. The degree program was launched in fall 2018. Farrow and Maharaj graduated May 13, and Stephen Fischer is expected to graduate August 6 after defending his dissertation. "All three of these students have done excellent work and been great role models for the students who are following them in this program," said Angela Lumpkin, professor and department chair. "They have completed their programs in a timely manner and distinguished themselves as promising young professionals in exercise physiology." Read the complete article at this link.
Bianca Rendon Refocused After Working with COVID-19 Tests
Bianca Rendon was in the middle of her doctoral program at The Institute for Environmental & Human Health (TIEHH) when the pandemic took off in spring 2020. She set aside her research on mosquitoes and, for the first time, entered the Biosafety Level (BSL) 3 lab as a volunteer to help run COVID-19 tests. "We hit the ground running and never looked back. It was just one of those things that had to get done," Rendon said. With a limited staff, Rendon quickly went from learning this type of lab work to suddenly, being the one in charge. The experience was life-changing for Rendon, who went from a relatively low-profile Ph.D. project in insecticide resistance with mosquitoes, to the possibility of doing vector control in a leadership role. "If I want to go into military work, I can do military work. If I want to go do Biosafety Level 4 lab work, I can go to BSL-4 work," she said. "Essentially, the world is my oyster." Read the complete article at this link.
Grad Students Present Research at Astrophysics Conference in Belgium
TTU astrophysics graduate students (left to right) Kunal Deshmukh, Eric Stringer and Corey Bradshaw presented their research at the International Conference on Hot Subdwarfs and Related Objects, held in Liege, Belgium.
Corey Bradshaw, Kunal Deshmukh and Eric Stringer—all graduate students in the Department of Physics & Astronomy—gave presentations on their research while attending the International Conference on Hot Subdwarfs and Related Objects, held June 13-17 in Liège, Belgium. Their faculty mentor, assistant professor Thomas Kupfer, said the results of their work will be published in the conference's peer-reviewed and referenced Bulletin de la Société Royale des Sciences de Liège. "This news is once again another good example of the excellence of research conducted by our students and their success at the international level," said Sung-Won Lee, professor and department chair. The students' travel expenses were funded, in part, by the department and by the TTU Graduate School. Read more about Bradshaw, Deshmukh and Stringer at this link.
Megan Cuevas to Enter Physics Ph.D. Program with Two Coveted Scholarships
Megan Cuevas, who graduated in spring 2022 from Texas Tech with her bachelor's in physics, will enter TTU's astrophysics Ph.D. program this fall. She is a recipient of the four-year Helen DeVitt Jones Graduate Fellowship, backed by the Helen Jones Endowed Graduate Fellowship Fund through the College of Arts & Sciences. She also is a recipient of the 2022-2023 STEM Columbia Crew Memorial Scholarship from the Texas Space Grant Consortium. "My end goal in pursuing graduate studies is to further my knowledge to become proficient in astrophysics and a skilled researcher. I strive to challenge myself and learn constantly; thus, a Ph.D. program is a natural next step," Cuevas said. "These scholarships provide security and encouragement to progress to this next challenge in my academic career." Follow this link to read the full article about Megan Cuevas.
Math Students Study Abroad in Italy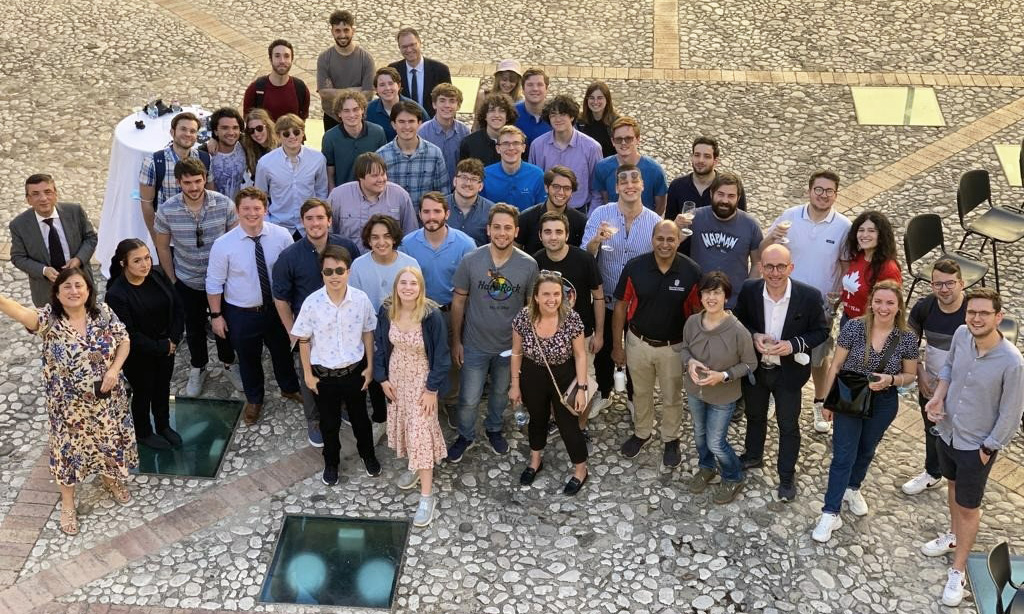 TTU math students join students from the Università degli Studi del Sannio in Benevenito, Italy, during a study abroad welcome event.
A group of Texas Tech University mathematics students studying abroad in Italy were welcomed to Università degli Studi del Sannio in Beneveneto at a May 21 event organized by the university's president. Beneveneto is about 35 miles northeast of Naples. The event was recorded by local news media in Italy.
Nicholas Clark Publishes 3 Research Papers from His Undergraduate Days
While Nicholas Clark was working toward his bachelor's degree at Texas Tech University, he spent more than two-and-a-half years conducting undergraduate research in the lab of his faculty mentor, atmospheric scientist Sandip Pal. Between 2019 and 2021, Clark flourished as a budding scientist, taking a significant part in three research projects that yielded findings worthy of publication. The papers were submitted to three different scientific journals. And the wait began. But Clark did more than wait. He completed his bachelor's in mathematics and minor in atmospheric science in the spring of 2021 and entered TTU's Graduate School the following summer to pursue an advanced degree in atmospheric science in the Department of Geosciences. Now, as a graduate teaching assistant, Clark conducts some of the undergraduate classes where he himself was so recently a student. And the waiting paid off: He recently received the acceptance letter of his first paper, as first author, from the American Meteorological Society. Beginning research during my undergrad years was absolutely game-changing in terms of my success as an academic and future atmospheric scientist," Clark said. Read the complete article about Nicholas Clark's research at this link.
Four A&S Students Win Fulbright Fellowships
Aaron Szczesny, a graduating pre-law senior in the Department of Economics, is one of four Arts & Sciences students to win a Fulbright Fellowship this year. He will spend his fellowship teaching English in Uzbekistan.
Four students from the College of Arts & Sciences have been awarded Fulbright Fellowships. Fulbright Fellowships support international education and research, providing winners the opportunity to work or conduct research abroad while living among and learning from the people of their host country. This year's Fulbright students from A&S are:
Three other Arts & Sciences students were named semi-finalists in the competition for Fulbright Fellowships:
Gabriella Ghandour, who graduated in December with her bachelor's degree in political science and the Honors College.
JoHanna Haiduk, who is a master's student in the Department of History.
Diego Martinez, who is a master's student in the Department of History.
The Fulbright Program was created to increase mutual understanding between the people of the United States and the people of other countries. The primary source of funding for the Fulbright Program is an annual appropriation made by the U.S. Congress to the U.S. Department of State's Bureau of Educational and Cultural Affairs. Fulbright is active in more than 160 countries worldwide and partners with participating governments, host institutions, corporations and foundations in foreign countries and in the U.S.
TTU Among Top Universities Forming Hispanic Opportunity Alliance
Texas Tech University is one of 20 top research universities that have formed the Alliance of Hispanic Serving Research Universities (HSRU). The alliance was announced June 9, 2022, and represents the 20 United States universities that have achieved both Carnegie Tier One status (R1, very high research activity) and designation as a Hispanic Serving Institution by the U.S. Department of Education. The HSRU Alliance aims to achieve two key goals by 2030:
double the number of Hispanic doctoral students enrolled at Alliance universities, and
increase by 20% the number of Hispanic professors in Alliance universities.
"At Texas Tech University, we work every day to produce exceptional research and scholarship while advancing intercultural relations and global competency," said Texas Tech President Lawrence Schovanec. "The HSRU Alliance will allow us to make a more significant impact by providing better support for Hispanic students, ultimately benefitting all students. We are proud to be among this group of distinguished institutions." For a detailed account, follow this link.
College of Arts & Sciences
Address

Texas Tech University, Box 41034, Lubbock, TX 79409-1034

Phone

806.742.3831