A&S Student News
Summer 2022
Math Students Study Abroad in Italy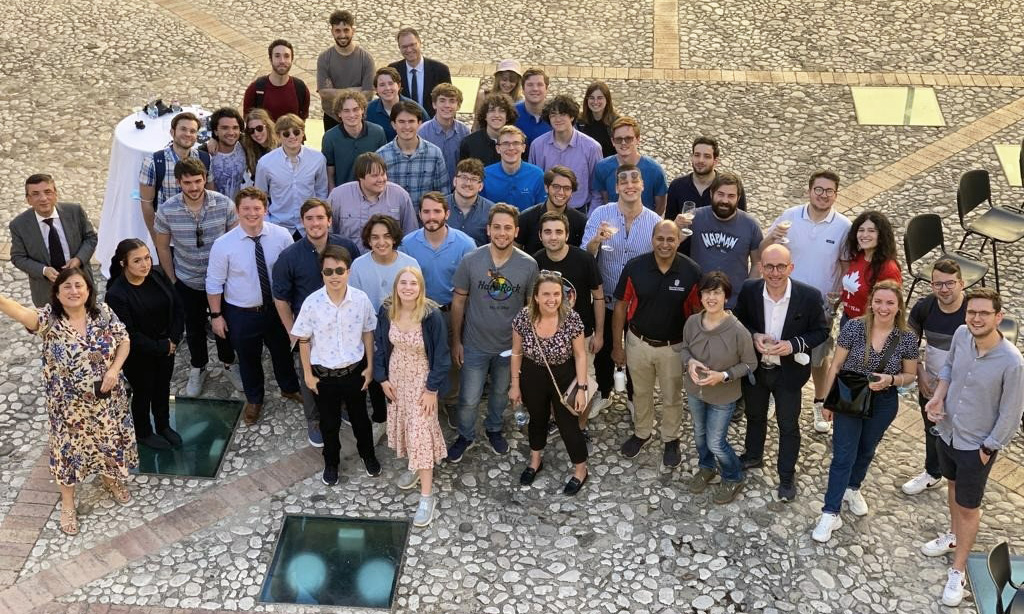 TTU math students join students from the Università degli Studi del Sannio in Benevenito, Italy, during a study abroad welcome event.
A group of Texas Tech University mathematics students studying abroad in Italy were welcomed to Università degli Studi del Sannio in Beneveneto at a May 21 event organized by the university's president. Beneveneto is about 35 miles northeast of Naples. The event was recorded by local news media in Italy.
Nicholas Clark Publishes 3 Research Papers from His Undergraduate Days
While Nicholas Clark was working toward his bachelor's degree at Texas Tech University, he spent more than two-and-a-half years conducting undergraduate research in the lab of his faculty mentor, atmospheric scientist Sandip Pal. Between 2019 and 2021, Clark flourished as a budding scientist, taking a significant part in three research projects that yielded findings worthy of publication. The papers were submitted to three different scientific journals. And the wait began. But Clark did more than wait. He completed his bachelor's in mathematics and minor in atmospheric science in the spring of 2021 and entered TTU's Graduate School the following summer to pursue an advanced degree in atmospheric science in the Department of Geosciences. Now, as a graduate teaching assistant, Clark conducts some of the undergraduate classes where he himself was so recently a student. And the waiting paid off: He recently received the acceptance letter of his first paper, as first author, from the American Meteorological Society. Beginning research during my undergrad years was absolutely game-changing in terms of my success as an academic and future atmospheric scientist," Clark said. Read the complete article about Nicholas Clark's research at this link.
Four A&S Students Win Fulbright Fellowships
Aaron Szczesny, a graduating pre-law senior in the Department of Economics, is one of four Arts & Sciences students to win a Fulbright Fellowship this year. He will spend his fellowship teaching English in Uzbekistan.
Four students from the College of Arts & Sciences have been awarded Fulbright Fellowships. Fulbright Fellowships support international education and research, providing winners the opportunity to work or conduct research abroad while living among and learning from the people of their host country. This year's Fulbright students from A&S are:
Three other Arts & Sciences students were named semi-finalists in the competition for Fulbright Fellowships:
Gabriella Ghandour, who graduated in December with her bachelor's degree in political science and the Honors College.
JoHanna Haiduk, who is a master's student in the Department of History.
Diego Martinez, who is a master's student in the Department of History.
The Fulbright Program was created to increase mutual understanding between the people of the United States and the people of other countries. The primary source of funding for the Fulbright Program is an annual appropriation made by the U.S. Congress to the U.S. Department of State's Bureau of Educational and Cultural Affairs. Fulbright is active in more than 160 countries worldwide and partners with participating governments, host institutions, corporations and foundations in foreign countries and in the U.S.
TTU Among Top Universities Forming Hispanic Opportunity Alliance
Texas Tech University is one of 20 top research universities that have formed the Alliance of Hispanic Serving Research Universities (HSRU). The alliance was announced June 9, 2022, and represents the 20 United States universities that have achieved both Carnegie Tier One status (R1, very high research activity) and designation as a Hispanic Serving Institution by the U.S. Department of Education. The HSRU Alliance aims to achieve two key goals by 2030:
double the number of Hispanic doctoral students enrolled at Alliance universities, and
increase by 20% the number of Hispanic professors in Alliance universities.
"At Texas Tech University, we work every day to produce exceptional research and scholarship while advancing intercultural relations and global competency," said Texas Tech President Lawrence Schovanec. "The HSRU Alliance will allow us to make a more significant impact by providing better support for Hispanic students, ultimately benefitting all students. We are proud to be among this group of distinguished institutions." For a detailed account, follow this link.
Spring 2022
Kruuttika Satbhai Awarded for Toxicology Research
Kruuttika Satbhai has been fascinated by science since childhood. It is a calling that brought her halfway around the world to earn her Ph.D. from Texas Tech University's Department of Environmental Toxicology. She graduates in August following a June dissertation defense. Along the way, Satbhai has received numerous awards for her research—most recently from the Society of Toxicology—and is learning the craft of leadership by serving on local and national boards and committees. This November, she will co-chair a session at the annual North America meeting of the Society of Environmental Toxicology and Chemistry (SETAC). Satbhai won the 2022 John Doull Risk Assessment Endowment Award, presented by the Society of Toxicology's Risk Assessment Specialty Section, for her research on a class of pollutants called perfluorinated compounds (PFAS), which have been found in local groundwater. Read the complete article about Kruuttika Satbhai's research at this link.
Madison Howard Awarded NSF Graduate Research Fellowship
Madison Howard, a graduating senior majoring in physics and mathematics, has won a National Science Foundation (NSF) Graduate Research Fellowship. The fellowship is the most prestigious graduate student fellowship awarded in basic science and engineering in the United States and commonly goes to students already in graduate school. "Howard's selection as an NSF Graduate Research Fellow is a highly significant accomplishment," said Sung-Won Lee, professor and physics department chair. Howard, a Lubbock native, will begin her graduate studies at the California Institute of Technology (Caltech) in September 2022. Read the complete article about Madison Howard at this link.
Shircliff Awarded NSF Graduate Research Fellowship
Katie Shircliff, a doctoral student in the Department of Psychological Sciences, has been awarded a Graduate Research Fellowship from the National Science Foundation (NSF). Shircliff plans to investigate whether test anxiety mediates the relationship between socioeconomic status and academic achievement in adolescents. She will use multiple methods, including self-report and behavioral tasks. Importantly, she will partner with local schools to complete the project with the goal of eventually disseminating evidence-based after-school interventions to support at-risk youth. Another psychology doctoral student, Kirsten Christensen, received an honorable mention from the NSF Graduate Research Fellowship Program for her work that focuses on understanding how to best measure psychological experiences that fluctuate over the course of hours and days. Read more about Shircliff and Christensen at this link.
Wind Energy Students Compete at Conference
Twelve students affiliated with the Wind Energy Program attended this year's Collegiate Wind Competition, sponsored by the Department of Energy and held at the American Clean Power Conference. Suhas Pol, associate professor of practice and interim director of the Wind Energy Program, reported that the students built a model turbine that achieved the best power-curve performance in the competition. Pol said other highlights of the conference included: Declan Saket (BSWE) being recognized as the best faculty-nominated student; Trey Gloeckler (EE) receiving the Daring to be Green award from the University of Texas at Dallas; and three students securing summer internships. Further, the department has been invited to participate in next year's Hydropower Challenge.
Dolera, Rentería Receive President's Excellence Award for Diversity
Nanette Kay Dolera (left), a pre-med undergraduate in the Department of Political Science and in Honors Sciences & the Humanities, and Olivia Rentería (right), an undergraduate in the Department of Geosciences, along with two Arts & Sciences faculty members, were among eight recognized campuswide with diversity awards from TTU President Lawrence Schovanec. Follow this link for details about the winners' efforts toward diversity, equity and inclusion.
Andrew Ibrahim Named 2022 Goldwater Scholar
Andrew Ibrahim, a cell and molecular biology major and an Honors College student, has been named a 2022 Goldwater Scholar, the nation's top undergraduate award in science, engineering and mathematics. Ibrahim is pursuing dual bachelor's degrees: one in cell and molecular biology with double minors in public health and chemistry, and the other in Honors Sciences & the Humanities with concentrations in Medicine, Global Health & the Humanities.  "I feel blessed to have been selected as a 2022 Goldwater Scholar," Ibrahim said. "Having discovered a passion for scientific research, being selected as a scholar is tremendous validation that I can do what I love and make meaningful contributions to the scientific community. I am honored to receive this award, and very grateful and appreciative of all the help given by Texas Tech faculty and staff throughout this process." After he graduates in May 2023, Ibrahim plans to pursue his master's and doctoral degrees in molecular physiology and conduct translational research exploring diabetic cardiomyopathy models. But before then, he still has goals as an undergraduate. "Next year, I serve as student body vice-president, through which I look to collaborate with administration to establish lab-training programs for local underrepresented minority students in STEM, with the goal of matching students with mentors and allowing them to have the same immersive experiences in research that I have been so fortunate to receive." Read the complete story about Andrew Ibrahim at this link.
Michael Anand Lands Forecaster Job at National Weather Service
Michael Anand, an atmospheric science graduate student in the Department of Geosciences, recently won the Best Poster Award at the 5th Texas Weather Conference held April 1-2 at Texas Tech's International Cultural Center. Anand's presentation, "Understanding Atmospheric Boundary Layer Depth Variability in Frontal Environments over an Arid Region in West Texas," was in the field of applied meteorology. The award, Anand said, validates his ability to communicate the complex terminology and concepts in atmospheric science to anyone outside of his field. "This skill will be essential when I am communicating forecasts and hazards from incoming storms to the public, local officials and emergency management," said Anand, who will join the National Weather Service as a forecaster for the Albuquerque office starting in mid-July. For the complete article about Michael Anand, follow this link.
Austin Coleman Wins Best Oral Presentation at Weather Conference
Atmospheric science Ph.D. student Austin Coleman (right) with her advisor, TTU atmospheric scientist Brian Ancell (left).
Austin Coleman, a Ph.D. student of atmospheric science in the Department of Geosciences, received the Best Oral Presentation Award at the 5th Texas Weather Conference held April 1-2 at Texas Tech's International Cultural Center. Coleman, who presented her ongoing thesis work, concentrates her research on developing a computational tool that will provide an understanding of how atmospheric features influence the predictability of high-impact weather events such as severe thunderstorms later in the day. Read the complete article about Austin Coleman at this link.
15 from Arts & Sciences Nominated as Phenomenal Women 2022
In March, during Women's History Month, the call went out: Have you been positively impacted by a woman student, faculty member or staff member from Texas Tech University? You answered—with the names of 15 outstanding faculty members, staffers and students. Follow this link to meet Arts & Sciences' Phenomenal Women Nominees of 2022!
Nicholas Clark Nominated to AMS Committee
Nicholas Clark, an atmospheric science graduate student in the Department of Geosciences, has been nominated to serve as a student member on the American Meteorological Society (AMS) Committee for Measurements. He begins his three-year term on the committee in April 2022. Clark is well known to AMS, where he has presented his work at annual meetings three years in a row: 2020 in Boston, 2021 and 2022 in virtual mode. On the home front, Clark won third place in Texas Tech's 2021 3-Minute Thesis Competition for his presentation "Over the Mountains and Through the Atmosphere." The heart of his research is focused on a Lidar-based investigation of entrainment zone processes over a semi-arid region. He conducts his work as a member of Texas Tech's Boundary Layer Meteorology Group led by atmospheric scientist Sandip Pal. Read the complete article about Nicholas Clark at this link.
Clive Binu Selected for Radio Astronomy Research Assistantship
Clive Binu, an undergraduate in the Department of Physics & Astronomy, has been selected for a Summer Student Research Assistantship at the National Radio Astronomy Observatory (NRAO). As an NRAO program trainee, Clive plans to conduct a research project, "Testing Satellite Impacts on Radio Telescopes: VLA and VLBA," for 10 to 12 weeks at the NRAO site in Charlottesville, Va. Binu is the fourth Texas Tech student in recent years to be selected for participation in the NRAO Summer Student Research Program. For more about Clive Binu, follow this link.
15 Geosciences Undergrads Make Field Trip to State, National Parks of U.S. Southwest
A group of 15 students in the Department of Geosciences spent spring break on a field trip through state and national parks of the Southwest. During their visits to Carlsbad Caverns National Park, Valley of Fire State Park, Petrified Forest National Park and Grand Canyon National Park, the students were exposed to a wide variety of geologic concepts they have learned during their first year, such as volcanic flows and how deposited sediments form rock layers. Fiorella Llerena, a first-year environmental geosciences major from Houston, said of Carlsbad Caverns, "…we can see the history in it just by looking at the rocks there. It was like holding history in my hand, basically." Trip leader Dustin Sweet, an associate professor of sedimentology and stratigraphy, said, "This trip was designed especially for early majors, or those students who have declared a geoscience major but are only in their first year of our department curriculum." Read the complete article at this link.

Three Chemistry Students Win Travel / Study Abroad Awards
Akram Bani Ahmad, a graduate student in the Department of Chemistry & Biochemistry, Georgieva lab, was selected to receive the Study Abroad Competitive Scholarship (SACS) for the 2022 Spring Semester.
Saman Majeed, Pharm. D., a graduate student in the Department of Chemistry & Biochemistry, Georgieva lab, has received an ASBMB 2022 Graduate Student Travel Award. In April 2022, Saman will attend the ASBMB Annual Meeting in Philadelphia to present her work, and that of her colleagues, on viral membrane proteins.
Dong Zhang, a Ph.D. candidate in the Department of Chemistry & Biochemistry, Gamez lab, has received a 2022 ASMS Graduate Student Travel Award to attend the 70th ASMS conference in Minneapolis, June 2022. The ASMS Graduate Student Award recognizes graduate students whose academic achievements and current mass spectrometry research display a high level of excellence and distinction. He will be recognized during a ceremony at the conference.

Garza, Oliver, Pazhoor Celebrate Women's History Month
Kiara Garza, Kinesiology & Sport Management major; Ava OliverBiological Sciences major; and Anya Pazhoor, Psychological Sciences major; celebrate Women's History Month by sharing their experiences, insights, inspirations and advice. Follow this link to read their responses.
Iroro Tanshi Reports on 10 New Bat Species
Texas Tech University Ph.D. student Iroro Tanshi.
Iroro Tanshi, a Ph.D. student in the Department of Biological Sciences and director of research at the Nigeria-based Small Mammal Conservation Organisation (SMACON), was PI on a recent study that discovered 10 bat species never seen before in Nigeria. After 15 months of intensive survey using mist-nets and harp traps to catch bats, the international research group published its findings in the journal Acta Chiropterologica. Of the 36 bat species recorded in the survey, 10 are newly recorded, including an endangered species (Hipposideros curtus); and six are species for which there is insufficient information to assess their conservation status. "You're not going to find the complement of species that you find here elsewhere in the world, so having their habitat intact, is critical," said Tanshi, who is a student in the lab of TTU biologist Tigga Kingston. Read the full account at this link.
Corey Bradshaw Awarded Observing Time at SOAR
Corey Bradshaw, a graduate student in the Department of Physics & Astronomy, has been awarded four nights of observing time this summer on the Southern Astrophysical Research telescope (SOAR), located in Chile's Atacama Desert. As principal investigator (PI) on the research project, Bradshaw will use the SOAR telescope to obtain Goodman spectra of both regular pulsating B-type subdwarfs and Blue Large Amplitude Pulsators to find evidence of binary stars. "It is a highly recognized achievement for a graduate student to receive this award as PI," said Sung-Won Lee, chair of the department. "Note that this observing time is quite competitive with only a total 49 nights available for the first half of 2022 to all institutions in the United States, and they typically approve only 10 to 15 regular programs at this telescope in the U.S. per semester." Bradshaw's graduate advisor is Thomas Kupfer. Read the detailed story about Corey Bradshaw at this link.
Satchell Welcomes Black History Month
Donovan Satchell, a global studies major in the Department of Political Science and a President's Select ambassador, introduces the celebration of Black History Month in the College of Arts & Sciences. Follow this link for a lineup of stories and resources as Arts & Sciences honors Black History Month 2022.
Kevin Finch Awarded for Poster Presentation in Tucson
Kevin Finch, Ph.D. candidate in the Department of Chemistry & Biochemistry, Gamez lab, received an award sponsored by the Journal for Analytical Atomic Spectrometry for his poster presentation at the Winter Conference on Plasma Spectrochemistry, held in Tucson, January 2022. Finch had received a travel grant sponsored by Spectron Inc. to present an invited talk and a poster at the conference.
College of Arts & Sciences
Address

Texas Tech University, Box 41034, Lubbock, TX 79409-1034

Phone

806.742.3831