Crisscross: Bill Lagattuta and Collaborative Printmaking (Series 2 of 3)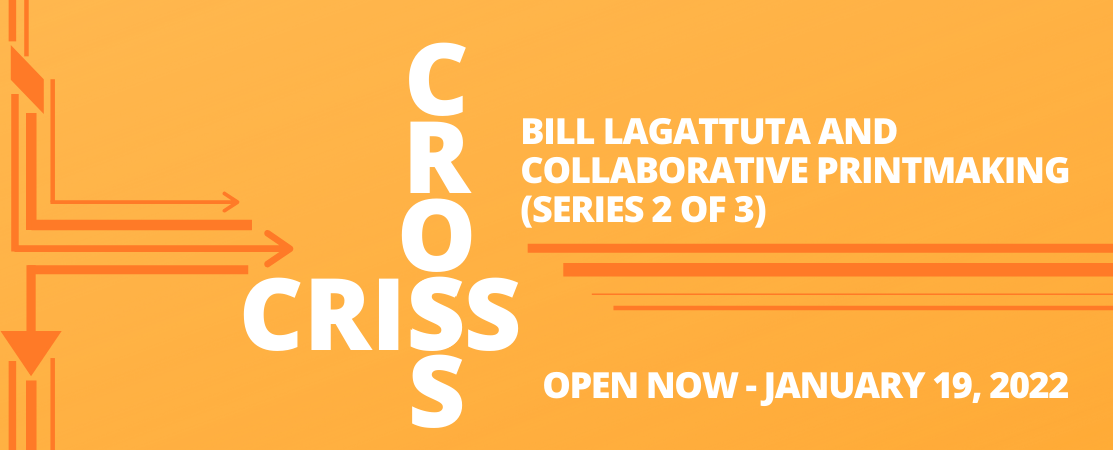 This exhibition is a series of three that features the crossing of paths between one master printer and several artists, specifically Bill Lagattuta and an array of visual artists working primarily in the Southwest United States. The works of art in each exhibition exemplify the range among the technical expertise of a printer, the creative vision of an artist, and their ability to work together.
Lagattuta completed in 1979 his printer certificate training at the University of New Mexico's Tamarind Institute (Albuquerque) which specializes in the printing technique of lithography. In the years that followed, Lagattuta worked as a printer at Peregrine Press (Dallas, TX), Sette/Segura Publishers (Tempe, AZ) and Vermillion Editions (Minneapolis, MN). He returned to the Tamarind Institute in 1988 as its master printer and workshop manager, retiring in 2015.
What is a "master printer"? There are no established standards that govern criteria to label someone a master printer. In the visual arts, it is largely a self-appointed term with one exception: Tamarind Institute does have a training program that certifies (if one meets the program's standards) "Tamarind Master Printers." In the art universe of printmaking, a master printer is expected to have a profound knowledge of at least one among various print media, a collaborative disposition that enhances working relationships between artist and printer, and a robust inventory of skills to assist an artist. Since many types of printmaking are technically complex and depend on specialized equipment and skills, many artists turn to master printers for assistance. This relationship is often referred to as "collaborative printmaking". (However, many other artists who work in print media choose to print their own work, or self-publish, without the help of a master printer.)
What is an "art print" or an "original print"? Printmaking, like painting, can mean a lot of things. A menu for a restaurant is printed on paper and the walls of an apartment are painted. Both involve printmaking and painting, practices and terms that also find a home in the visual arts. When used in an art context, printmaking acquires added dimensions. It refers not just to the act of making a print but also to an artist using techniques of printmaking to create a work of art. This printed artwork is not a copy of another artwork (for example, a reproduction of a painting) but the print is the culmination of the artist's efforts after laboring through printmaking processes. These processes invariably include transferring an image from a matrix to another surface, often paper.
All of the artworks in this exhibition are from the Museum of Texas Tech University's Artist Printmaker Research Collection (AP/RC) and were selected from Bill Lagattuta's personal collection. These artworks were purchased with a generous grant provided by the Helen Jones Foundation, Inc. through the Museum of Texas Tech University Association.
Peter S. Briggs
Helen DeVitt Jones Curator of Art
SERIES 1
Indictment, 1984
Woodcut with hand coloring
Collection of the Museum of Texas Tech University Association; purchase with funds provided by the Helen Jones Foundation, Inc.
© Rudy Fernandez
SERIES 2
Robert Colescott (1925-2009)
Fried Chicken & Fantasy, 1990
Lithograph (19x25 inches) printed by Bill Lagattuta
Museum of Texas Tech University Association Collection; purchase with funds provided by the Helen Jones Foundation, Inc.
© Estate of Robert Colescott
SERIES 3
Richard Levers
Fans in the Stands, 1987
Lithograph
Collection of the Museum of Texas Tech University Association; purchase with funds provided by the Helen Jones Foundation, Inc.
© Estate of Richard Levers
Museum of Texas Tech University