Social Resources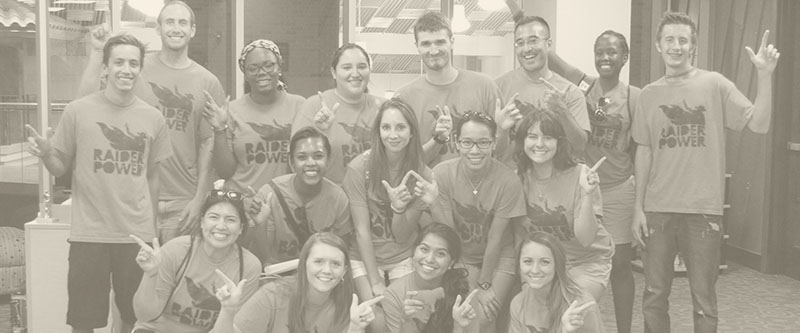 As transfer students, registering for classes and getting the grade is not always the most intimidating part of a new school. Sometimes, it is just making friends. Texas Tech University has countless opportunities for students to get involved and make new friends. Take a look at the many ways to meet people and start building your social network. Remember the importance of getting involved by becoming active in student organizations, and don't forget to take a break from studying and have some fun every now and then!
Raider Welcome
Raider Welcome is a two-week series of FUN and FREE events designed to welcome new and returning students to the Texas Tech campus. Raider Welcome occurs the week before classes and throughout the first week of classes in both the fall and spring semesters. Raider Welcome events allow students to learn about and experience the services available to them as members of the Texas Tech community. www.raiderwelcome.ttu.edu
Hub City Fest
Hub City Fest is the party where local Lubbock businesses want to welcome students to town. Connect with and learn more about what your new community has to offer, before the first weekend you're in town. Lots of freebies, music and more! www.hubcityfest.ttu.edu
Raider Roundup
Raider Roundup takes place the day before classes start and is a way to kickoff the academic year. At the event you can connect with other Texas Tech students, faculty and staff while enjoying free food, live music, and outdoor games. www.raiderwelcome.ttu.edu
Carol of Lights
The Annual Carol of Lights takes place in December and is one for Texas Tech University's most well-known traditions. Watch the campus buildings from the Broadway entrance to Memorial Circle light up with Christmas lights as seasonal music plays. www.housing.ttu.edu
Family Weekend
Family Weekend is held during each fall semester and is a great time to reconnect with your family and show them around Tech's beautiful campus. www.parent.ttu.edu
Transfer Connection Learning Community
The Transfer Connection Learning Community (located in Gordon Hall) provides a unique experience for transfer students to live together in an environment supporting their academic, personal, and professional success. www.housing.ttu.edu
Homecoming
Homecoming week is designed to bring alumni, students, and fans together to celebrate the history, spirit and traditions that make Texas Tech unique! www.homecoming.ttu.edu
Arbor Day
Arbor Day is an annual event that takes place every spring. It is designed to bring the campus community together to beautify the campus through planting of flowers and plants. Student organizations join together to enjoy community while improving the Texas Tech campus. www.sub.ttu.edu
Student Recreation Center
Join intramurals, sign up for Raider X classes, use the state-of-the-art facility at your own leisure, or float the longest lazy river in the Big 12 at the leisure pool. Keep an eye out for transfer student intramural teams to join! www.recsports.ttu.edu
Student Activities Board
Students dedicated to providing educational and social activities, as well as diverse events and programs to enhance the overall Tech Experience. www.sab.ttu.edu
Student Organizations
Transfer Techsans is just one of the over 450 student organizations for students to be involved in. Find friends who share your interests, improve your resume, and get involved! www.studentinvolvement.ttu.edu
"Go home and be with your family, but don't go every weekend. You're going to miss out on college. They don't call college 'the best 7 years of your life' for no reason."
Transfer Connection
Address

201 Student Union Building Box 45014 Lubbock, TX 79409

Phone

806.742.2993