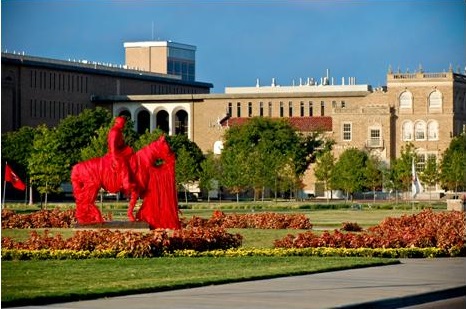 Departmental News
Dr. Morales obtained a grant from the Cancer Prevention and Research Institute of Texas (CPRIT)
The funded research is to reveal the mechanisms of fundamental reactions occurring during proton cancer therapy (PCT) via computational chemistry methods. In this innovative approach to cancer research, the Morales group is employing the electron nuclear dynamics (END) method to simulate water radiolysis reactions and DNA damage processes. In this way, a better understanding of PCT leading to its rational design can be safely obtained on computers without putting patients under risk.
Horn Professor Nes has been awarded a NIH R21/R33 award titled "Discovery of new anti-amoeba therapeutics"
The funded research is to prepare and test new steroidal inhibitors separately and in combination with medical azoles as potential anti-amoeba agents against corneal blindness and the brain-eating amoebas.
Dr.'s D'Auria and Cozzolino receive funding from the Presidential Collaborative Research Grants Program
Dr. D'Auria and Dr. Cozzolino, in collaboration with Dr. Kaye (TTU Physics) and Dr. Zeng (TTUHSC El Paso), will work towards constructing a sensor for the bacterium Bacillus anthracis. This effort brings together elements of solid state physics, surface chemistry, biochemistry and infectious diseases.
Dr. Pappas selected as President's Administrative Fellow
An associate professor of chemistry in the Texas Tech University Department of Chemistry & Biochemistry has been selected as the university's newest President's Administrative Fellow.
Dimitri Pappas, who is chairman of the Institutional Laboratory Safety Committee and maintains an active research group, will begin his new role on Sept. 1.
Dr. Robert W. Shaw, associate professor of chemistry and biochemistry Recognized for Innovative Research.
Texas Tech University's Office of Technology Commercialization hosted the West Texas Innovation Showcase to honor TTU/TTUHSC innovators on May 13, 2015. Robert V. Duncan, senior vice president for research at Texas Tech University presented Dr. Shaw with two separate awards for his research on antibiotics.
Dr. Gamez has been awarded the inaugural JAAS Emerging Investigator Lectureship
This Lectureship was launched to coincide with the 30th anniversary of the Journal for Analytical Atomic Spectroscopy and will be awarded annually from 2015 to recognize and support an emerging scientist working in the area of atomic spectrometry in the early stages of their independent career. As a winner of this Lectureship, Professor Gamez is invited to present his research at a high-profile international conference.
Dedicated recognition of alumna, Dr. Ginny S. Lin
The Department extends sincerest thanks to alumna, Dr. Ginny S. Lin, for
generous support of the NMR Spectrometer Facility.
Contact
Department
of

Chemistry

&

Biochemistry