Academic Excellence
Spanish Program Receives High Rankings in the Chronicle of Higher Education-2010
#1 in Arts & Sciences
#2 in Texas Tech University
#15 nationally
Dissertation Defenses Spring 2015
Spanish Doctoral
Ana Sylvia Acevedo
Dissertation title: "Vírgenes, Niformaníacas, Brujas y Travestis: El Discurso Subversivo de Carmen Boullosa"
Dissertation Chair : Jorge Zamora
Dissertation Committee : Genaro Pérez, Julian Pérez
Edith Lozano-Pozos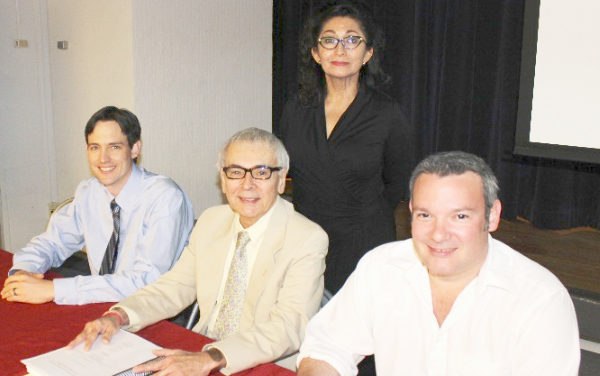 Dissertation title: "El papel de la mujer en tres novelas de La Cristiada: La Guerra Cristera, Jahel y Pensativa"
Dissertation Chair: Genaro Pérez
Dissertation Committee: George Cole, Zachary Brittsan
Susana Eguia Villanueva
Dissertation title: "Prefeminismo Azul: Poética modernista de María Enriqueta Camarillo"
Dissertation Chair: Julian Pérez
Dissertation Committee: Genaro Pérez, Jorge Zamora
Yuriko Ikeda
Dissertation Title: "La narrativa zombi como fenómeno literario contemporáneo: un análisis del post-apocalipsis en el mundo hispano"
Dissertation Chair: George Cole
Dissertation Committee: Julian Perez, Jorge Zamora
Degrees Awarded Spring 2015
Master of Arts
Applied Linguistics
Hashim Ali Asiri
Isaac Abreo Billalobos
Chen-Yu Liu
Koyuki Mitani
Jared Travis: Pass With Highest Distinction on M.A. Comprehensive Exam
Classics
Shaina Anderson
Brandon Baker: Thesis Title, "Damnatus ut Artifex: The Craft of Mining in the Roman Provinces"; accepted for doctoral program at UNC Chapel Hill
Edgar Garcia: Thesis title, "Sailing into the Past: Encountering the Monstrous in Apollonius' Argonautica"; accepted into the doctoral program at the University of Washington
Caitlin Mongrain: Thesis title, "The Spectacle of the "New": Novelty in the Roman Arena as a Literary Trope"
Ron Orr: Thesis title, "The Fortunate and the Damned: A Study of Herodotean Olbos and Polybian Tyche"
Karen Taylor: Pursuing a PhD at the University of Leicester
M.A. Languages & Cultures (LACU)
Applied Linguistics
Zihan Geng: Pass With Highest Distinction on MA Comprehensive Exam
Linley Jones: Pass with Highest Distinction on MA Comprehensive Exam
Sarah Talat Y Alshubaiki
David Villarreal
German
Bastian Braeuninger
Rachel M. Doran
Allison C. Burrell
M.A. Romance Languages
French
Joseph Gardner
Rachel Hicks
Guelila Teferra
Spanish
Edlyn Romero
B.A. Languages & Cultures
Classics
Carly Cowher
Tanner K. Haynes
Samuel Lagrone
Ian Love
Graham Rogers
French
Elizabeth Hammond
Rachel M. Hume
Kendra Snelson
German
Tanner K. Haynes
Russian Language and Area studies
Nicholas Grimes
Sunny Khamvongsa
Katelyn Ust
B.A. Spanish
Nicholas Aja
Adeenah Beal
Kara Bradshaw
Brooke Campbell
Jessica Eastman
Clinton Gabel
Angelique Garza
Jude Gaye
Alicia Geurin
Gabriela Hernandez
Brittnee Johnson
Natalia Lara
Jonathan McCaslin
Cole Morrison
Maria Oviedo
Lillian Pena
Javier Pfeiffer
Lauren Roblez
Alyssa Rodriguez
Luis Ruiz
Jessi Stafford
Robert Turner
Jacquelina White
Nikki Witcher
A Tribute to Amos Nugent, Veteran of the United States Marine Corps
Amos Nugent served in the United States Marine Corps from 2003 until 2011. During his service, Sgt. Nugent deployed to Al Anbar, Iraq and Helmand, Afghanistan in support of the Global War on Terrorism. As a Motor Transportation Marine, Sgt. Nugent was instrumental in road movements, convoy security, and asset recovery. Sgt. Nugent survived 5 IED (improvised explosive device) attacks during his tour of duty in Afghanistan. Sgt. Nugent received the Purple Heart for wounds received from an attack on October 5, 2010. After Amos returned to Lubbock and life as a civilian, he decided a degree in accounting was within his reach. Currently Amos intends to obtain a Master's degree in Accounting from the Rawls College of Business. Amos stated that he chose Russian as a minor because, "it is relevant to the geopolitical situation and I like to challenge myself." Furthermore, Amos compared learning Russian to learning how to play a game, "once you know the 'rules' and practice enough, you start getting better at it." Amos stated that he feels learning a foreign language is important because, "finding different ways to express yourself only enriches your life and the lives of those around you." May 1, 2015 Amos and his wife Yvette will celebrate their fifth wedding anniversary.
Nugent was interviewed in February by WCTV, Stacie Wirmel. To listen to the interview go to http://youtu.be/26AGpPrbenA.
Kudos to Nicholas Grimes: 2015 Russian Scholar Laureate for Texas Tech, Best CMLL Student of Russian and Inductee to the Texas Tech Chapter of Phi Beta Kappa
Nicholas A. Grimes was named the American Council of Teachers of Russian Scholar Laureate for Texas Tech. He also received "Best Student of Russian" award, and was also inducted to Texas Tech Chapter of Phi Beta Kappa in 2015.
Nicholas Grimes, a native of Arlington, Texas, will earn a double B.A. in Political Science and Russian Language and Area Studies on May 15, 2015. His post-graduation plans include joining the US Navy which will hopefully open doors to his goal of working with the State Department, perhaps as an ambassador.
Among his favorite Texas Tech Russian courses were Russian language courses, Dr. Qualin's Culture class and Dr. Barenberg's History classes. Nick says:" I have been able to achieve my goals because of all the support I have received from my family, friends, and professors, without which I would not be where I am. I have been fortunate to have had such excellent Russian professors here at Texas Tech, including Irina Drigalenko, Dr. Qualin, and Dr. Collopy. I hope that the department continues to grow because I think it is one of the best on campus. Thank you for your support and guidance over the last few years".
Induction into Phi Beta Kappa
The Phi Beta Kappa Induction Ceremony was held on April 23rd in the Lanier Auditorium. Anthony Qualin, Ph.D. Russian and Irina Y. Drigalenko, M.A. Russian were among faculty and instructors named as this year's most influential teaching in inspiring student in their academic and intellectual development.
2015 Inductees
Apryl Andrews
Nicholas Grimes
Sarah Jackson
Sabrina Siddique
CMLL Graduate Students Awarded Scholarships and Fellowships for the Academic Year 2015-2016
Melissa Langston Awarded the Diplomatic and Consular Officers Retired (DACOR) Fellowship
Currently there are more than 2,300 members of the DACOR Bacon House Foundation, who strive to enhance international understanding by regularly bringing together groups of prominent and knowledgeable persons to study, discuss, and reach conclusions about important national and foreign policy issues. While their main focus is to meet and discuss policy, the Foundation also focuses on providing fellowships and scholarships to students that show an interest in foreign affairs. The most prestigious of the five educational funds offered is the Graduate Fellowship for Study of International Affairs. Each year the DACOR Bacon House Foundation Fellowship is offered to eleven schools, which include five annual schools: American University, SAIS, Georgetown, The George Washington University and Tufts. The remaining fellowships are filled by six rotating schools, which are selected to have the opportunity to nominate scholars. This year two of the six rotating schools were Big 12 schools: Texas Tech University and University of Oklahoma.
Carole Edwards, Associate Professor of French, Texas Tech University, nominated Mrs. Langston for the fellowship in December, 2014. Langston competed with numerous Texas Tech applicants, all of whom submitted an essay and academic transcripts. With the support of Dr. Edwards, Langston developed an educational initiative focused on French-speaking West Africa to close the scholastic and economic gender gaps that are present in West Africa, allowing for a higher degree of overall economic growth. Langston was selected as one of 3 applicants from Texas Tech for an interview in Washington D.C. from March 8-10, 2015, which included discussions on work and academic experiences, and goals for the future.
Langston was selected as the DACO Bacon House Foundation Fellow for the Academic Year 2015-2016. She is the first recipient from Texas Tech to receive this fellowship, a $10, 000 tuition-only grant that will fund her final year of her M.A. in Romance Languages – French.
Mejia Awarded 2015 Most Promising Scholar Award
Congratulations to Brenda Mejia, M.A. Spanish Linguistics candidate, for receiving one of just two of the "2015 Most Promising Scholar Awards." This is an annual award that recognizes outstanding scholarly activity, promise, and excellence among graduate students working on Spanish as a Heritage Language. Mejia received this award for her research-talk entitled, "Spanish as a Heritage Language in US higher Education" in collaboration with Dr. Marta Tecedor, which was presented during the 2nd Symposium on Spanish as a Heritage Language. It is a great honor for Brenda and for our department.
Bryce Berta, M.A. Applied Linguistics candidate, received $8000 Graduate Fellowship for 2014 – 2016
Omar Corral, Ph.D. Spanish candidate, has been awarded the Doctoral Dissertation Completion Fellowship.
Gustavo Costa, Ph.D. Spanish candidate, has been awarded the Graduate Recruitment Fellowship.
Fabioloa Fernandez-Doig, Ph.D. Spanish candidate, has been awarded the Helen Jones Scholarship.
Emma Heslep, accepted to the UT-managed summer study fellowship in Moscow.
Zihan (Ellie) Geng, M.A. Applied Linguistics, received $8000 Chancellor's AT & T Fellowship for 2013 – 2015. She has been accepted into the doctoral program in International Education at Texas A & M University
Chen-Yu Liu, awarded the 2015 Helen DeVitt Jones Excellence in Graduate Teaching Award.
Michael Martinez, awarded the 2015 Helen DeVitt Jones Excellence in Graduate Teaching Award.
Koyuki Mitani, M.A. Applied Linguistics, has been accepted into the M.A./Ph.D. Japanese Linguistics program at University of Wisconsin, Madison
Cait Mongrain presented a paper entitled, "The Exotic Arena: Translating Sex Appeal into Political Capital" at the "Bodies in Revolt" conference, held at UCLA in February, 2015.
Jesus Ramirez has been awarded the American-Mexican Friendship/Waterman Scholarship by the Texas Tech Graduate School to pursue his doctoral studies beginning in the summer.
Claudia Simon received the 2015 Helen DeVitt Jones Excellence in Graduate Teaching Award.
Jared Travis, M.A. Applied Linguistics, received $8000 Talkington Graduate Fellowship for 2013-2015. His future plans include returning to China in a teacher trainer position.
Rubén Varona, Ph.D. Spanish candidate, received the 2015 Helen DeVitt Jones Excellence in Graduate Teaching Award. He passed his doctoral exams in April, 2015.
Rubén Varona Publishes Book: La Hora del Cheesecake
La hora del cheesecake is the third crime fiction novel written by the PhD candidate and Colombian writer Rubén Varona. This novel recently published by La Pereza Ediciones in Miami, is a suggestive narration that offers an insightful glance of contemporary society. An ingenious dialogue between pop culture represented by soap operas, and high culture embedded in Jorge Luis Borges' bones, sold in the black market. Varona's new novel will be presented this summer in Spain and Miami, the text is the second part of a trilogy of femme fatales that started with El sastre de las sombras.
Barrientos and Kise Performances and Presentations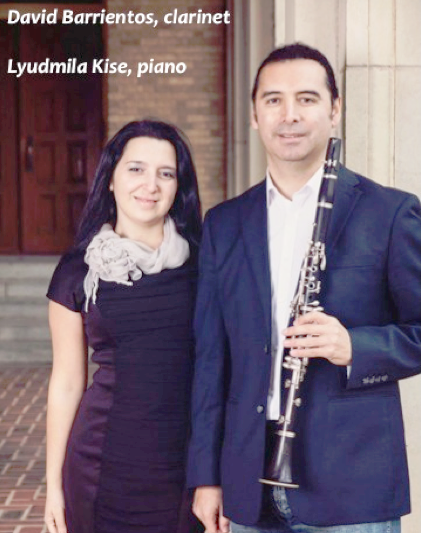 David Barrientos, Ph.D. Fine Arts, MA Romance Languages, Spanish candidate, and Lyudmila Kise, MA Languages & Cultures, Applied Linguistics candidate, gave a clarinet and piano recital on May 3rd in the TTU Hemmle Recital Hall School of Music.
Lyudmila Kise, MA Languages & Cultures, Applied Linguistics candidate, presented, "Instances about the Medieval Russian Music; the melody of the soul" on March 26th in the Foreign Languages Qualia Room.
David Barrientos performed on the Clarinet at the MM Conducting Recital on April 12th in the Texas Tech School of Music Hemmle Recital Hall.
Faculty Awards and Recognitions
Beusterien Receives Texas Tech President's Book Award
John Beusterien received the TTU President's Book Award for Canines in Cervantes and Velázquez: An Animal Studies Reading of Early Modern Spain. Series: New Hispanisms: Cultural and Literary Studies. Aldershot: Ashgate Publishing. 2013.
Guengerich Awarded Humanities Fellowship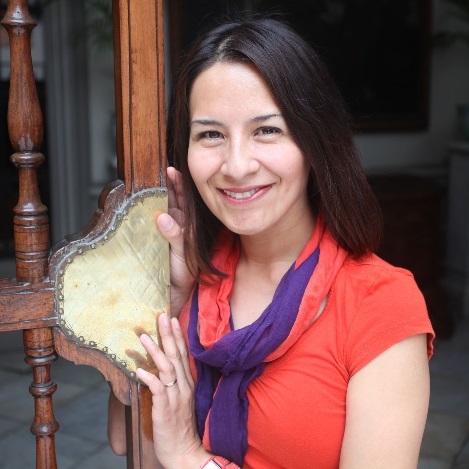 Sara Guengerich, Assistant Professor of Spanish, was awarded a 2015 Humanities Center Fellowship at Texas Tech University. She will be part of the first group of Humanities Center Fellows who will present their findings at the Humanities Center's Alumni College event in October 2015.
Guengerich's Research Highlighted at the Modern Language Association Meeting
From January 8 to 11, Dr. Sara Guengerich's research was highlighted at the 2015 Modern Language Association Convention in Vancouver, Canada. Her panel "In Search of Forgotten Women in Pre-1800 Iberia and the Americas", was among the list addressed by the Presidential theme "Negotiating Sites of Memory".
Sara Guengerich Receives Tenure and Promotion to the rank of Associate Professor
Sara Guengerich Named 2015 Honored Faculty by Phi Beta Kappa
Kelly Awarded the 2015 President's Excellence in Gender Equity Award
On April 14th, Corby Kelly, Assistant Professor of Classics, was honored with the President's Excellence in Gender Equity Award for his work to create spaces to engage in important dialogue about sexual assault and gender inequity on campus.
Larmour Appointed as Committee Member for the Texas Tech Center for Humanities
David Larmour, Horn Professor, was elected as a Committee Member for the Texas Tech Center for Humanities. The Department of Classical & Modern Languages & Literatures has an active voice on the Committee with the addition of Larmour and three more Committee Members from CMLL: Stefanie Borst, Associate Dean of Arts & Sciences, Associate Professor, German; Carmen Pereira, Associate Chair of CMLL, Associate Professor, Spanish; Don Lavigne, Associate Professor of Classics.
Miller Awarded the 2014 Governor General's Academic Gold Medal at the Texas Tech Classics Research Forum
Peter Miller, currently a Visiting Assistant Professor of Classics at Texas Tech, completed his Ph.D., supervised by Professor Christopher Brown, in the University of Western Ontario's Department of Classical Studies in the spring of 2014. His dissertation, "Athletes in Song and Stone: Victory and Identity in Epinician and Epigram," analyzes ethnicity, gender, and class in the literature of the ancient Olympics. He was recently awarded a Governor General's Academic Gold Medal for it.
Pascual Recognized at the 2015 Apple Polishing Reception
The TTU Mortar Board Society hosted the 2015 Apple Polishing Reception and Event on February 28th. For this event, Mortar Board Members were asked to invite professors whom they believe have encouraged, challenged, and inspired them in their academic careers. Clinton Gabel, Spanish major, believes Dr. Diego Pascual has done that for him and out of appreciation, nominated him. The professors received complimentary tickets to the TTU vs. OU basketball game during which the professors went onto the court for recognition at half-time.
Pascual & Morilla Nominated for the 2015 President's Excellence in Diversity and Equity Award
Diego Pascual, Assistant Professor of Spanish, and Juan Morilla, MA candidate for Spanish, were nominated for the President's Excellence in Diversity and Equity Award. Both were recognized for contributions to academic activities and programs that advance the academic and professional climate of diversity and equity in the university. Pascual makes great effort in attending the needs of the Hispanic student population at Texas Tech. Morilla has been an integral part of the Texas Tech Spanish Club activities.
Priestaf and Tecedor Accepted into the 2015 Institute for Inclusive Excellence
Dr. Juan S. Muñoz, Sr. Vice President for Institutional Diversity, Equity & Community Engagement announced the acceptance of Drs. Starra Priestaf and Marta Tecedor into the 2015 Institute for Inclusive Excellence. They were selected as participants in the 2015 Institute for Inclusive Excellence from a considerable number of impressive applications. Throughout their participation in the Institute, each developed a richer understanding of the academic success that can be achieved through an institutional model of inclusive excellence.
The institute arranged 4 interactive modules held throughout the semester: Inclusive Excellence, Dean's Panel, Diversity Research and Infusing the Curriculum.
The 2015 Institute for Inclusive Excellence concluded with a graduation reception on May 6th in the McKenzie-Merket Alumni Center.
Yanlin Wang, Ph.D. Candidate, Leaves Her Mark on CMLL
Yanlin Wang instructed Chinese classes at Texas Tech as an Instructor and Adjunct coordinator for Stephen Corbett, Associate Professor Spanish from August 2008 – May 2010. The department recognized her contribution to the development of the Chinese program in 2010 with a departmental appreciation award.
In 2013, Wang was admitted to the Instructional Technology EDD program and was hired in the spring of 2013 as a graduate part-time instructor in CMLL where she coordinated the Chinese and Japanese programs. She continued her work as a GPTI for the academic years 2013-2014 and 2014-2015. She promoted the Chinese language and culture throughout her years at Texas Tech University. She has been instrumental in the organization and development of the Texas Tech Chinese Language and Culture Club.
In June, 2015, she will defend her dissertation entitled, ""Applying the Modality Principle and Cognitive Load Theory to Facilitate Chinese Character Learning via Multimedia Instruction". She has accepted a position as a full-time instructor of Chinese at Clemson University, South Carolina, beginning in the fall of 2015.
Recent Publications
Wang, Y., Borst, S., Feng, J. L., & Chang, R. (2015). It does matter with whom you chat: Chinese learners' perspective on NS vs. NNS chat partners. Studies in Chinese Learning and Teaching. 1 (1), 18-39
Wang, Y., & Crooks, S. M. (2015). Does combining the embodiment and personalization principles of multimedia learning affect learning the culture of a foreign language? Journal of Educational Multimedia and Hypermedia, 24(2), 161-174.
Drigalenko Nominated for Professing Excellence
Megan Grimes, undergraduate learner of Russian, nominated Irina Drigalenko, Instructor of Russian, for the 2014-2015 Professing Excellence award. Grimes explains the reason Drigalenko deserves to be recognized:
Irina Drigalenko has been an outstanding professor inside and outside of the classroom. She is always excited to teach us Russian and is constantly in a great mood! She is completely dedicated to her students by making sure that we actually learn the language. For example, she encourages us to come to her office hours and is flexible if we have conflicts. Her passion for both Russia and America, including the languages, people, and cultures, is infectious. Irina makes classes especially interesting by connecting lessons or words to stories or superstitions. This not only teaches us about the Russian culture, but also helps us better remember the material. Because of her class, I now want to minor in Russian and pursue the language and country in my professional career. If only I could have her as my professor for every Russian class! I think that Irina Drigalenko deserves to be recognized for her work because she cares about the success of every student, promotes involvement in Russian club and other Tech activities (even the football and basketball games), and has excellent teaching methods! She even emails us about scholarships and other opportunities available to us. I am so thankful that I signed up for her class. In fact, the main reason I did so is because my older brother spoke so highly of her. He is majoring in Russian and also took her class. Everything he has told me has been proven to be true so far, including that she is one of the best professors at Texas Tech. I am sincerely grateful for the amazing learning experience I am fortunate enough to have received from Irina Drigalenko, and I hope that any student interested in Russian has the chance to take her class. My time with her is an experience I will never forget.
Antonov Lectures at the Osher Lifelong Learning Institute Class, Cinema of the Soviet Era
Films emanating from the former Soviet Era have been described as some of the most ambitious and monumental adaptation of the greatest work of Russian literature and have continued for decades to capture the hearts and minds of audiences. On March 30th, OLLI offered a course that explored one of Soviet Russia's most insight-fully endearing films: "Mосква слезам не верит" (Moscow), "Love and Doves" (1984). Anton Antonov, CMLL Instructor of Russian, was invited to give a lecture based on the film and to lead a discussion of its historical context, political associations, and the cultural implications which it depicts following the film.
---
Classical & Modern Languages & Literatures