Study Abroad
Sevilla, Spain Spring 2015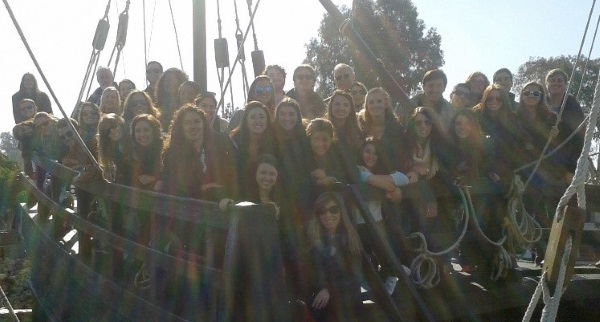 TTU students studying abroad at the TTU Center in Sevilla, Spain participated in several excursions during the semester. One being a day trip to places of interest in the neighboring province of Huelva where the main focus was on Christopher Columbus and his voyage to America. Visits included Palos de la Frontera, where Christopher Columbus set sail on his famous journey westward; La Rábida where the monastery where Columbus convinced the confessor of Queen Isabel, who was later instrumental in convincing the queen, that Columbus' journey was a worthwhile project; the shore where the life-size replicas of the Niña, the Pinta and the Santa María provided everyone with fun climbing all over the ships; Matalascañas, a local beach in Huelva where students dipped their toes in the Atlantic before the return trip to Sevilla.
Summer 2015 Faculty – Led Programs
Reims, France – Summer 1, May 30 – June 30
This Reims-based study abroad program offers 14 TTU students an opportunity to live in a beautiful French university town and take French classes taught by Dr. Carole Edwards, Texas Tech University. Students will live in the International Center and have access to the student cafeteria for meals.
The 6 credit hours at the 2000+ level that students will earn are applicable to the foreign language requirement and to the major and minor in French.
Munich, Germany – May 24 to June 26
This summer, the Munich-based study abroad program under the direction of Dr. Charles Grair and in affiliation with Inlinuga Munich offers 10 TTU students the opportunity to immerse themselves in German in one of the most beautiful and culturally-rich German cities. Students will take 6 hours of language and culture courses at the 2000+ levels. Participants will have the enriching experience of living with host families, participating in cultural excursions during the course of their study abroad.
Mexico Field Course: San Luis Potosi, Mexico - June 2 to July 15
The Spanish program is pleased to announce that its unique and exciting Mexico Field Course will be offered once again. This excellent program provides a fast-paced, well-balanced experience, including a home stay with friendly, accommodating Mexican families in San Luis Potosi, travel to other fascinating partos of Mexico, and 6 hours of upper-level Spanish which count towards a minor or major in Spanish. The courses being offered this year include: SPAN 3343 Spanish Language Development, SPAN 3344 Mexican Life and Culture, SPAN 4343 Advanced Language Skills and SPAN 4344 Contemporary Mexico.
Sevilla, Spain - Summer 1 & 2
Texas Tech University is offering a unique opportunity for students to live, learn, travel and enjoy the life, culture, and Spanish language during long semesters, or during the summer program, in Sevilla. Spanish course credit may be earned at the lower-level (first and second year), upper level (third and fourth year), and at the 5000-level (or graduate). The program is directed and the courses taught by Texas Tech University Spanish professors. The program is based in Sevilla, España, a beautiful city in Andalucia in southern Spain. It is a vibrant, dynamic city with many things to see and do. The location of Sevilla provides convenient access for our excursions to Granada, Cordoba, Madrid, Toledo and the beaches of the Costa del Sol.
---
Classical & Modern Languages & Literatures