Recent Events
Comparative Literature | American Sign Language | Applied Linguistics
Arabic | Chinese | Classics | French | German | ITA Program | Italian
Russian | Spanish
---
CMLL Creative Writing Readings
On May 6th, CMLL faculty and graduate students had the opportunity to read their creative writings in the Qualia Room.
Featured selected works from:
Dr. Genaro Pérez
Dr. Julián Pérez
Dr. Antonio Ladeira
Omar Corral
Rolando Diaz
Marco Dominguez
Tom Leverett
Sonia Loza-Fuentes
Juan Morilla-Romero
Ruben Varona
Heroes and Horses: A Study in Contrasts
On March 2nd, the College of Arts & Sciences, the Department of Classical & Modern Languages & Literatures with the Classical Society, and the Italian program, the English Department with the Film and Media Studies, the Texas Tech Graduate School sponsored a lecture by Frederick Ahl, Ph.D., Cornell University entitled "Heroes and Horses: A Study in Contrasts." The lecture was held in the Foreign Language Building, Qualia Room. The lecture was free and open to the public.
CMLL Participates in the TFLA Conference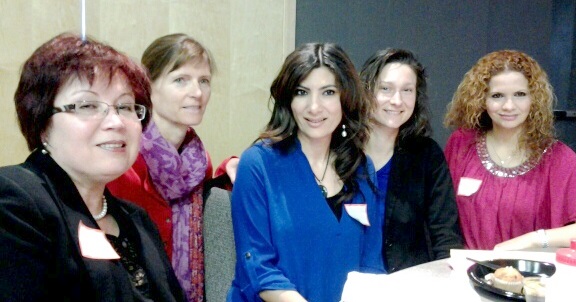 On Saturday, March 28th, the Texas Foreign Language Association held its 2015 spring workshop at Texas Tech University. Approximately 40 high school teachers of ESL, French, German, and Spanish came together in the Student Union Building to discuss national and state standards and the ACTFL Global Can-Do Benchmarks, as well as design engaging classroom activities to develop students' language proficiency. Dr. Stephanie Borst opened the workshop and welcomed the participants to Texas Tech. Also in attendance were several faculty members, instructors, and graduate students from CMLL, including Rula Maabra Al-Hmoud, Dr. Allison Cattell, Rachel Doran, Dr. Irina Drigilenko, and Dr. Amani Zaier. We had a fantastic time meeting these teachers from all over Texas and working together to design innovative (and fun!) learning activities for our students.
Currently, language proficiency is highly focused upon in the professional community, but how does it affect instruction in the state of Texas? The TFLA conference focused on how world language educators can better understand this movement, the standards that guide it, and how it is shaping the future of language instruction in Texas.
Participants had a chance to take part in an interactive look at the national standards and to collaborate with other world language educators on how to implement language proficiency teaching into current instructional methods.
Attendees left with a better understanding of the driving principles of proficiency-based instruction and with excellent examples of how to implement student communication in the target language into their current teaching methodology.
Retirement Reception Honoring Dr. Julián Pérez
May 1st, the Department of Classical & Modern Languages & Literatures honored Dr. Julián Pérez with a retirement reception for his years of service at Texas Tech University as a professor of Spanish. Colleagues and friends surrounded him with support as he moves back to his homeland of Argentina. Special words were shared by Dr. Erin Collopy, Department Chair, and longtime colleague, Dr. Lorum Stratton.
Comparative Literature
TTU 47th Annual Comparative Literature Symposium "Performing the Social"
The 47th Annual Comparative Literature Symposium took place April 10-11. Presenters were encouraged to interpret the idea of "performance" and the "social" in broad, interdisciplinary, and innovative ways.
Some would argue that performance has always been social. The origins of Western performance are often charted through rituals, liturgy, mysteries, and morality plays, and Eastern performance through folklore, poetry, music, and dance. The popularity of plays by Kalidasa, Gao Ming, Shakespeare, Moliere, and others, in their times and beyond it, has depended in part on their ability to represent the social in ways that resonate for audiences today. In the twentieth and twenty-first centuries, performance has been widely interpreted to include theatrical, cinematic, musical, speech, and gender acts. Since the 1980s, the idea of performance and "performativity" has also been applied to gender and sexual identities to develop theories based on linguistic, literary, and philosophical insights by J.L. Austin, Jacques Derrida, and Michel Foucault. As the work of Judith Butler, Eve Sedgwick, and others illustrates, the social involves political actions, affective relations, community formations, and pedagogic practices. Many of these paradigms have shifted and modified to encompass non-Western and variedly geographical, cultural, racial, and sexual experiences.
Keynote Speakers
• Tani Barlow (Rice University),
• Honor Ford-Smith (York University, Canada),
• Sangeeta Ray (University of Maryland),
• John Slater (University of California at Davis)
The TTU Comparative Literature Committee
Kanika Bartra (Director)
Chris Bains
Curtis Bauer
John Beusterien
Anita McChesney
David Roach
Yuan Shu
Sponsor/Supporter Acknowledgements
The conference organizers wish to thank the following sponsors for their generous contributions to the 2015 Performing the Social symposium:
Dr. David Roach and the TTU Dean's Office, College of Arts & Sciences
Dr. Carol Edwards, Dr. Brian Steele, and the TTU College of Visual & Performing Arts
Dr. Bruce Clarke, Dr. Rich Rice, Andrea Beaudin, and the TTU Department of English and Media Lab
Dr. Randy McBee, Dr. Yuan Shu, and the TTU Asian Studies Program
Dr. Erin Collopy, Dr. John Beusterien, Dr. Anita McChesney, and the TTU Classical and Modern Languages and Literatures Department
The TTU Comparative Literature Committee
TTU Department of English Student Volunteers
Shannon Samson and the TTU Graduate School
American Sign Language
Monica Bartels Guest Lecture
On February 18th, Monica Bartels, owner of Monica Bartels Photography was the guest speaker at the Silent Raiders meeting. She shared some of her work and experiences working as a deaf photographer.
ASL Panel Discussion Focuses on Careers with ASL

On March 25th, the Silent Raiders hosted a panel discussion in the Escondido Theater in the SUB. There Approximately 60 attendees gained insight into careers related to deafness and ASL. The five panelists had experience in Deaf education, vocational rehabilitation, speech-language pathology, interpreting and disabled student services. One of the panelists was in the first group of students to complete the ASL minor at TTU. The Caprock Society of Interpreters for the Deaf provided volunteer interpreters for the event. Two of our panelists were deaf and 3 hearing. Three of the interpreters also took ASL classes at Texas Tech.
Panelists were introduced and then each shared briefly about their education and their work. Following the presentations, the audience had the opportunity to ask questions.
ASL Students Tour Southwest Collegiate Institute for the Deaf
On April 11th, for the second year, Audrey Sendejo took a group of students from her Deaf Culture and ASL VI classes to Big Spring to tour the Southwest Collegiate Institute for the Deaf. They observed and ESL class and an interpreting class.
ASL Volunteers at SWCIDFest
Some of the Silent Raider officers volunteered at SWCIDFest (Southwest Collegiate Institute for the Deaf". They helped in concession sales for a fundraiser for SWCID's SGA. The Silent Raiders made a $50 contribution for supplies.
End of the Semester Party
On April 29th, the Silent Raiders (40 in attendance) met in the Qualia Room for drinks and ASL games.
Applied Linguistics
4th Annual Applied Linguistics and Second Language Conference on Learning and Teaching
Applied Linguistics hosted the 4th Annual Applied Linguistics and Second Language Conference on April 10th and 11th, 2015. The conference is intended to give applied linguistics graduate students experience with professional-level scholarly communication. The conference is also an outlet for their research. A total of nine graduate students (Jared Travis, Rachel Branch, Takehiro Iizuka, Dustin Florence, Rachel Traxler, Zihan Geng, Chen Yu Liu, Koyuki Mitani, Josh Delarosa-Prada) from Applied Linguistics and Spanish presented their recent projects on language learning and teaching. We also had five presentations by the faculty members and visiting scholars who shared the various perspectives: Dr. Roman Taraban (Department of Psychological Studies, Texas Tech University) shared his psycholinguistic accounts for language learning, Dr. Catalina Popescu (Classical and Modern Languages and Literatures, Texas Tech University) talked about the textuality and discussion with learners of Latin, Dr. Karen Cody (The Department of English and Modern Languages, Angelo State University) presented various perspectives on classroom theory, Dr. Dale Griffee (Classical and Modern Languages and Literatures, Texas Tech University), and Ms. Yuan Yuan, Gao (Qingdao University of Science and Technology) discussed the importance of acculturation for Chinese visiting scholars who enter American academic culture. The conference wasorganized by Dr. Dale Griffee, and faculty advisors Dr. Greta Gorsuch, Dr. Kimi Nakatsukasa, and Dr. Andrew Farley, assisted the graduate students to organize publicity, accommodations, and refreshments for the conference. Thanks to everyone who presented at and attended the conference.
Several exciting research projects are happening in Applied Linguistics! Dr. Andrew Farley, whose research areas include input processing in second language acquisition, processing instruction, and lexical representation and access, published his most recent work on concept mediation and vocabulary learning in the December 2014 issue of the internationally recognized journal Hispania. Dr. Kimi Nakatsukasa's research areas include classroom interaction, corrective feedback, and gestures and foreign language learning. Her most recent work on how a language instructor uses first language (English) in a Spanish as a foreign language classroom just appeared in the March 2015 issue of another internationally recognized journal Language Teaching and Research.
Lastly but not least, Dr. Greta Gorsuch's new book Talking Matters has just published by New Forum Press. Talking Matters is a 300-page book highlighting recent research in the classroom talk and communication for international teaching assistants (ITAs). Showcased are authors from a variety of perspectives and disciplines, who were coached to present their work to enhance on-the-ground usefulness to ITA mentors, educators, and support staff.
Arabic
The Arabic program celebrated the New Year at a banquet on December 21. The banquet on interfaith dialogue invited both Christian and Muslim women from Texas Tech and the Lubbock community to discuss how Christmas and the New Year are celebrated in the Arab world in comparison to how they are celebrated in the West. The Arabic Club served a sample of New Year food and desserts. TTU Arabic instructors enjoyed answering the attendees' questions regarding Arabic culture and traditions.
Arabic Club meetings were held throughout the semester in Barnes & Noble where Arabic learners could practice their communication skills.
Arabic Club Participates in International Cultural Showcase
In support of the World Food Program, the Arabic Club participated at the cultural Showcase entitled "Essence of Unity" held at the International Cultural Center on Saturday, March 14th. Maya Alhmoud, (the youngest Arabic club member) performed a belly dance representing the Middle Eastern culture.
Chinese
The Chinese Club kicked off the spring semester on February 4th in the FL 101 for all students interested in Chinese culture and language. The Chinese learners, club officers and Chinese instructors shared some happy hours to playing Chinese bingo, watching Chinese movies, dining out at local Chinese restaurants.
On February 11th, the Chinese Club enjoyed Chinese cuisine at a local restaurant.
KTXT Chinese Language and Culture Promotion
On February 12th, Kaleigh Campbell, a student in CH1502, went to the KTXT recording studio to record the introduction and promotion to the Chinese program for KTXT radio station.
Chinese New Year Celebration!
February 19th is the first day of Chinese Spring Festival, also called Chinese Lunar New Year. Each year an animal is chosen and 2015 is the year of goat. The students celebrated the Chinese Spring Festival in the classroom by different activities. Students in CH1502 002 ate Baozi (a traditional Chinese food, steamed stuffed bun) prepared by their instructor, Yanlin Wang. They also answered questions in order to receive Red Envelopes prepared by their classmates Freddy Rondon and William Renter. Receiving red envelopes is a tradition in China during the Spring Festival which symbolizes good luck and fortune in the New Year.
Chinese Culture Presentation
In the spring, the Chinese students in CH1502 002 gave six culture presentations on various topics about China, Teaching English in China, the Great Wall, Traditional Chinese Medicine, the Silk Road, Terra Cotta Warriors and World War II and China. Students researched their topics extensively and made exceptional posters. Culture presentations are embedded in the syllabus aimed to improve students understanding of Chinese culture and to motivate them to learn the Chinese language.
International Mother Language Day
On February 24th, Chinese instructors Yanlin Wang and Hsiao Hsuan Hung attended the International Mother Language Day celebration in the International Culture Center at Texas Tech University. They designed Chinese character color games to teach the young kids about Chinese characters and also introduced Chinese language and culture during the event.
Chinese Drama Night
On February 24th, the Chinese Language and Culture Club had the first Chinese Drama Night. The members and Chinese learners watched the first episode of Chinese movie 命中注定我爱你 (Fated to love you).
Chinese Language & Culture Club Shares a Taste of Culture during Engineering Week
On February 25th, the Chinese Club participated in the International Cook -Off Day held in the Engineering Key as part of Engineering Week. The group served over 90 cups of boba tea also known as bubble tea which is a Taiwanese tea-based drink mixed with fruit or milk to which tapioca balls and or fruit jellies are often added.
Chinese Instructors Teach High School Students Chinese Calligraphy
On February 26th, Chinese instructors Yanlin Wang and Hsiao Hsuan Hung were invited by the International Culture Center to make a presentation about Chinese calligraphy to more than 100 high school students. Two instructors first introduced the basic knowledge about Chinese four treasure, Chinese brush, ink, ink stone and paper, the art of Chinese calligraphy and teach the high school students how to use the brush to write Chinese characters. They also taught them say the New Year Greeting in Chinese language.
Chinese Language and Culture Club Participates in the 2015 Worldwide Showcase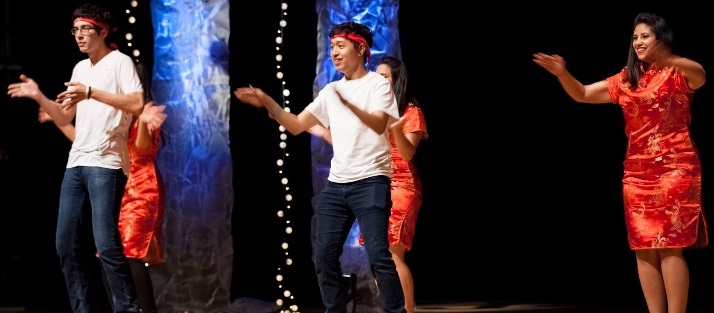 On April 12th, the Chinese and Language and Culture Club performed a Chinese dance in the 2015 Worldwide Showcase, "A Cruise across Cultures" held at the City Bank Auditorium. Students for Global Connections (SGC) encouraged all international and domestic students at Texas Tech University to perform in this one-of-a-kind show and to win some amazing prizes.
Classics
AIA Spring 2015 Lecture Series
Exploring the Early Bronze Age in Jordan: A Report on Recent Excavations at Khirbat
Iskandar
Jesse Long, Lubbock Christian University
Dean, College of Biblical Studies and Behavioral Sciences; Professor of Old Testament and Biblical
Archaeology
Thursday February 12, 2015, 5:35 pm, MCOM 0359
Remembering Boudica: Monuments of a Barbarian Queen
Alison Futrell, Associate Professor of History, University of Arizona
Thursday March 5, 2015, 5:35 pm, MCOM 00067
After the Collapse: Crete in the Early Iron Age
Leslie Day, Emeritus Professor of Classics, Wabash College
Thursday April 23, 2015, 5:35 pm, MCOM 0359
In January, Professor Don Lavigne organized a well-attended panel discussion, with two colleagues from Durham University, on current research on Greek inscriptional poetry.
In February, the Classics program and CMLL hosted two excellent visiting speakers presenting papers on new research in Roman history and literature: Dr. Jaclyn Neel (York University), "Cicero's heavenly
stylings: De Domo Sua and divine appropriations"; and Dr. Julia Nelson Hawkins (Ohio State),"The Rhetorical Ecology of Medical Discourse at Rome."
Lectures and Presentations
On March 2, Dr. Frederick Ahl presented a lecture entitled, "Heroes and Horses: A Study in Contrasts" to faculty, students and the public in the Foreign Language Qualia Room. Sponsors of the event included: The College of Arts and Sciences, The Department of Classical and Modern Languages and Literatures, The Classical Society, The English Department, Film and Media Studies, The Texas Tech Graduate School, and the Italian Program.
From March 25-28, Texas Tech Classics made a strong showing at the annual meetings of the Classical Association of the Middle, South and West, held in Boulder, Colorado. Dr. Lavigne moderated a panel of papers on the Greek poet Theocritus, and gave a paper on Homer and epigram (a paper which he reprised for an invited presentation in April at UNC Chapel Hill). Dr. Miller presented new research on metaphors of repetition and inevitability in the work of the Greek poet Pindar. M.A. student Grace Self also presented a paper on the Roman emperor Domitian and dining in the Roman world - congratulations, Grace!
Sexism|Cinema 50 Years on the Silver Screen
CMLL faculty Don Lavigne and Corby Kelly and Human Development and Family Studies faculty, Dana Weiser and Elizabeth Sharp collaborated with the Alamo Drafthouse Cinema, IFS, and TTU Division of Institutional Diversity, Equity & Community Engagement Women's Studies Program in organizing the film series, Sexism | Cinema. The 5 films spanning the last five decades chosen for the screenings promoted the audience to consider the ways in which sexism is embedded, endorsed, and/or challenged in the cinema. Questions that evoked thoughts: How far have we come? How far do we need to go?
George Stern Presents Innovative Idea for Oral Latin
On February 24th, George Stern, BA Journalism major, presented a pedagogical idea for oral Latin designed for the visually impaired and for those wanting to speak Latin in the Qualia Room. Stern demonstrated his gift for communicating complex ideas and drawing connections between them.
He developed a proposal for the revitalization of the Latin language regarding a computerized teaching method for both visually impaired individuals and students with a passion for oral Latin. His projects brings the innovations of a Classicist to an existing VHL model, currently in use for modern languages, but never explored in the field of Classics.
Stern is the recipient of numerous academic leadership awards, with a special talent for languages, spoken or unjustly deemed "dead".
Miller Lectures at the Texas Tech Classics Research Forum
On April 16, Peter Miller, Visiting Assistant Professor of Classics presented a lecture entitled, "There is Nothing Worse than the Race of Athletes: Sports and Song in Classical Greece". During the forum, Dr. Miller was presented the 2014 Governor General's Academic Gold Medal for his dissertation, "Athletes in Song and Stone: Victory and Identity in Epinician and Epigram" which analyzes ethnicity, gender, and class in the literature of the ancient Olympics.
Recontextualizing Greek Epigram Symposium
The Classics program and the Center for Archaeology and Ancient Studies hosted the symposium with the support of The Department of Classical & Modern Languages & Literatures, the Southwest Collection and the TTU Humanities Center. Dr. Lavigne's graduate course on Greek epigram held a fascinating year-end symposium, "Recontextualizing Greek Epigram," on April 24th.
Classics M.A. students presented papers on a wide range of topics. The symposium also featured opening remarks from Dr. Peter Miller ("The Inscribing of Politics: Two Arkadians at Olympia") as well as a response paper from Dr. Joseph Day entitled, "Epigrammatic interdisciplinarity: A response" (Professor of Classics Emeritus, Wabash College).
CMLL Graduate Student Presenters
Edgar Garcia: "(Re) Presenting the goddess: A parthenic dedicatory epigram to Artemis"
Evan Levine: "An Archaic Greek écriture féminine? Epigrammatic dedications by Telestodike of Paros"
Brandon Baker: "Jests in stone: The latent satirical element in 'speaking objects'"
Ron Orr: "Ferried in: The evolution of Charon in Greek epigram"
Justin Miller: "Transitional Spaces: The epigrammatic collection from monument to text"
Cait Mongrain: "Inscribing the margins: Anyte and Hellenistic epigrammatic practice"
Classical Society Activities
The Classical Society (the graduate and undergraduate society for the promotion of Classics) had a busy semester under the inspirational leadership of MA students Michael Boyles and Grace Self.
The group held an Ides of March party and took part in the Arbor Day festivities on campus and gave back by planting a tree in the Texas Tech Memorial Circle on April 24th.
French
Ateliers de culture – Spring Lecture Series Dedicated to French and Francophone Culture
The French program under the organization of Starra Priestaf, Assistant Professor of French, and in collaboration with CMLL sponsored a spring lecture series, "Ateliers de culture". Graduate students in the French M.A. program presented 4 enlightening lectures which were open to the public:
January 27, "Paris Landmarks: A Trip to the Louvre Museum" presented by Gauthier Petit
February 10, "Comparative Perspectives: Education in France & the United States" presented by Emilie Mathis.
March 10, "Henri Matisse & Fauvism" presented by Kelly Wells.
April 14, "Beyond Metropolitan France: Overseas Departments & Territories of France" presented by Samy Shoker and Emeline Tetevuide.
Spring 2015 Tournées French Film Festival
Tournées French Film Festival 2015 took place from March 26 to April 10 under the direction of Starra Priestaf, Assistant Professor of French. The festival was made possible with the generous support of the Cultural Services of the French Embassy in the US, the Centre National de la Cinématographie et de l'Image Animée, the Franco-American Cultural Fund, Florence Gould Foundation, Campus France USA, Highbrow Entertainment and the Alamo Drafthouse. In addition, the festival was made possible with the grateful support of the following TTU Departments and Program Areas: Department of Classical and Modern Languages, International Film Studies, College of Arts and Sciences, Department of Political Science and Global Studies, Department of English and Interdisciplinary Minor in Film and Media Studies, and the Department of History. Festival attendance was free and open to the public.
The screenings included:
March 26: A bout de souffle. Dir. Jean-Luc Godard. Perf. Jean-Paul Belmondo and Jean Seberg. UGC, 1960. Film. The screening took place at the Alamo Drafthouse Cinema
March 27: Monsieur Lazhar. Dir. Philippe Falardeau. Perf. Mohamed Fellag and Sophie Nélisse. Music Box Films, 2011. DVD. The screening took place at the TTU HUMSCI 169.
April 2: L'image manquante. Dir. Catherine Dussart. Perf. Rantal Douc and Jean-Baptiste Phou. Strand Releasing and Catherine Dussart, 2013. Film. The screening took place at the TTU HUMSCI 169.
April 3: Couleur De Peau: Miel. Dir. Laurent Boileau. Perf. Maxym Anciaus, Cathy Boquet, Mahe Collet. IMDbPro, 2012. Film. The screening took place at the TTU HUMSCI 169.
April 9: Dans La Maison. Dir. François Ozon. Perf. Fabrice Luchini, Ernst Umhauer, Kristin Scott Thomas and Emmanuelle Seigner. IMDb, 2012. Film. The screening took place at the TTU HUMSCI 169.
April 10: Amour. Dir. Michael Haneke. Perf. Jean-Louis Trintignant, Emmanuelle Riva and Isabelle Huppert. Les Films Du Losange, 2012. Film. The screening took place at the TTU HUMSCI 169.
Tournées French Film Festival Guest Lecture - Elisabeth Hodges, Miami University
On March 26th, the Department of Classical & Modern Languages & Literatures sponsored a guest lecture entitled, Haneke's Crowds" with Elisabeth Hodges, Miami University. The lecture was held in the FL Qualia Room and served as a kick-off for the Tournées French Film Festival 2015. A reception and art exhibit followed in the Texas Tech School of Art, South Gallery.
French Club
Regular weekly meetings were held in FL 121 throughout the semester. Students engaged in a variety of opportunities to expand their French skills outside the classroom. During the meetings students practiced their communication skills with native speakers while learning about French and Francophone culture and traditions.
The semester closed for the French Club with its annual French Club picnic at Wagner Park on May 1st. Students enjoyed trying their hand at Pétanque,(jeu de boules), a culturally important French game where the goal is to throw hollow metal balls as close as possible to a small wooden ball while standing in a circle with both feet on the ground.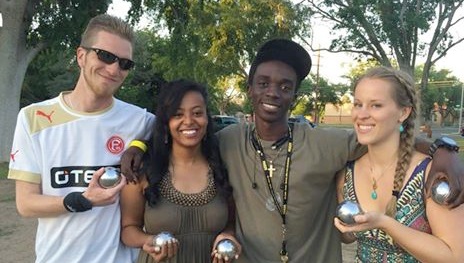 2015-2016 French Club Officers
President - Emilie Mathis
Vice President - Emeline Têtevuide
Secretary - Gauthier Petit
Treasurer - Melissa Langston
Phi Delta Pi Induction Ceremony
The Pi Delta Phi ceremony was held on Friday April 20th during which new members (undergraduate and graduate students) were inducted into the French Honor Society of TTU. Several students were granted a scholarship in order them to pursue sharing the French and Francophone culture.
Scholarships Awarded for 2015-2016
Alexander-Conway Fellowship and Scholarships
Elizabeth Hammond
Melissa Langston
Emilie Mathis – Fellowship
Sean McCollum
Gauthier Petit
Marine Roussat
Marina Sol-Dibangui
Emeline Tetevuide
Susanna Toler
Christine de Pizan
Victoria Howard
Daniela Macias
Beatrice Alexander
Emilie Mathis
Melissa Langston
German
Conversation & Culture - Beginning January 22 and continuing throughout the semester, the German Club provided regular conversation and culture opportunities to learners of German at Stammtisch on Thursday evenings at Crickets and Kaffeeklatsch at J&B's Coffee on Friday afternoon throughout the semester.
Coffee & Sweet German Treats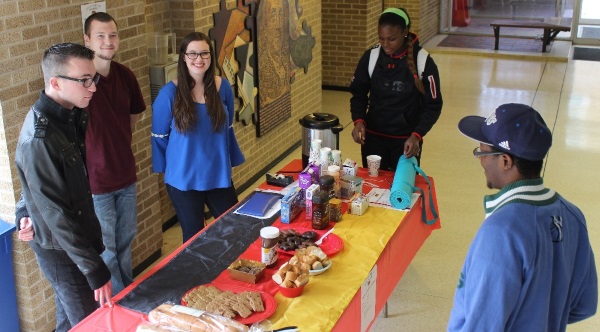 On January 29th, coffee and German treats were available exclusively in the foyer of the Foreign Languages building. Students studying in CMLL had the opportunity to purchase a cup of hot coffee and German specialties: chocolate covered gingerbread, spekulatius (traditional spice cookies), chocolate covered Stollen (fruit cake) and Nutella in support of the German program.
German Top Chef
The 4th annual German Top Chef, under the direction of Anita McChesney, Assistant Professor of German, took place in the Foreign Languages building on March 3rd. Undergraduate and graduate individual students of German, and the lower-level German classes prepared authentic German cuisine and beautifully decorated tables in German flair in hopes of winning guests' votes for Best Food and Best Decoration.
2015 Top Chef Winners
Best Table – the class of GERM 3304.
Best Savory Dish – Bastian Braueninger
Best Dessert – Christian Nelson, GERM 3304
Book Reading by Austrian Author Clemens Berger
On April 16th, Clemens Berger presented a reading a discussion in English/German entitled, "Into the Heart of Time" ("Ins Herz de Zeit"). Berger's work has been honored with awards including the Austrian State Award for Literature (2005-2006) and the Brugenland Literature Award (2009). This event was made possible by the generous support of the College of Arts & Sciences, the Department of Classical & Modern Languages & Literatures and the Comparative Literature Program.
FAUST storms the Qualia stage!
On May 1st, students from the course GERM 3304: Introduction to Literature performed an abridged version of Goethe's Faust I for an enthusiastic audience of between 40-50 people on the Qualia Room stage. In attendance were graduate and many undergraduate students, as well as German faculty and other interested members of the TTU community. The actors and storytellers skillfully conveyed Goethe's version of the story of Faust, a medieval scholar who makes a pact with the devil in exchange for knowledge, power, and worldly pleasures.
Actors, Storytellers (Erzähler), and Crew
Stage Direction: Dr. Allison Cattell
Sound Design: Tyriece Hampton
Lighting Technician: Allison Burrell
Faust als alter Mann: Ozzy Munoz
Geist / eine Stimme von oben: Braden Russell
Mephisto: Christian Nelson
Faust als junger Mann: Harrison Hawkins
Margarethe (Gretchen): Shannon Jackson
Erzähler 1, 8, 13: Joshua Bertrand
Erzähler 2, 7: Rosie Perez
Erzähler 3, 10: Sebastien Gilet
Erzähler 4, 12 / Marthe: Blake Herrera
Erzähler 5, 11 / Hexe: Megan Kockx
Erzähler 6 / Gretchens innere Stimme: Allison Cattell
Erzähler 9 / Valentin: Ed Quitevis
Representing the Holocaust in the 21st century: A student project
On May 4th, Dr. Kleinhans' GERM 2312: Literature of the Holocaust put on a day-long exhibition of student projects representing different facets of the Holocaust. The 16 projects, created by groups of 3 to 6 students per group, ranged from interactive objects to collages, games, and arts displays, and invited the audience to reflect on the topics of victimhood, anti-Semitism, resistance, loss of (cultural) identity, and genocide in general. The audience was quite mixed: students, professors, visitors from the CMLL, the university in general, as well as from the Lubbock community spent time discussing different projects and learning more about Holocaust history. Selected pieces will remain on display in the glass case on the main floor for the next couple of weeks.
Student Awards for Outstanding Achievement in German 2014-2015
First Year
Robert Campbell (Burrell)
Joseph Cheney (Burrell)
Audrey Fragniere (Selker)
Geoffrey Herbertson (Manthei)
Carissa Higdon (Braeunigner)
Rebecca Massey (Burrell)
Nathan McCarty (Braeunigner)
Hunter Thomas (Manthei)
David Walker (Braeunigner)
Taylor Wright (Manthei)
Second Year
Ryan Jost (Doran)
Camille Kirk (Doran)
Keaton Luth (selker)
Maireem Maneje (Selker)
Preston Mcdonald (Selker)
Kate Ortopan (Doran)
Avriel Pietsch (Doran)
Ed Quitevis (Kleinhans)
Braden Russel, (Kleinhans)
Josh Sloan (Selker)
Katrina Soundy (Doran)
Dolph Wenzel (Kleinhans)
Holocaust
Rachel Hudson (Kleinhans)
Melissa Tees (Kleinhans)
Advanced Study of German
Maura Ballard (McChesney)
Will Bednarz (Grair)
Harrison Hawkins (a German major) (Cattell)
Dylan Lewis (McChesney)
Sarah Mende (McChesney)
Oswaldo Munoz (a non-major) (Cattell)
Edward Quitevis (a faculty member) (Cattell)
Special Awards for Service to the German Outreach Program
International Teaching Assistant Program
Special Interviews
Left to right, Zihan Geng, Bryce Berta, and Jared Travis.
The January 8th Special Interviews were administered by Dr. Greta Gorsuch and three graduate students in applied linguistics.
Skype Interviews
This year a total of 4 sessions of Skype interviews were held on May 8, 22, June 12 in the Arts & Sciences' conference room. The objective of these interviews was to identify newly arriving students whose English proficiency meets the required standard for approval to teach and would be likely be exempted from attending the ITA Summer Workshop.
Italian
Bondanella Presents on Fellini
On January 27th, the International Film Series, the Theatre Department, and the Italian Program hosted a lecture entitled, "Fellini and Fantasy: The Making of an Auteur" by Distinguished Professor Emeritus of Italian, Comparative Literature, and Film Studies Peter Bondanella, Ph.D., Indiana University. The lecture was open to the public.
On April 24th, CMLL and the Texas Tech International Film Series (IFS) presented the film, The Sweet Life/La Dolce Vita (1960), Not Rated, 174 minutes at the Alamo Drafthouse for the conclusion of the Federico Fellini retrospective.
Russian
Russian Club Spring Events
The spring semester kicked off for the Russian Club on January 21 and continued to the end of the semester.
Salad Saturday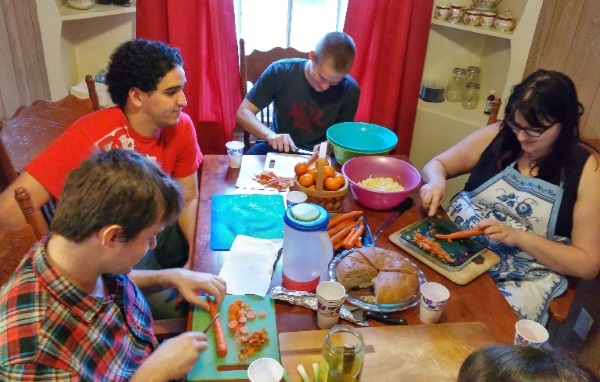 On January 31st, the TTU Russian Club hosted its first "Salad Saturday" event. Students, instructors, and faculty got together to make a traditional Russian salad, called either "Oliviye" or "winter salad" with the option of taking some home. All guests were expected to bring an ingredient for the dish which were cut and cooked. Needless to say, the salad was delicious. From a cultural perspective, everyone learned the history of the favorite and most popular salad in Russia. The group sang songs, had a grammar lesson, shared nice Russian tea and just enjoyed great company.
She said...Дa!- Russian Wedding Customs, Traditions & Superstitions
On February 12th, as a prelude to Valentine's Day, Instructor Irina Drigalenko introduced Russian wedding customs, traditions and superstitions to an attentive audience of Russian learners in the FL 105.
On February 13th, learners of Russian were treated to a great day of love and fun in the style of Russian tradition. Every class joined by second and third year students learned how to give compliments in Russian, to look for tenderness, to propose to their loved ones. Learning Russian folk songs about love and betrayal was the "cherry on the cake."
Metropolitan Opera at Cinema16 - Iolanta/ Bluebeard's Castle
On February 19th, students of Russian were mesmerized by the Metropolitan Opera screening consisting of an enchanting fairy tale, Tchaikovsky's Iolanta, followed by a psychological thriller, Bartok's Bluebeard's Castle. Students also attended Professor Thomas Cimarusti's preliminary lecture on the operas and symbolism behind the Mariusz Trelinski production of both famous operas.
Russian Students and Faculty Revel in Vadim Astrakhan in Concert
Vadim Astrakhan performed his translations of Vysotsky's verse for the Texas Tech and Lubbock communities on March 2 in the International Cultural Center Auditorium. Astrakhan has rendered Vladimir Vysotsky's immortal verse into English. Along with being an excellent translator, Astrakhan is also a gifted musician. As a poet, singer, and actor, Vladimir Vysotsky is one of the most significant figures in Russian culture in the late Soviet period. His songs were known and loved by an entire nation. In post-Soviet Russia, his verse continues to remain relevant.
Sponsored by The CH Foundation, the Department of International Affairs, the Department of History, the Department of Political Science, and the Department of Classical and Modern Languages and Literatures.
Film Screenings
On March 12th, the Russian Club held a screening of the movie "Hipsters" (2008). Directed by Valeriy Todorovskiy, this visually stunning and energetic musical beats with a warm heart that is hard to resist. A discussion on the Soviet era, where hot jazz meets the Cold War followed the screening.
The Russian Club held "Day of Russian and Soviet Film" on April 23rd. Dylan Rowland, Russian major, presented his unique collection of old Russian and Soviet 8mm films (cartoons, and short films).
Annual Russian Club Banquet and Awards Ceremony
Students of all levels of Russian gathered together to speak Russian, enjoy great food and comradery, to receive recognition and support from CMLL faculty and Russian instructors. Dr. Collopy gave such an inspirational speech to our students. Students enjoyed an evening of They playing games, singing songs, and having a chance to find new inspiration to continue with learning Russian language and literature.
Induction into Dobro Slovo Honor Society
Each year the Texas Tech Russian Language and Literature Division honors its outstanding students with initiation into Dobro Slovo, the Slavic National Honor Society. Dobro Slovo serves to recognize academic excellence in the study of Slavic languages, literature and history and seeks to encourage continuing interest in Slavic studies.
Four students of Russian were inducted this year into this prestigious organization: Left to right, Emma Anderson, Elijah Hellman, Sarah Jackson, and Sabrina Siddiqui (not pictured).
Recipients of the "2015 Best Student of Russian" Award
Bruno Blanco
Ashley Edling
Emily Gardner
Megan Grimes
Elijah Hellman
Sarah Jackson
Amos Nugent
Jared Opperman
Paul Rodgers
Spanish
Second Annual Symposium on Spanish as a Heritage Language
From February 12-14, the Department of Classical & Modern Languages & Literatures at Texas Tech University hosted the second annual Symposium on Spanish as a Heritage Language under the direction of Dr. Diego Pascual Y Cabo, Director of SHL, Texas Tech University. The Symposium on Spanish as a Heritage Language (SSHL) is an initiative aimed to offer an intellectual forum to discuss (i) the variable linguistic reality of Spanish heritage bilingualism in the United States (and elsewhere), and (ii) the diverse pedagogical needs of students of Spanish as a heritage language. It serves as a venue for both researchers and educators at all levels to share, develop, and discuss theoretical and practical approaches that recognize and validate the study of Spanish as a heritage language from the perspectives of various disciplines, including Second Language Acquisition, Sociolinguistics, Psycholinguistics, and Applied Linguistics, among others. The SSHL provides a space to bridge the gap between research findings and the praxis of heritage language teaching, as we collaborate towards the implementation of pedagogies that allow heritage learners not only to develop their language proficiency but also to reflect on their own identity formation.
Plenary Speakers
Dr. María Carreira
California State University
Dr. Almeida Jacqueline
Long Beach Toribio

Dr. Guadalupe Valdés
University Stanford University
CMLL Presenters
Dr. Marta Tecedor and Brenda Mejia, MA Spanish candidate, presented a paper titled, "Spanish as a Heritage Language in US Higher Education."
Dr. John Beusterien and Ramona Isabel Ojeda presented a paper titled, "The Camino: Teaching the Llano Estacado as Heritage Site."
Dr. Diego Pascual y Cabo, Gomez Soler, and Grade Mihalyov, TTU Undergraduate presented a paper titled, "¿Qué Estado está Lubbock en? Considering Preposition Stranding in Heritage Spanish."
Sponsors
Department of Classical & Modern Languages & Literatures, College of Arts & Sciences, Texas Tech University, Teaching, Learning, & Professional Development Center, Texas Tech University, Texas Tech University Graduate School, Honors College, Texas Tech University, Worldwide eLearning, Texas Tech University, Pearson
Spanish Film Festival: Celebrating Diversity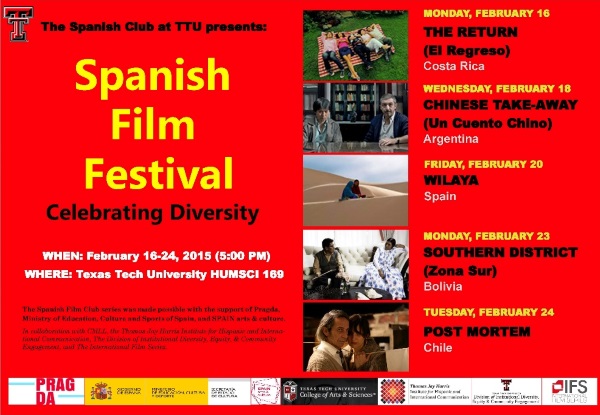 The Spanish Club launched its first Spanish Film Festival with a screening of five films:
February 16: El Regreso. Dir. Nicolas Alemparte. Perf. Alejandra Fosalba. Televisión Nacional De Chile, 2013-2014. Telenovela.
February 18: Un Cuento Chino. Dir. Sebastián Borensztein. Perf. Ricardo Darín, Muriel Santa Ana, Ignacio Huang. Buena Vista International, 2011. Film.
February 20: Wilaya. Dir. Pedro Pérez. Perf. Nadhira Mohamed. Wanda Visión, 2011. Film.
February 23: Zona Sur. Dir. Juan Carlos Valdivia. Perf. Ninón Del Castillo, Pascual Loayza, Nicolás Fernández. Istributors, 2009. Film.
February 24: Post Mortem. Dir. Pablo Larrain. Perf. Alfredo Castro, Antonia Zegers and Amparo Noguera. Autentika Films, 2010. Film.
The screenings which were all in Spanish with English subtitles took place at 5pm, in TTU HUMSCI 169.
The Spanish Club Film Festival was made possible with the support of Pragda, The Ministry of Education, Culture, and Sports of Spain, SPAIN arts & culture, CMLL, The Thomas Jay Harris Institute for Hispanic and International Communication, The Division of Institutional Diversity, Equity & Community Engagement, and The International Film Series.
The 16th annual Céfiro Conference on Latin American and Iberian Languages, Literatures, and Cultures
Céfiro: Enlace hispano cultural y literario and the Department of Classical & Modern Literatures & Cultures hosted the 16th annual Céfiro Conference on Latin American and Iberian Languages, Literatures, and Cultures from March 26-28, 2015.
The Conference honored the outstanding contribution Dr. Janet Pérez has made to literary criticism as well as to the lives of the many students, collaborators, and colleagues she worked with throughout her renowned career. Dr. Pérez is a permanent member of the North American Academy of the Spanish Language (ANGLE), a corresponding member of the Royal Academy of the Spanish Language, a corresponding member of the Hispanic Society of America. She has more than 300 published works. She was a co-founder of the Revista monográfica and the Editor of the journal Hispania.
Keynote Speakers
Dr. Genaro Pérez
Texas Tech University
Dr. Gonzalo Navajas
Dr. Frieda H. Blackwell
University of California
Irvine Baylor University
The conference held 60 presentations organized in 17 panels with themes ranging from Spanish Golden Age literature and culture to the contemporary 21st century film and literature. The conference focused on the themes that were important in Dr. Janet Pérez' work, such as: identity and subjectivity, exile and marginalization, rewriting and subversion of tradition, and more.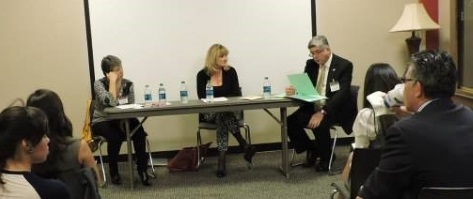 A special feature of the conference was a two-hour homage session during which former students and colleagues of Dr. Janet Pérez shared their memories of studying and working with her. Their tributes were video recorded and a DVD was presented to Dr. Pérez.
CMLL Faculty Moderators
Dr. Neil Anderson (Panel: La búsqueda de la identidad propia: cuando el exilio no sólo es físico)
Dr. George Cole (Panel: Film Studies: mensajes más allá del argumento)
Dr. Sara Guengerich (Panel: Reinterpretando el pasado colonial)
Dr. Antonio Ladeira (Panel: Literatura en portugués)
Dr. Natalia Matta-Jara (Panel: Cuando el foco está en cómo se narra la historia)
Dr. Diego Pascual y Cabo (Panel: Los niños de la inmigración: una prioridad social y educativa)
Dr. Carmen Pereira-Muro (Panel: Las costumbres del siglo XVII español a través de su literatura)
Dr. Rodrigo Pereyra (Panel: El hombre y la mujer en la literatura del siglo XX en México y España)
Dr. Genaro Pérez (Panel: Retratos de mujeres que definen sus épocas)
Dr. Jorge Zamora (Panel: La identidad como eje vertebrador de la literatura chicana)
Graduate Presenters
María Luz Bateman: two presentations - "Reis, Caeiro e Bernardo Soares: Contradições emtorno do 'carpe diem'" and "Un personaje dibujado a partir de miradas ajenas: Nucha en Los Pazos de Ulloa"
Josh De La Rosa Prada: "Translanguaging: psycho-social aspects of multilingual identity."
Sonia Loza: "Evolución de la mujer a través de cuatro novelistas españolas del siglo XX"
Edith Lozano-Pozos: "Evolución de los caracteres femeninos en tres novelas cristeras: La Guerra Cristera, Jahel y Pensativa"
Brenda Mejía: "Spanish heritage language programs in US universities"
Juan Morilla: "Ocho apellidos vascos: la irrupción del humor en el problema vasco"
Isabel Ojeda: "Subversión en la obra de Gertrudis Gómez de Avellaneda"
Julio César Pérez Méndez: "Los trabajos de la memoria: Filtración, transfiguración y alteración en El general en su laberinto"
Trilce Ruiz: two presentations – "Escapismo, identidad y conexión mediante el cine en El beso de la mujer araña" and "Deficiência física e mental no conto 'A princesa russa' de Mia Couto"
Arnold V. Sanchez: "An Autoethnography- Pedagogical Practices from an ESL pupil"
Alfredo Torres: "A teoria maquiavélica no uso da sobrevivência: o capitão Nuno Velho Pereira eo Maquiavel dentro dele"
CMLL Alumni Presenters
Yesenia Blanco (University of California, Berkeley): "¿Masculinidad en transformación? El caso de Mateu en La plaça del Diamant de Mercè Rodoreda"
Rubén Galve Rivera (Missouri Southern State University): "Idiosincrasia del pueblo español de posguerra en la narrativa corta de Ana Maria Matute: Realismo puro y duro"
Dr. Liliana Pérez-Miguel – Lecture
On April 13th 2015, Dr. Liliana Pérez-Miguel (Pontificia Universidad Católica del Perú; Mayers Fellow,
Huntington Library, CA) gave a lecture titled "Y fueron a Valer más" Spanish Female Emigration in Sixteenth-Century Peru in the Qualia Room. Her talk explored the role of the first Spanish women in the formation of the economic, political and social structures of the conquest and the Viceroyalty of Peru. The event was sponsored by the Texas Tech Graduate School, the Humanities Center, CMLL and the History Department.
Dr. Neil Anderson – Presentation
Neil Anderson, Visiting Professor of Spanish at Texas Tech, explored cultural and literary responses to the interrelated phenomena of urbanization and modernization, focusing on Galicia in a presentation entitled, "To Be or Not: Rural Identities in a Post-Rural World" on April 29th in the FL Qualia Room.
Tours of Roman Archaeological Sites in Spain
The TTU Seville Center, in Sevilla, Spain, this academic year offers 9 tours to Roman Archaeological sites in Spain. Dr. Julian Frederick Suppe, Professor of Classics in CMLL and stationed at the TTU Seville Center, leads most of them. Most of these tours are to nearby Itálica, the first Roman city built (205 BC) from scratch outside Italy, the home of three of the most important Roman Emperors, and a monumental city that is a UNESCO World Heritage site. It contains the fourth largest Roman amphitheater. Other structures rival those in Rome and Athens in size.
Drones Used to Photo Structures in Itálica
Recently Dr. Suppe obtained formal permission from the Conjunto de Arqueólogica de Itálica to take drone photos of selected structures in Itálica for use in conjunction with his teaching of CMLL Classics courses and leading tours to Itálica.
Starting May 16, 2015, a new innovation for the Itálica tours will be to provide this drone flyby video to students prior to their Itálica tour to download. Students will be urged to have downloaded the video to their iPad, tablet, or smart-phone prior to the tour and bring their devices on the tour so that they can watch the video while standing in the amphitheater (such as the two persons seen in this shot from the video [idea would be to give you a frame shot from the above video if you wanted it)—simultaneously giving two very different perspectives on this exceptional archaeological site and allowing views no human visitor can experience.
The First Spanish & Portuguese Graduation Ceremony
On May 14th, the Department of Classical & Modern Languages & Literatures and the Spanish faculty held the first Spanish & Portuguese Graduation Ceremony for graduate and undergraduate majors in Spanish. Dr. Erin Collopy, Department Chair, welcomed the students, guests, faculty, and staff. The ceremony continued with Dr. Mark Sheridan, Dean of the Texas Tech Graduate School sharing a few words of encouragement to the graduates. Student testimonials were shared by Zachary Brandner on behalf of the undergraduates followed by Yuiko Ikeda and Heath Wing on behalf of the graduate students. Isabel Ojeda read a poem, "Desiderata" by Max Ehrman. Drs. Diego Pascual y Cabo, Carmen Pereira-Muro, and Jorge Zamora granted diplomas to the deserving graduates. Opening and closing remarks were given by Dr. Sara Guengerich followed by a reception.
---
Classical & Modern Languages & Literatures