Fashion Merchandising Graduate Leads Project Team for Gap in Retail Career
After graduating from Texas Tech University with a bachelor's degree in Retail Management in 2011, alumna Catherine Carter has led a flourishing career in the retail sector.
From working as an assistant and associate buyer for Kate Spade New York to her current role as Director of Merchandising for Specialty Women's Knit Tops, Fleece, and Logo at the Gap, Catherine has gathered a wealth of experience.
As Director of Merchandising, she works with and leads a cross functional team that manages product development from start to finish of a product's lifecycle. To achieve this, Catherine must partner with the design and financial planning departments to not only curate the line but also plan for inventory management. This collaborative environment, Catherine says, is something she enjoys most about her position.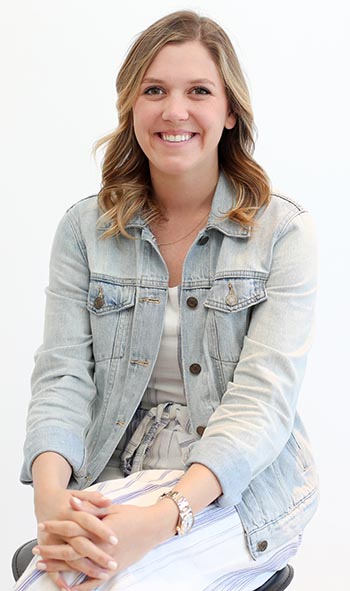 "I enjoy the collaborative team environment that comes with working as a cross functional team," Catherine explained. "I also love getting to be involved in the product from start to finish. Merchants are the only people in the cross function team that truly work 'end to end' with product."
When thinking back to her time as a Texas Tech student, Catherine recounts how her Retail Management degree and coursework prepared her for her career.
"I learned most of my retail math through the merchandising classes at Texas Tech," Catherine said. "I still have my textbook from that class and used it during many early days of my career. My degree also provided a strong foundation across multiple areas such as marketing, supply chain and accounting, which I now work in daily."
Along with influential coursework, Catherine says she gained invaluable hands-on and experiential learning opportunities through the Retail Management program, such as the senior international retail course that made a lasting impact on the way she views the retail and fashion industry.
"At the end of the semester, I was able to travel with my classmates and visit famous fashion houses all over Europe," Catherine said. "The experience opened my eyes to travel, the way fashion influences every culture and taught me how broad fashion and retail truly is across the world."
When asked what advice she might have for students entering the hospitality and retail management field, Catherine shared some wisdom on gaining experience and staying up to date with the latest trends.
"Soak every piece of knowledge up that you can through your classes," Catherine said. "Obsess over how people are shopping and what customers are looking for from stores. Work in a store. And, whatever you do, just go for it."
College of Human Sciences