Recording Videos and Presentations with Zoom: A Step-by-Step Guide
How to Sign-Up and Use Zoom
As the importance of video communication platforms continues to rise in many areas, especially education, you have probably become familiar with Zoom. From meetings to live streaming of lectures and the areas in-between, Zoom has been used extensively not only for its ease of use but practicality as compared to other video communication software.

Additionally, Zoom also offers a broad range of features, with video recording of meetings, webinar, lectures, and more being especially helpful. And, because Zoom utilizes your built-in speaker and webcam, this reduces the need or cost for extra equipment.

If you have yet to use Zoom, signing up simple. New users can sign up by using an email and creating a custom and secure password. We suggest you use your TTU email if you will be using Zoom for education and/or work needs. Zoom is free to use, but also offers paid plans. If you have questions about the paid plans, we suggest you contact Human Sciences Technology Services to request joining the college's pro license.


After you have successfully signed in, you can download the Zoom extension to your browser (i.e. Google Chrome or Firefox), Apple and Android devices, or add the Zoom extension to your computer. All downloads and additional information can be found through Zoom's Download Center.

Zoom Video Recording Instructions

Once you have downloaded your select Zoom application, open the application on your device. Once the application is open, choose "new meeting" from the home screen. This will open a new window and start your webcam video.


If you want to record your screen without the use of your webcam, select the dropdown arrow next to "New Meeting" and uncheck the "start with video" box. Even if you begin recording without your webcam, you have the option to switch to video later during your presentation.


To record your computer screen, select the "Share Screen" icon located in the middle of your Zoom window. Select your main screen to record then press the "Share Screen" option.


Once you are ready to record, click the Record button and select the "Record to Cloud" option. You are now recording, and the file will be saved to your Zoom Cloud once the meeting ends. However, if you are planning to share your recording to YouTube, Vimeo, or any other video sharing platform, you will need to select "Record on this Computer" instead. Once you finish recording, Zoom will create a .mp4 file after you end the meeting.

The same recording options can also be used when hosting a meeting, lecture, or webinar by following the instructions listed above.

To end your Zoom video recording, select the "More" menu option then select "End Meeting". This will end your meeting and begin the upload process, so make sure you remain connected to the internet.


Sharing Your Presentation

If you selected the "Record to Cloud Option", your recording will automatically be uploaded into the Zoom cloud server once you select "End Meeting". An email directing you to the recording should be sent to your university email 20-30 minutes after recording. The link provided from Zoom will allow you to view, edit, or delete the video. The email will also provide a link to the video that you can share with colleagues and students.


If you selected the "Record to this Computer" option, your presentation will be saved directly to your computer once you select "End Meeting". All Zoom recordings will be automatically saved to a folder labeled "Zoom" and can be located within your documents folder. This file can be directly uploaded to YouTube, Vimeo, or any other video sharing platform.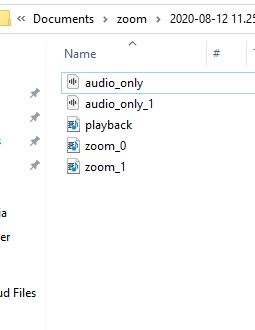 More Zoom Tips

If you need additional instructions or assistance, follow the links below:
• Zoom Cloud Recording Settings and Features
• Adding a Password to Your Cloud Recording
• Getting Started with Zoom tutorials
• Zoom Video and Audio Settings