The school participated in conference presentations including financial literacy, investments, diversity, and more
Alumni, faculty, and students from the School of Financial Planning represented the Personal Financial Planning (PFP) program at the American Council on Consumer Interest (ACCI) Conference. The conference was hosted on May 16-18 in Las Vegas, NV. There, faculty and students presented topics including financial literacy, investments, diversity, retirement plans, and more.
The ACCI conference aims to introduce attendees to new research topics, connect them with industry leaders, and give them more opportunities to actively support work in the consumer's interest. Sarah Asebedo, School of Financial Planning director, shares her thoughts on the Texas Tech Personal Financial Planning presence at the conference.
"This conference is a very well-respected research conference and it is wonderful that we had this level of presence there," said Asebedo.
Faculty members in attendance include associate professor, Donald Lacombe, Ph.D., and assistant professor, Miranda Reiter, Ph.D., CFP. Lacombe presented on Perception vs. The Reality of Financial Situation: The role of Personality Traits and Financial Skill in the U.S. Adult Population: Measuring the Determinants Using Truncated Regression Model. Reiter presented on An Examination of the KMSI-R: Relationship to Financial Literacy, Self-Efficacy, and Cross-Racial Validity and Racial/Ethnic Disparities in Financial Planner Use: A Decomposition Analysis.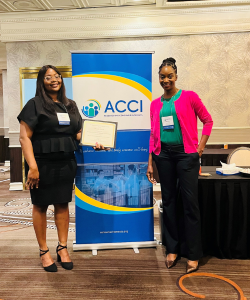 Reiter was also awarded the Robert O. Herrmann Outstanding Dissertation Award for her work Racial and gender preferences when hiring a financial planner: An experimental design on diversity in financial planning. This award recognizes research that addresses issues relevant to the well-being of consumers.

Personal Financial Planning alumni, faculty, and students represented the excellence of Texas Tech and the College of Human Sciences by providing attendees with valuable information and different perspectives. As one of the top PFP programs in the nation, the School of Financial Planning will continue to strive for superior education and instruction.