Dean and Faculty
Jeffrey Belnap, Dean, Texas Tech University-Costa Rica
Welcome to Texas Tech-Costa Rica! It's an exciting time to be at Costa Rica's first branch of a U.S.-accredited, research intensive university. This campus stands out for its STEM and business-related degree programs delivered 100% in English, for its research active professors, and for its hands-on learning model. We equip our students with technical knowledge, team building skills, and intellectual agility. These qualities will enable them to become ethical leaders in an increasingly competitive global economy—leaders the world needs.
---
College of Arts & Sciences
Sergio Guillén, Adjunct Faculty, Political Science
Sergio Guillén Grillo is an experienced public policy and democratic deliberation scholar and practitioner who has worked extensively on national and regional social and environmental policy issues. He is currently a Ph.D. candidate in Public Policy at the Australian National University.
Guillén earned a bachelor of engineering (mechanical) from Carleton University, Ottawa; a Certificate of Graduate Studies in Natural Resources Organization Management from the University of Michigan; and master of arts in Environmental Security and Peace from the University for Peace in Costa Rica. In addition to working for nearly a decade on sustainable energy policy and finance throughout Latin America, he has taught for more than five years at universities in Honduras, Mexico, and Costa Rica.
M.E. Hogan, Lecturer, Physics and Mathematics
M.E. Hogan, who teaches in the Department of Physics and Astronomy as well as in the Department of Mathematics and Statistics, has been teaching university-level math and physics for more than 15 years. Their research interests lie in quantum gravity, quantum cosmology, quantum information theory, and the philosophical foundations of physics. Their degrees, a B.A. from Earlham College and an M.S. from the University of Massachusetts Dartmouth, are in physics, as is their doctoral work at Florida Atlantic University. Hogan has carried out research funded by NASA, the Foundational Questions Institute (FQXi), and other grant-making organizations.
Alberto Jiménez, Chemistry Instructor and Laboratory Coordinator
Dr. Alberto Jiménez earned his Ph.D. in organic chemistry from Colorado State University in 2013 and his B.S. in 1999 from the University of Costa Rica. He joined the Department of Chemistry and Biochemistry at Texas Tech University after being trained as a Post-doctoral Research Scholar at Emory University. As a member of the research team at the Emory Institute for Drug Development, he worked in medicinal chemistry projects related to the synthesis of antiviral compounds targeting RNA-dependent RNA polymerases.
As a doctoral student, Jiménez was involved in a project related to the synthesis of tetrahydroisoquinoline antitumor antibiotic natural products. Previously, he worked in the bioprospecting program at the National Biodiversity Institute of Costa Rica on projects related to the isolation of bioactive natural products. Before the start of his graduate studies, he taught organic and general chemistry courses at the University of Medical Sciences in Costa Rica and at the University of Costa Rica.
H.A. Marenco, Lecturer, Mathematics
Hugo Alonso Marenco has been teaching mathematics and tutoring math students since 2002. As a university instructor, he taught at the University of Costa Rica, where he earned a bachelor's degree in pure mathematics, and at the Autonomous University of Barcelona, where he pursued a Ph.D. in systems modeling and simulation. Marenco also earned a master's degree in advanced mathematics from the University of Murcia (Spain).
In addition to teaching at university level in Costa Rica and Spain, Marenco has taught at English-medium private high schools in Costa Rica and has extensive experience tutoring high schoolers for high stakes exams.
Marenco's current research interests lie in game theory and optimization.
Timothy L. Marsh, Lecturer, English
Dr. Timothy L. Marsh has worked as a university lecturer for more than a decade. He earned his B.A. and M.F.A. at Southern Illinois University Carbondale and his Ph.D. at Aberystwyth University in Wales (United Kingdom). He has taught and researched in the United States, the United Kingdom, Indonesia, and China, where he served as Visiting Professor of English Literature in the Oklahoma State University-China Agricultural University joint degree program.
Marsh is the recipient of numerous literary scholarships and residencies. He has authored dozens of stories, essays, and travelogues, the last serving as the focus of his dissertation.
---
College of Human Sciences
Gonzalo Alfaro, Lecturer, Hospitality and Retail Management
Gonzalo Alfaro was not only Texas Tech-CR's first faculty member in the Restaurant, Hotel, and Institutional Management program, but he also graduated from the same program in Lubbock in 2006. Currently finishing a Ph.D. in Hospitality Management at Texas Tech, Alfaro received his Master's in Management and Tourism in 2012 from the University of Technology Sydney. He has worked in a range of hospitality positions including: food and beverage manager, convention manager, and hotel operations manager, primarily in luxury hotels in his home country of Peru.
Deborah Fowler, Ph.D., Program Director and Professor, Retail Management
Dr. Deborah Fowler received her Ph.D. in 1991 from Texas Tech. In addition to her service here at Texas Tech, she has taught retailing at East Tennessee State University and the University of South Carolina.
Fowler has received multiple teaching awards, including most recently the Donald R. Haragan Study Abroad Award. She brings her students into contact with industry partners by developing a range of experiential activities, and she authored the textbook Retail Category Management (with Dr. Ben Goh).
Jairo Hernández, Adjunct Faculty, Hospitality and Retail Management
Jairo Hernández holds degrees in political science and law (University of Costa Rica) and international relations (Fletcher School of Law and Diplomacy, Tufts University [United States]).
Professionally, Hernández has served at the highest levels in the Costa Rican government, including four years in the office of the President of Costa Rica. His diplomatic career encompassed ambassadorial assignments in New York, Singapore, and Australia. He has visited 90 countries and territories.
He has vast experience as professor and researcher at the University of Costa Rica, National University of Costa Rica, FLACSO (Latin American Faculty of Social Sciences), ICAP (Central American Institute of Public Administration), University for Peace, ICDS (International Center for Development Studies), and Simmons College (United States). Hernández also represented Latin America and the Caribbean as Vice President and Member of the Executive Council of the World Federation of UNESCO Clubs, Centers and Associations.
Vanda Pauwels, CPA, Ph.D., Adjunct Faculty, Hospitality and Retail Management
Dr. Vanda Pauwels holds bachelor's and master's degrees in accounting and a Ph.D. in consumer economics and environmental design, all from Texas Tech University. Prior to her higher education career, she spent nearly a decade practicing as a certified public account (CPA). She worked as an auditor in banking, agriculture, and retail businesses. She also performed tax compliance services for individuals, businesses, estates, trusts, and nonprofits.
She has been a university instructor for more than 20 years, teaching accounting, ethics, finance, and personal financial planning. Her doctoral research was in retirement planning, and she has a passion for financial literacy, especially among young adults.
---
Edward E. Whitacre, Jr. College of Engineering
Karl Bandilla, Associate Director, Academics, and Lecturer, Engineering
Karl Bandilla is an environmental engineer who researches the management of groundwater resources. He holds M.S. degrees in civil and environmental engineering from the Technische Universität Darmstadt (Germany) and the State University of New York at Buffalo (United States). He earned a Ph.D. in environmental engineering at the State University of New York at Buffalo, where he also worked as an instructor and research associate. Bandilla then conducted research at the United States Environmental Protection Agency and at Princeton University. Bandilla's specialty is flow and transport in groundwater. Here at Texas Tech, he teaches "Statics," "Material Science," and other engineering classes. He also conducts research related to sustainability of groundwater resources in Costa Rica.
Emmanuel Fernandez, Lecturer, Industrial Engineering
Dr. Emmanuel Fernandez has master's degrees in engineering and applied mathematics from the University of Oklahoma and a Ph.D. in electrical and computer engineering from the University of Texas at Austin, where he specialized in operations research, stochastic models, and decision processes. His bachelor's degree is from the University of Costa Rica. After 25 years as a faculty member at the University of Arizona and the University of Cincinnati (Ohio), Fernandez returned to Costa Rica to work as a university administrator and an expert in academic research and innovation. He has over 100 refereed publications, and his research and curriculum development activities have been supported through grants from the U.S. National Science Foundation, Semiconductor Research Corporation, International Sematech, the National Institute for Standards and Technology (NIST), the ATT Foundation, the GE Foundation, The Engineering Foundation, and the U.S. Department of Education.
Mario Pitalúa, Adjunct Faculty, Computer Science
Mario Alberto Pitalúa Rodríguez has been working at Texas Tech University (Lubbock) for more than six years, teaching computer science and providing technology support for students and staff at TTU Libraries. He earned his Ph.D. at Texas Tech and a bachelor's degree from the Instituto Tecnológico Ciudad Madero (Mexico).
For his Ph.D. in computer science, Pitalúa collaborated with researchers in public health and political science to gather spatially related health data from around the United States. Using the Exposome paradigm, he developed a new way to visualize a phenomenon (like the spread of a disease). His technique also provides the potential to identify the phenomenon's driving factors.
Mona A. Rizvi, Lecturer, Computer Science
Before earning a Ph.D. in 2004 at Old Dominion University (Virginia), Dr. Mona A. Rizvi spent almost two decades as a software developer and software development manager. She worked with large multinational companies, small startups, and U.S. government research agencies such as the Defense Advanced Research Projects Agency (DARPA) and the U.S. Naval Research Lab.
During the last decade, while a faculty member at Nazarbayev University (Kazakhstan) and at Norfolk State University (Virginia), Rizvi has been the PI on research grants totaling almost $200K from the U.S. National Science Foundation (NSF) and industry and co-PI on more than $4.2M in grants from the US Department of Defense and the NSF. In 2019, Rizvi used a commercialization grant to create a start-up that develops apps for the tourism, education, and medical sectors. Her current research interests include computer science education and pervasive computing.
Juan Carlos Rojas, Lecturer, Electrical Engineering and Computer Science, and Director, Electrical Exploration Lab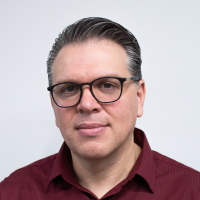 Dr. Juan Carlos Rojas has a Ph.D. in electrical engineering from Northeastern University and a master's degree in engineering management from Stanford University. He has over 20 years of professional experience working in high-tech engineering companies in Boston, Silicon Valley, and Costa Rica. His areas of expertise include digital signal processing, real-time embedded computing, and artificial intelligence. At Texas Tech, Rojas teaches classes in computer science and electrical engineering. Rojas is also the director of the Electrical Exploration Laboratory.
J.T. & Margaret Talkington College of Visual & Performing Arts
Bryan Wheeler, Adjunct Faculty, Art
Dr. Bryan Wheeler is an artist and musician who teaches a variety of lecture and studio courses in the College of Visual & Performing Arts and the College of Media & Communication at Texas Tech University. He earned his Ph.D. at Texas Tech, where he received several research and teaching awards.
Wheeler's doctoral dissertation was about the 1930s New Deal mural program in Texas. More recently, he has written a chapter for a coming book on the New Deal built environment in Texas.
In addition to his scholarly work, Wheeler's artwork has been exhibited throughout North and South America, Europe, and the Middle East. He also writes, records, and performs music as a solo artist and with his band, Los S.O.B.'s.