GWC Consultant Bios
Bailey
Bailey is a second year Master's student in Sociology, and she is researching how financial fraud impacts elder relationship formation. She plans on utilizing this research within the FBI financial crimes and elder fraud units. She previously received her B.A. from Texas Tech University in Sociology with a minor in environmental sciences and a concentration in criminology. She is excited to help you this semester and hopes to see you in a consultation!
Becky
Becky serves as a lead writing consultant and social media coordinator for the Graduate Writing Center, where she has worked since the Fall 2020 semester. She graduated from the University of Oklahoma in 2002 with a bachelor's degree in Linguistics and in 2021 with a master's degree in Communications Studies from Texas Tech University. She enjoys working with writers in all disciplines—the more niche the topic, the better!—and especially enjoys helping writers work through recurring challenges in their larger thesis or dissertation projects.
Brad
Brad is an orchestra conductor and a doctoral candidate in the School of Music. He received a BA in Mathematics from Texas A&M University and is a member of TTU's Institute for Studies in Pragmaticism and TCVPA's Performing Arts Research Lab. Brad is a recent Fulbright semi-finalist and has experience as a second-language international student. He is glad to help with your current project, whether it is a course paper, application packet, or scholarly proposal.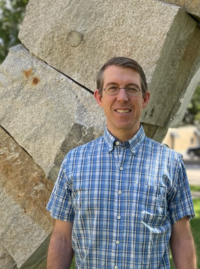 Caroline
Caroline has been working as a consultant at the Graduate Writing Center since Fall 2018. She also leads a writing group for NSF graduate fellowship applicants. She gained a BSc and PhD in Pharmacology from the University of Manchester in the UK. Her doctoral and postdoctoral research focused on signaling through G protein coupled receptors in mammalian cells. One of her favorite things about working at the writing center is getting to meet students from diverse backgrounds and disciplines and she enjoys working on all types of documents.
Emmanuel
Emmanuel is a PhD student in the Department of History. His research focuses on the rhetorical agency of third world actors during the Cold War era. He enjoys traditional historical methodologies but has developed new interest in innovative data-driven research possibilities.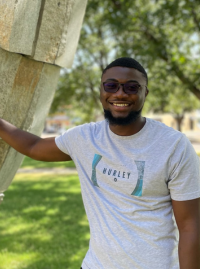 Jacinta
Jacinta is a Ph.D. student specializing in Family and Consumer Sciences Education. She served as a faculty member at the University of Education in Winneba, Ghana, before coming to Texas Tech to pursue her doctorate. She's provided writing support to many students on their research projects and theses. She has published multiple times in her field, and has been a reviewer for the international journal Child Care in Practice. She values writing and helping people develop their writing abilities brings her a sense of accomplishment.
Jeremy
Jeremy serves as a writing consultant and Graduate Coordinator for the Graduate Writing Center. Jeremy graduated from TTU with his Master of Arts in English, specializing in Film and Media Studies. He comes to the GWC with two years' experience of teaching rhetoric & composition and four years' experience of working in writing centers. He regularly produces a wide range of scholarly work – including articles, conference papers, book reviews, and film reviews. He loves working with clients from diverse backgrounds & disciplines and is excited to help you reach your writing goals.
Julia
Julia has taught English as a Second Language for the past 22 years. She received a BA in Russian Language and Literature from Oberlin College, an MS in Environmental Science from the University of North Carolina at Chapel Hill, and an MA in Applied Linguistics from Texas Tech University. She especially enjoys working with students on topics in the natural sciences, as well as language acquisition and pedagogy.
Liz
Liz is a third year Ph.D. student studying music and psychology and is also the lab manager for the Performing Arts Research Lab (PeARL). Liz has a background in experimental psychology and psych statistics, and enjoys helping students of all backgrounds work through their ideas and develop the skillset they need to tackle any sort of writing project.
McKinlee
McKinlee is a fourth year PhD candidate in the Biological Sciences Department and studies insect-bacterial endosymbiosis. As a recipient of the NSF GRFP Honorable Mention Award, she is a specialized consultant and works only with students applying for this prestigious fellowship. McKinlee also leads an online writing group for NSF GRFP applicants.
Nicholas
Nicholas received his M.A. in Applied Linguistics from Texas Tech in 2018. He previously taught English as a Second Language at Ulyanovsk State Technical University in Russia through the Fulbright program. His research interests include motivation within second language acquisition (SLA) and Russian language studies.
Russell
Russell is an atmospheric science Ph.D. student. He has a B.S. in meteorology from St. Cloud State University and an M.S. in atmospheric science from TTU. His research interests are in numerical modeling of the atmosphere, post-processing model output, and high-impact weather forecasts (severe storms, renewable energy, etc.). He is happy to help you with all kinds of academic writing, personal statements, and really anything else you would like to work on.
Shivani
Shivani Kathi is a Ph.D. candidate and Graduate Part-Time Instructor in the Plant and Soil Science department. She completed her bachelor's in General Agriculture and then earned a master's degree in Plant and Soil Science. She has six years of teaching experience to students from diverse backgrounds. Her research interests focus on optimizing plant establishment through cultural and stress management practices and evaluating affordable and practical sustainable practices for the horticultural industry. She has authored and published several peer-reviewed articles and conference proceedings that have significantly contributed to her field. In addition to her teaching and research, she enjoys consulting and helping clients with their manuscripts, job materials, scholarship applications, and any other documents that require attention to detail and clarity.
More Writing Center Staff
Writing Centers of Texas Tech
Address

Weeks Hall, Third Floor, 2508 15th St., Lubbock, TX 79409-5033

Phone

(806) 742-2476